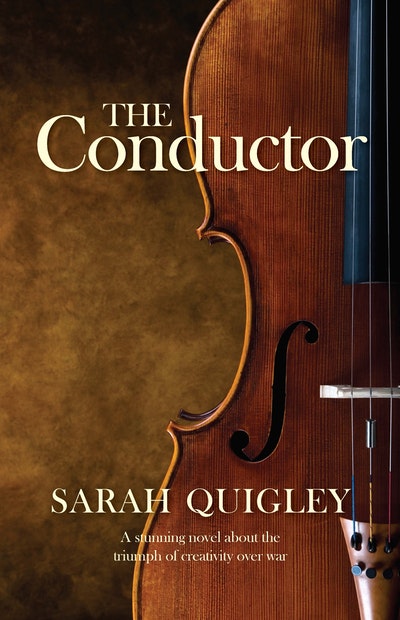 Published:

15 May 2017

ISBN:

9780143771272

Imprint:

RHNZ Vintage

Format:

Paperback

Pages:

368

RRP:

$30.00
The Conductor
---
---
---
A best-selling, compelling and evocatively realised novel based on real events and figures
A best-selling, compelling and evocatively realised novel based on real events and figures. It has now sold into eight different countries around the world.
In June 1941, Nazi troops march on Leningrad and surround it. Hitler's plan is to shell, bomb, and starve the city into submission. Most of the cultural elite are evacuated early in the siege, but Dmitri Shostakovich, the most famous composer in Russia, stays on to defend his city, digging ditches and fire-watching. At night he composes a new work.
But after Shostakovich and his family are forced to evacuate, only Karl Eliasberg - a shy and difficult man, conductor of the second-rate Radio Orchestra - and an assortment of musicians are left behind in Leningrad to face an unendurable winter and start rehearsing the finished score of Shostakovich's Leningrad Symphony.
Published:

15 May 2017

ISBN:

9780143771272

Imprint:

RHNZ Vintage

Format:

Paperback

Pages:

368

RRP:

$30.00
This extraordinary novel is a symphony on the power of love — the love of music, home, family, city, and Quigley's love of writing. Each sentence carries the weight of these loves, but each sentence is characterised by an unexpected moving lightness of being. A triumph on every level.

Paula Green, Canvas Magazine
I felt utterly transported to a place and a time — Leningrad in the grip of winter and the brutal siege that saw its citizens stripped of hope and dignity, eating boiled shoe leather to survive, the life slowly being crushed out of them. It's powerful material that might have been misused by a more heavy-handed writer but Quigley has a lightness and clarity both in the way she uses words and story.

Nicky Pellegrino, New Zealand Herald
The Conductor reads like a proper, up-all-night page turner, but it also goes deeper than that, conveying the extraordinary life-saving properties of music, and hope.

The Observer
Classical music, wintry Russian, an inhuman siege: with these ingredients Quigley creates her own heroic symphony.

Toronto Star
Superb. An extraordinary period of history brought to life by a daring novelist.

Lloyd Jones, author of Mister Pip
Quigley's novel, like the story it tells, is a heroic enterprise.

C.K. Stead, author of Mansfield: A Novel and My Name Was Judas.
The Conductor is an amazing achievement.

Stella Duffy, author of State of Happiness and The Room of Lost Things.