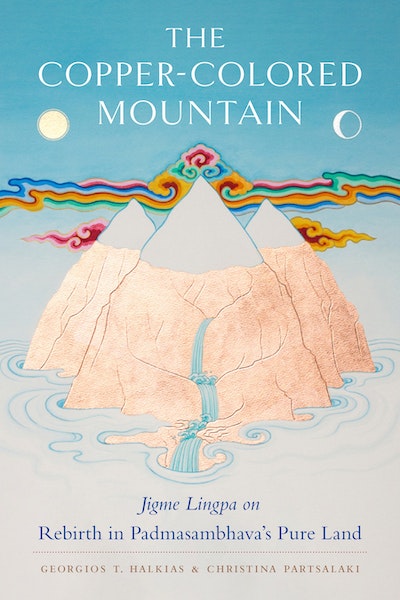 Published:

15 December 2022

ISBN:

9781611809701

Imprint:

Snow Lion

Format:

Paperback

Pages:

208

RRP:

$70.00
The Copper-Colored Mountain
Jigme Lingpa on Rebirth in Padmasambhava's Pure Land
---
---
A translation of Jigme Lingpa's eighteenth-century Tibetan Buddhist aspiration prayer for taking rebirth in the pure land Copper-Colored Mountain, accompanied by a commentary and analysis by the translators.
While Pure Land Buddhism is generally thought of as an East Asian tradition with an Indian origin, the Copper-Colored Mountain is in fact the first and only pure land with scriptural origins entirely in the Tibetan tradition. It represents Tibetan culture's fascinating intersection of traditional history with liturgical tantric practice. The Copper-Colored Mountain is understood to be the current abode of Padmasambhava, the Indian master credited with first bringing Buddhism to Tibet and founding Tibet's first monastery, Samye.
After leaving Tibet, it is said that Padmasambhava set up residence on Cāmara, one of the two islands on either side of the continent of Jambudvipa, our world according to Buddhist cosmology. After taming the resident ogres of Cāmara and converting them to Buddhism, he then built an octagonal palace where Buddhist practitioners may be transported in visions and dreams or reborn through aspiration prayers. This work is a translation and analysis of one such aspiration prayer. This prayer was composed by Jigme Lingpa, a treasure revealer of the Nyingma tradition in the eighteenth century and remains the most important prayer to this pure land in Tibetan Buddhism.
Merging academic precision in representing the Tibetan texts and devotion to the principles of tantric Buddhism, translators Georgios T. Halkias and Christina Partsalaki enable a wider appreciation of the history and impact of this prayer in Tibetan Buddhist literature while elucidating its meaning for Buddhist practitioners.
Published:

15 December 2022

ISBN:

9781611809701

Imprint:

Snow Lion

Format:

Paperback

Pages:

208

RRP:

$70.00