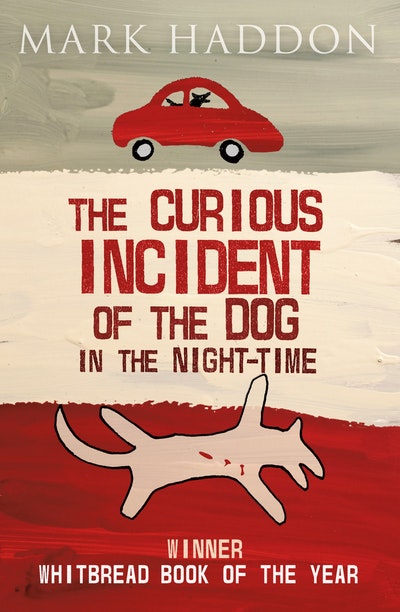 Published:

3 March 2014

ISBN:

9781782953463

Imprint:

Red Fox

Format:

Paperback

Pages:

288

RRP:

$24.00
The Curious Incident of the Dog in the Night-time
---
---
---
Mark Haddon's bestselling The Curious Incident of the Dog in the Night-time is an unusual detective story written from the perspective of an autistic boy.
Christopher is 15 and lives in Swindon with his father. He has Asperger's Syndrome, a form of autism. He is obsessed with maths, science and Sherlock Holmes but finds it hard to understand other people. When he discovers a dead dog on a neighbour's lawn he decides to solve the mystery and write a detective thriller about it. As in all good detective stories, however, the more he unearths, the deeper the mystery gets - for both Christopher and the rest of his family.
Published:

3 March 2014

ISBN:

9781782953463

Imprint:

Red Fox

Format:

Paperback

Pages:

288

RRP:

$24.00
Praise for The Curious Incident of the Dog in the Night-time
Haddon is to be congratulated for imagining a new kind of hero, for the humbling instruction this warm and often funny novel offers and for showing that the best lives are lived where difference is cherished

Carol Ann Duffy, Daily Telegraph
The clash between Christopher's view of the world and the way it looks to the rest of us makes this an extraordinarily moving, often blackly funny read. It is hard to think of anyone who would not be moved and delighted by this book, so the decision to publish it simultaneously for older children and adults is certainly well-founded

Jill Slotover, Financial Times
A stroke of genius, as the advantages of having a naive, literal-minded boy in the driving seat are manifold . . . We do learn what it might feel like to have Asperger's Syndrome

David Newnham, TES
Supremely well-written, funny and oddly affecting

Daily Telegraph
The book gave me that rare, greedy feeling of: this is so good I want to read it all at once but I mustn't or it will be over too soon

Kate Kellaway, Observer
Brilliantly inventive, full of dazzling set-pieces, unbearably sad, yet also skilfully dodging any encounters with sentimentality, this isn't simply the most original novel I've read in years . . . It's also one of the best

The Times
Exceptional by any standards . . . When we look at the world through Christopher's eyes we see it more clearly and understand ourselves better. What more could you want of a book?

The Sunday Telegraph
Mark Haddon has produced a well-executed, unusual mystery.

GQ
astonishing and provocative

Belinda Hollyer, Saga
an unexpected gem and quite possibly the best novel of the year

Northern Echo
Outstanding and moving

The Irish Times
The most amazing book . . . The author handled the character wonderfully.

Young Writer
heartwarming

The Irish Times
A heart-warming story about a boy struggling to communicate with the world

The Good Book Guide
An intriguing, enlightening,and totally compelling read with surely the most unlikely hero in young people's literature

Rosalind Kerven, Northern Echo
Laugh-out-loud funny

TimeOut
It's pretty much flawless . . . Haddon stays compassionate to all his characters, but not once does his story descend into treacly pathos or easy tears. This is a high ambition fully achieved

Catherine Shoard, Evening Standard
...original, kind, disturbing and profoundly moving.

The Guardian
A stroke of genius, as the advantages of having a naive, literal-minded boy in the driving seat are manifold...we do learn what it might fe el like to have Asperger's Syndrome.

David Newnham, T.E.S.
Exceptional by any standards. Haddon sticks rigidly to the limits imposed by autism without sacrificing literary viability. When we look at the world through Christopher's eyes we see it more clearly and understand ourselves better. What more could you want of a book?

Dinah Hall, Sunday Telegraph
A truly original work of fiction . . .a unique tale

York Evening Press
excellent

Claire Allfree, Metro Midlands
A wonderful first person narrative of a boy with Asperger;s Syndrome; funny, sad and extraordinarily original

Philip Ardagh, The Guardian
The highlight of the year

John Malam, Manchester Evening News
This is the magazine of the National Autistic Society: the review is written by someone with Asperger's Syndrome. "This book is a good murder mystery story but a better description of how th mind of a different person with some kind of special need looks upon how things work and come about.

Communication
This startlingly original story . . . Has surprised everyone-not least the author.The book is funny, gripping, sad and unstintingly entertaining.

The Age
So if you're interested in solving mysteries and want to learn about autism in children, you'll love this book

Carlisle News and Star
A triumph from first page to last . . . Haddon's prose is empathetic and you cannot help but be drawn into young Christpher's world

Dundee Evening Telegraph and Post
This is a unique book written from the perspective of a unique character . . . It is very easy to read and would satisfy anyone from eight to 88

The Teacher
I found this book highly entertaining and enthralling though it was a bit sad at times.

Books for Keeps