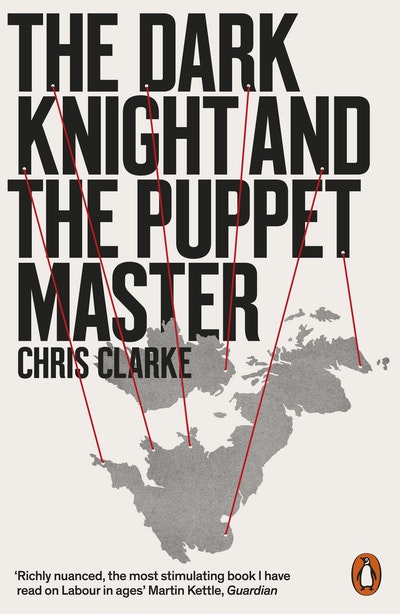 Published:

3 September 2020

ISBN:

9780141994369

Imprint:

Penguin eBooks

Format:

EBook

Pages:

352
The Dark Knight and the Puppet Master
---
---
---
'Richly nuanced, the most stimulating book I have read on Labour in ages'. - Martin Kettle, The Guardian
December 2019 was a catastrophe for Labour. After nearly ten years in opposition, the party has suffered its fourth straight defeat and is approaching fifteen years since it last won an election. As the soul searching begins, Labour's broad church will have to ask: at what level do we disagree? Since Jeremy Corbyn became leader this has been a central question for the two sides of the left. There is constant discussion of 'splits', 'coups' and 'purges'. Anger and impotence are felt on both sides. Everyone seems to hate each other, but no one can agree on why.
Writing from a centre-left perspective, Chris Clarke points to where the guts of the dispute lie. He argues that disagreements come down to narrative, not core values. Belief or otherwise in the three central myths which drive left populism - a 'dark knight' conflict between good and evil, control by elite puppet masters and nostalgia for a golden age - represents the true dividing line between pro- and anti-Corbyn factions. Combative but constructive, The Dark Knight and the Puppet Master makes the case for pluralism and questions the premise of Corbynism. Rather than a call for 'faux harmony', it's an attempt to break the deadlock - providing a route-map for the centre left, an explanation to the far left, and the foundations for a genuine debate between the two.
Previously published in an earlier edition by Rowman & Littlefield and Policy Network under the title Warring Fictions.
Published:

3 September 2020

ISBN:

9780141994369

Imprint:

Penguin eBooks

Format:

EBook

Pages:

352
Praise for The Dark Knight and the Puppet Master
Richly nuanced, the most stimulating book I have read on Labour in ages.

Martin Kettle, The Guardian
The best book written about the Labour Party in recent years ... a must read for those of us wanting the Labour Party to become once again a Party of Government.

Douglas Alexander, former Minister of State for Trade
A brilliant book ... a reading of left-wing politics that suggests a road ahead.

John Rentoul, Independent
Wide-ranging, clever and original, it's a vital read for anyone interested in not just left populism, but any sort of populism at all.

Andrew Sparrow, The Guardian
Chris Clarke's thought-provoking examination of the populist issues that have bedevilled the modern left is a bracing corrective to complacency. This dismantling of myths and memes alike, along with dispelling the belief that the left has any kind of monopoly on morality, is an essential read and a reminder that Keir Starmer has quite a job on his hands.

Alexander Larman, The Observer
A highly original take on Labour mythology and how this impacts the party's ability to connect with the voters ... offers one of the most innovative explanations of how Labour has lost its way over the past decade.

Anthony Broxton, The Critic
A splendid critique of left-wing populism and Labour's electoral woes ... a thesis that convincingly accounts for the defeats of leaders as outwardly disparate as Michael Foot, Neil Kinnock and Ed Miliband, not to mention Jeremy Corbyn and, perhaps ultimately, his successor.

James O'Brien, Times Literary Supplement