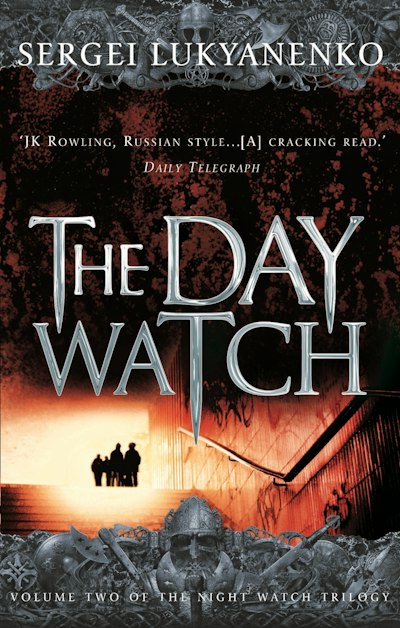 Published:

1 September 2010

ISBN:

9781409065982

Imprint:

Cornerstone Digital

Format:

EBook

Pages:

496
The Day Watch
(Night Watch 2)
---
---
---
The second installment of the phenomenal Night Watch trilogy; vampire novels set in a richly realised post-Soviet Moscow. Reminiscent of Philip Pullman's His Dark Materials in its ambitions and achievement, it has sold for huge advances all over Europe.
Walking the streets of Moscow, indistinguishable from the rest of its population, are The Others. Possessors of supernatural powers and capable of entering the Twilight, a shadowy world that exists in parallel to our own, each owes allegiance either to The Dark or The Light.
In The Day Watch, second book of the Night Watch trilogy, Alice, a young but powerful Dark Other, attends a planning meeting with her comrades in the Day Watch. The team is on a mission to apprehend an uninitiated Other, a practicing Dark witch who has so far eluded the bureaux responsible for finding and initiating unlicensed practitioners of magic. It seems a routine operation. But when they arrive, the Night Watch team has already made the arrest. A fierce battle ensues, during which Alice almost dies. Drained of her powers, she is sent to recuperate at a youth camp near the Black Sea. There she meets Igor; the chemistry between them is instant and irresistible.
But then comes a shattering realisation: Igor is a Light Mage. Suddenly Alice remembers him as one of those involved in the battle that left her crippled. Now that they know, there is no alternative to a magical duel, a battle that neither of them wants to win...
Published:

1 September 2010

ISBN:

9781409065982

Imprint:

Cornerstone Digital

Format:

EBook

Pages:

496
Praise for The Night Watch: This modern day mythical fantasy is Anne Rice on an epic scale, a hugely imagined world. A chiller thriller from cold of Russia, this one's been selling like hot cakes around the world.

Sunday Sport
So good that the film feels like a trailer for it

Time Out
JK Rowling, Russian style... Arguably Russia's richest and most famous literary talent of the moment. [a] cracking read, owing more to Rowling or Philip Pullman than it does to the horror genre... Surprisingly readable and addictive... It relies on suspense and psychological drama and a good dose of humour - rather than blood and guts.

Daily Telegraph
When a particular kind of story, heavily based in one culture, gets transferred into a culture distinctly different, something magical happens. Something modern, new and distinctly creepy... The magic is rooted in the realities of modern Russia. Inventive, sardonic, and imbued with a surprising the sense that, for this author and his audience, much of this stuff is new-minted.

Independent