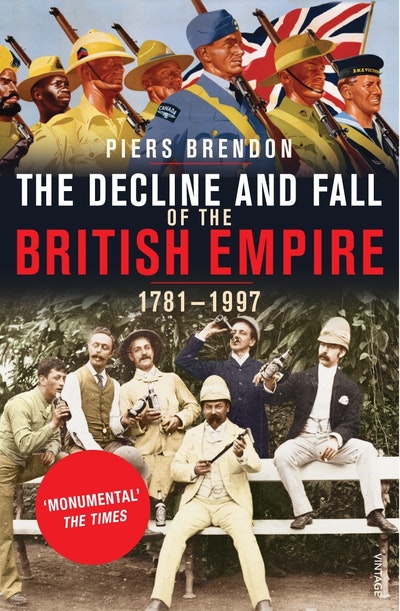 Published:

1 December 2010

ISBN:

9781409077961

Imprint:

Vintage Digital

Format:

EBook

Pages:

816
The Decline And Fall Of The British Empire
---
---
---
A brilliant, definitive and unique account of the eclipse of the British Empire.
No empire has been larger or more diverse than the British Empire. At its apogee in the 1930s, 42 million Britons governed 500 million foreign subjects. Britannia ruled the waves and a quarter of the earth's surface was painted red on the map. Where Britain's writ did not run directly, its influence, sustained by matchless industrial and commercial sinews, was often paramount.
Yet no empire (except the Russian) disappeared more swiftly. Within a generation this mighty structure sank almost without trace, leaving behind a scatter of sea-girt dependencies and a ghost of empire, the British Commonwealth of nations. Equally, it can be claimed that Britain bequeathed its former colonies economic foundations, a cultural legacy, a sporting spirit, a legal code and a language more ubiquitous than Latin ever was.
In a book of unparalleled scholarship, Piers Brendon presents the story of the decline and eclipse of British might, the major historical event in the closing stages of the second millennium. Full of vivid particulars, brief lives, telling anecdotes, comic episodes, symbolic moments and illustrative vignettes, The Decline and Fall of the British Empire evokes remote places as well as distant times. From the war for American independence, the end of the Raj, the 'scram out of Africa' and the unfinished business of the Falklands and Hong Kong to the new 'informal' empire of the United States, this is a comprehensive and engaging account.
Published:

1 December 2010

ISBN:

9781409077961

Imprint:

Vintage Digital

Format:

EBook

Pages:

816
Praise for The Decline And Fall Of The British Empire
Brilliant... Brendon paints a broad canvas yet he never forgets the apt quote or the telling detail. His pen portraits alone are worth the cover price... Quite simply, a masterpiece of historical narrative. No review can hope to do justice to the depth of Brendon's research, the balance and originality of his conclusions, or the quality and humour of his prose. Our imperial story has been crying out for a top-flight historian who can write. Now it has one

Literary Review
The conquest of one quarter of the world's surface was, as Piers Brendon shows in disturbingly entertaining fashion, a story of massacre, famine, rape, torture and loot on a grand scale....Brendon with an acute eye for detail and the tragic-comic bon mot, serves up a veritable gorefest in which all sides slake their lusts

Scotland on Sunday
A monumental new history

The Times
In recent years the British Empire has been the subject of fresh scrutiny... Now Piers Brendon brings his own sharp eye to the debate... This he does superbly: with brio and panache and, often, a mordant wit...This is a real achievement and an important one

Independent