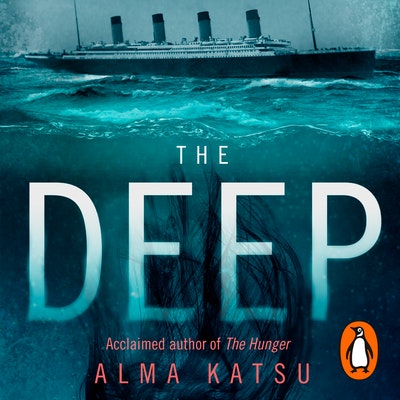 Published:

5 March 2020

ISBN:

9781473580381

Imprint:

Transworld Digital

Format:

Audio Download

Length:

12 hr 50 min

Narrator:

Jane Collingwood
The Deep
We all know the story of the Titanic . . . don't we?
---
---
---
With its brilliantly evoked historical backdrop, including on board the Titanic, and a rich cast of characters, both real and imaginary, The Deep is the heart-stopping new supernatural chiller from the author of the acclaimed The Hunger.
Brought to you by Penguin.
'Beautifully written, thoroughly absorbing and totally terrifying.' C.J. Tudor, bestselling author of The Chalk Man
Someone, or something, is haunting the Titanic.
Deaths and disappearances have plagued the vast liner from the moment she began her maiden voyage on 10 April 1912. Four days later, caught in what feels like an eerie, unsettling twilight zone, some passengers - including millionaire Madeleine Astor and maid Annie Hebbley - are convinced that something sinister is afoot. And then disaster strikes.
Four years later and the world is at war. Having survived that fateful night, Annie is now a nurse on board the Titanic's sister ship, the Britannic, now refitted as a hospital ship. And she is about to realise that those demons from her past and the terrors of that doomed voyage have not finished with her yet . . .
Bringing together Faustian pacts, the occult, tales of sirens and selkies with themes of guilt and revenge, desire and destiny, The Deep offers a thrilling, tantalizing twist on one of the world's most famous tragedies.
© Alma Katsu 2020 (P) Penguin Audio 2020
Published:

5 March 2020

ISBN:

9781473580381

Imprint:

Transworld Digital

Format:

Audio Download

Length:

12 hr 50 min

Narrator:

Jane Collingwood
An incredibly ambitious setting, prose as ornate as the boat, mood as ghostly as Gothic, and what must have been enough research to build a ship of her own . . . The Deep is thrilling, rich, frightening, unsettling, and, best of all, told from the heart . . . The Hunger was fantastic, but The Deep is divine . . . a brilliant author.

JOSH MALERMAN, author of Bird Box
Deftly mashes up spellbinding historical fiction, adroit commentary on class and gender, and a classic yet surprising ghost story . . . truly haunting.

PAUL TREMBLAY, author of The Cabin at the End of the World
Takes us back to the final days of the Titanic, her sister ship the Britannic, and the mysterious woman who links them both. In a haunting story of love and revenge, Alma Katsu blends the paranormal and historical fiction as only she can-a spellbinding tale where desire knows no bounds and death is only a beginning. Another fantastic story from the author of The Hunger.

J D BARKER, author of The Sixth Wicked Child
Alma Katsu is a fantastic writer, with a unique ability to blur the lines of history, horror, humanity, and tragedy. Think Diana Gabaldon by way of Charlaine Harris. As with her exceptional novel, The Hunger, in The Deep Katsu takes on an infamous tragedy and adds her own haunting twists.

MICHAEL KORYTA, author of Those Who Wish Me Dead
Like The Hunger, The Deep is historical re-imagining laced with magic and mystery. Alma Katsu adds a sweeping love story and a ghostly tale of revenge to the sinkings of RMS Titanic and HMHS Britannic to tell a tale that is haunting, thrilling and utterly original.

DACRE STOKER, co-author of Dracul
Blending choice elements of mystery and horror into an impeccably recreated history, Alma Katsu has created a rich, haunting, irresistible novel that succeeds in rewriting the past while making it feel more ominously present than ever.

LOUIS BAYARD, author of The Black Tower
The way Alma Katsu weaves the true story of the Titanic and her sister ship, Britannic, with this dark, terrifying tale of possession and haunting is phenomenal. Part history, part drama, part love story, part creepy-as-heck ghost tale, with chills icier than the watery depths, The Deep is beautifully written, thoroughly absorbing and totally terrifying.'

C.J. TUDOR, author of The Chalk Man
At once both tragic and chilling, The Deep perfectly blends psychological thriller and eerie gothic ghost story to create something truly haunting, drawing you down into its dark depths before finally letting you up for air.

SARAH PINBOROUGH, author of Behind Her Eyes
Elegant and eerie. Alma Katsu really is something rather special.

JOHN CONNOLLY
Katsu has once again been inspired by true-life tragedy to create a sinister story that will leave you gulping into the darkness at bedtime . . . perfect spooky reading.

Stylist
This imaginative spin on the tale is full of surprises . . . a satisfyingly spooky blend of history and horror.

Sunday Mirror
Another masterly supernatural reimagining of a historical tragedy: the sinking of the Titanic and her sister ship, the Britannic. Eerie, haunting, and filled with suspense, The Deep is a whirlpool of a novel that pulls you in and doesn't let go.

DANIELLE TRUSSONI, author of the Angelology series and The Ancestor
Carefully researched and meticulously crafted historical fiction fused with ho-hum horror.

Kirkus
In this clever blend of the historical and the supernatural, the author weaves the fate of the doomed ocean liner.into a terrifying paranormal tale.

Best Magazine
An all-too-human tale of obsessive love that crosses the boundary . . . between the material realm and the spiritual.

Financial Times
THE DEEP weaves together the true story of the Titanic and its sister ship Britannic, with a love story and a creepy tale of the supernatural.

SFX