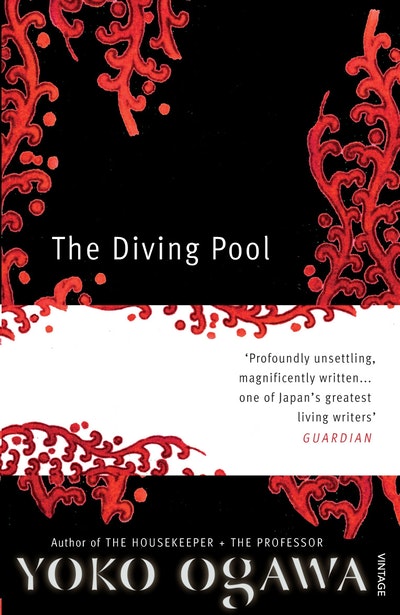 Published:

1 September 2010

ISBN:

9781409076186

Imprint:

Vintage Digital

Format:

EBook

Pages:

176
The Diving Pool
---
---
---
The first major English translation of one of contemporary Japan's most celebrated, award-winning authors.
Beautiful, twisted and brilliant - discover Yoko Ogawa.
A lonely teenaged girl falls in love with her foster-brother as she watches him leap from a high diving board into a pool - an unspoken infatuation that draws out darker possibilities.
A young woman records the daily moods of her pregnant sister in a diary, but rather than a story of growth the diary reveals a more sinister tale of greed and repulsion.
Out of nostalgia, a woman visits her old college dormitory on the outskirts of Tokyo. There she finds an isolated world shadowed by decay, haunted by absent students and the disturbing figure of the crippled caretaker.
Published:

1 September 2010

ISBN:

9781409076186

Imprint:

Vintage Digital

Format:

EBook

Pages:

176
Praise for The Diving Pool
Written in haunting, spare, shimmering prose...punctuated by acts of casual violence and vindictive spite. Profoundly unsettling, magnificently written and instantly memorable, these stories vindicate [Ogawa's] status as one of Japan's greatest living writers

Guardian online edition
Yoko Ogawa's British debut is inexcusably belated....Ogawa is a conspicuously gifted writer...Not a word is wasted, yet each resonates with a blend of poetry and tension...mesmerising... To read Ogawa is to enter a dreamlike state tinged with a nightmare, and her stories continue to haunt. She possesses an effortless, glassy, eerie brilliance. She should be discovered in Britain, and this book must surely begin the process.

Joanna Briscoe, Guardian
The three Japanese novellas in The Diving Pool are both creepy and disturbingly lovely...spine-tingling uncertainty surfaces throughout the haunting prose

Dazed & Confused
A fine collection of three queasily unsettling novellas...She invests the most seemingly banal domestic situations with a chilling and malevolent sense of perversity, marking her out as a master of subtle psychological horror

Daily Telegraph
An intriguing trilogy of exquisitely sketched stories... Elegant, intelligent, quietly disturbing

Financial Times
A welcome introduction to an author whose suggestive, unsettling storytelling speaks volumes by leaving things unsaid

Independent
Hard not to finish in one go, Yoko Ogawa's stories are perfect for spooky bedtime reading - and not-so-sweet dreams

Big Issue
Polished, original and strange. She reveals humour, menace, and humanity in a quietly explosive book

Irish Times
Her combination of the strange with the visceral elegantly conveys silent inner worlds of misery and pain

Metro
Ogawa is original, elegant, very disturbing. I admire any writer who dares to work on this uneasy territory - we're on the edge of the unspeakable. The stories seem to penetrate right to the heart of the world, and find it a cold and eerie place. Her spare technique is very skilled. Every word is put to work. She sets up a small vibration, a disturbance, which begins quietly and generates wider and wider ripples of unease. There are no narrative tricks, but the stories generate a surprising amount of tension. You feel as if you've touched an icy hand

Hilary Mantel, author of Beyond Black
Ogawa's tales possess a gnawing, erotic edge

Publishers Weekly
Yoko Ogawa is able to give expression to the most subtle workings of human psychology in prose that is gentle yet penetrating.

Kenzaburo Oe, Nobel Prize Winning author of A Personal Matter
Each well narrated and haunting novella, about love, obsession and dark humour, has an unpredictable twist of viciousness coupled with compassion

The Hindu