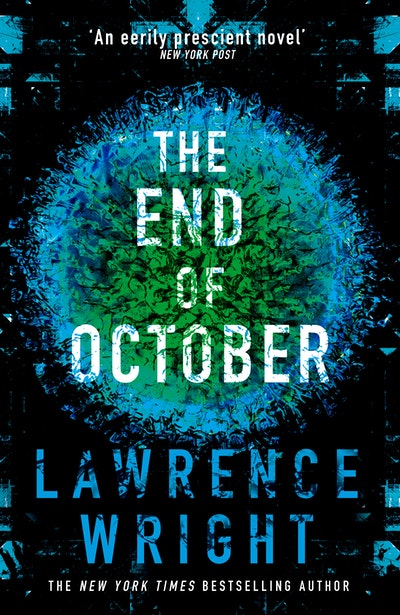 Published:

28 April 2020

ISBN:

9781787634213

Imprint:

Bantam Press

Format:

Trade Paperback

Pages:

400

RRP:

$37.00
The End of October
A page-turning thriller that warned of the risk of a global virus
---
---
---
A riveting and prescient thriller - from Pulitzer Prize winner, Lawrence Wright - that shows one man's race against time to save the world from a killer virus . . .
A DEADLY VIRUS. QUARANTINE. A WORLD IN LOCKDOWN. THE THRILLER THAT PREDICTED IT ALL.
'An eerily prescient novel about a devastating virus that begins in Asia before going global . . . A page-turner that has the earmarks of an instant bestseller.' New York Post
'Eerily prescient. Too bad our leaders lack his foresight.' The New York TimesA race-against-time thriller, as one man must find the origin and cure for a new killer virus that has brought the world to its knees.At an internment camp in Indonesia, forty-seven people are pronounced dead with a mysterious fever. When Dr Henry Parsons - microbiologist and epidemiologist - travels there on behalf of the World Health Organization to investigate, what he finds will soon have staggering repercussions across the globe: an infected man is on his way to join the millions of worshippers in the annual Hajj to Mecca.
As international tensions rise and governments enforce unprecedented measures, Henry finds himself in a race against time to track the source and find a cure – before it's too late . . .
***
'Featuring accounts of past plagues and pandemics, descriptions of pathogens and how they work, and dark notes about global warming, the book produces deep shudders . . . A disturbing, eerily timed novel.' Kirkus Reviews
'A compelling read up to the last sentence. Wright has come up with a story worthy of Michael Crichton. In an eerily calm, matter-of-fact way, and backed by meticulous research, he imagines what the world would actually be like in the grip of a devastating new virus.' Richard Preston, author of The Hot Zone
'This timely literary page-turner shows Wright is on a par with the best writers in the genre.' Publishers Weekly
WHAT READERS ARE SAYING:
'If you have a desire to really understand what is going on in the world right now, this is a novel that you cannot afford to miss!'
'Well-written and fast-paced. Most of all utterly, scarily, believable.'
'I HAVE LEARNED SO MUCH, and actually much of what I learned has informed my understanding of our current coronavirus pandemic.'
'Very well written and researched, and an all-around fascinating story'
Published:

28 April 2020

ISBN:

9781787634213

Imprint:

Bantam Press

Format:

Trade Paperback

Pages:

400

RRP:

$37.00
Praise for The End of October
An eerily prescient novel about a devastating virus that begins in Asia before going global . . . A page-turner that has the earmarks of an instant bestseller.

New York Post
Eerily prescient. Too bad our leaders lack his foresight.

The New York Times
Featuring accounts of past plagues and pandemics, descriptions of pathogens and how they work, and dark notes about global warming, the book produces deep shudders . . . A disturbing, eerily timed novel.

Kirkus Reviews
A compelling read up to the last sentence. Wright has come up with a story worthy of Michael Crichton. In an eerily calm, matter-of-fact way, and backed by meticulous research, he imagines what the world would actually be like in the grip of a devastating new virus.

Richard Preston, author of THE HOT ZONE
This timely literary page-turner shows Wright is on a par with the best writers in the genre.

Publishers Weekly
The novel is riveting and spookily anticipates much that has unfolded in reality.

The Sunday Times