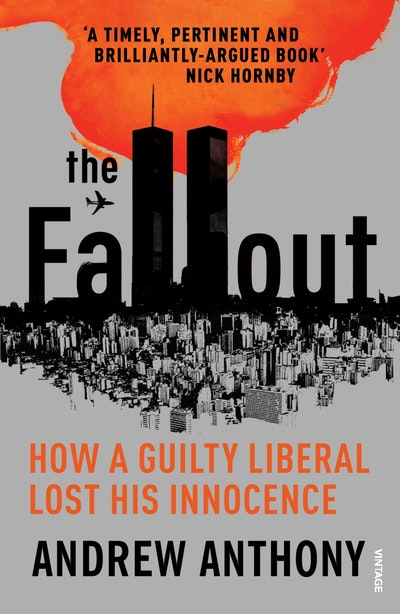 Published:

1 September 2010

ISBN:

9781407017143

Imprint:

Vintage Digital

Format:

EBook

Pages:

336
The Fallout
How a guilty liberal lost his innocence
---
---
---
One of the most controversial books of recent years, The Fallout forces us to re-examine all our preconceptions.
In 2001 Andrew Anthony was 39, a successful Observer and Guardian journalist who had just become a father. He was perfectly poised to settle into English middle-class middle-age life. A signed-up member of the liberal left, he'd even spent time supporting the Sandinistas in Nicaragua in the 80s. There were assumptions that, like wallet and keys, he never left the house without: the greatest menace to world security was America; crime was a function of poverty; Israel was the source of all the troubles in the Middle East.
Then came the wake-up call: 9/11. Shocked by the response of liberal friends and colleagues - a belief that America had it coming, a determination to understand the perpetrator rather than support the victim - Anthony was forced to re-examine and unpick his prejudices. It seemed there were other threats in the world far more malicious and dangerous than America. Could he really go on tolerating the intolerable?
The Fall-Out is his memoir, an account of his political education in Thatcher's Britain and the painful midlife reassessment. It shifts from the universal to the personal, the global to the local. The Iraq war, the vicious murder of Theo van Gogh, the 7/7 bombings, ethnic divisions and violence on quiet London streets: Anthony touches on all these to show how the 'muddled thinking, hypocrisy and cant' of the liberal middle-class has led to a world where guilt leaves people too timid to confront the vital issues of the day. Along the way there are revealing encounters with Christopher Hitchens, George Galloway, Ayaan Hirsi Ali, Yusuf Islam and Michael Moore.
From one of the country's finest journalists, this a major book about broken dreams, darkened illusions and big questions that no longer match their received answers. This is a controversial and humane reality check - an invitation to wake up and smell the cordite.
Published:

1 September 2010

ISBN:

9781407017143

Imprint:

Vintage Digital

Format:

EBook

Pages:

336
[A] vivid, emotively charged account... the guilty liberalism he excoriates, in a book that retains a force and passion and an insistence that you examine the thoughts you think through some 300 finely written pages, is not a definition of the contemporary left but a barricade to its development

John Lloyd, Observer
Anthony is one of my favourite journalists: he is incapable of an inelegant phrase or ill-considered argument

Decca Aitkenhead, Guardian
A compelling account, charted with honesty and passion

Mail on Sunday
A subtle, delicately nuanced, impassioned, courageous, elegantly formulated and far-reaching examination of the state of our ailing nation

Geoff Dyer, Observer
A vivid and sensitive writer...clever, engaging and palpably sincere

Spectator