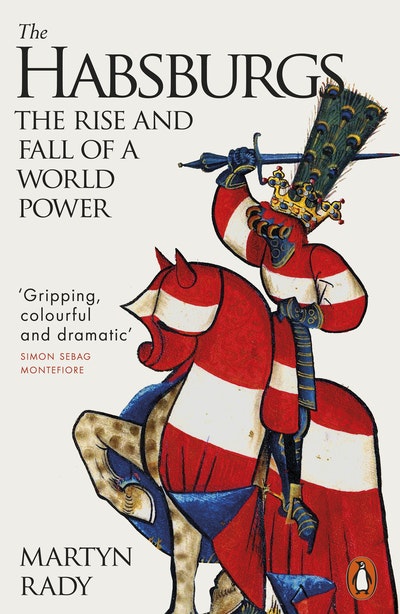 Published:

19 July 2022

ISBN:

9780141987200

Imprint:

Penguin Press

Format:

Paperback

Pages:

416

RRP:

$26.00
The Habsburgs
The Rise and Fall of a World Power
---
---
---
The definitive history of the dynasty that dominated Europe for centuries
In The Habsburgs, Martyn Rady tells the epic story of a dynasty and the world it built - and then lost - over nearly a millennium. From modest origins, the Habsburgs grew in power to gain control of the Holy Roman Empire in the fifteenth century, before their possessions rapidly expanded to take in a large part of Europe, stretching from the Far East to the New World. The family continued to dominate Central Europe until the catastrophe of the First World War.
With its seemingly disorganized mass of territories, its tangle of laws and its medley of languages, the Habsburg Empire has always appeared haphazard and incomplete. But here Martyn Rady shows the reasons for the family's incredible endurance, driven by the belief that they were destined to rule the world. The Habsburg emperors were themselves absurdly varied in their characters - from warlords to contemplatives, from idle to frenzied - but all driven by the same sense of family mission.
The Habsburgs is the definitive history of a remarkable dynasty that, for better or worse, shaped Europe and the world.
Published:

19 July 2022

ISBN:

9780141987200

Imprint:

Penguin Press

Format:

Paperback

Pages:

416

RRP:

$26.00
This is a first global history of Europe's most famous and durable dynasty, chronicling its exploits with great panache over nearly a millennium of rule across wide swathes of the continent and beyond. His text is accessible and entertaining, his ready wit providing a delectable counterpoint to the notorious humourlessness of so many of the dynasts he examines.

Robert Evans, Regius Professor of History Emeritus at the University of Oxford
The Habsburgs is gripping, colorful, and dramatic but also concise, scholarly, and magisterial ... Revealing a key player in world history for almost a thousand years, The Habsburgs is a chronicle of high politics and family intimacy involving religion, murder, incest, madness, suicide, assassination. History on an epic scale!

Simon Sebag Montefiore, author of THE ROMANOVS and JERUSALEM: THE BIOGRAPHY
A tour de force. Thorough, accessible, and resolutely erudite, this is the volume that this vitally important subject so desperately needed. Martyn Rady should be congratulated.

Roger Moorhouse, author of POLAND 1939: THE OUTBREAK OF WORLD WAR II
Martyn Rady has written a splendid account of the grandest old dynasty of Europe: the Habsburgs. With wit and firm opinion, he takes the reader on something akin to a tour of the Wunderkammer of the dynasty's many-centuries-long career. Including vampires, an empress's waist size, and cocaine-laced health drinks, Rady's narrative glitters with apt quotes and telling, often ironic details.

Steven Beller, author of THE HABSBURG MONARCHY 1815-1918
The Habsburgs were once Europe's foremost royal family. Rady tells their story with verve and authority, casting a curious eye over their eccentricities and peccadilloes while all the time revealing their extraordinary influence and global vision. A fascinating read!

Alexander Watson, author of THE FORTRESS and RING OF STEEL
This profile of the Habsburgs is concerned as much with the personal as it is the political. It is a tale of survival, from modest origins to control of an empire and, finally, twentieth-century catastrophe.

History Revealed
In The Habsburgs, Martyn Rady has produced a Rolls-Royce of a narrative that motors through ten centuries of history with an effortlessness that belies the intellectual horsepower beneath the bonnet ... The vast cast of characters is depicted with a mix of insight, sympathy and astringent Gibbonian wit that makes them instantly memorable ... [Rady's] book sheds light on the present almost as brightly as it illuminates the past.

John Adamson, Literary Review
Lucid and entertaining ... Rady is as good on the Habsburgs' artistic and cultural legacy as he is on the politics.

David Crane, The Spectator
Rady restores the Habsburgs to the heart of European history ... An enjoyable, clever and colourful introduction to the subject, with plenty of memorable details.

Dominic Sandbrook, Sunday Times
Magnificent ... Rady maintains unerring poise as he steers through the depths and complexities of his material. His erudition seems effortless, he never gets bogged down in detail, his prose is pellucid, and he spices the narrative with delightfully dry asides and telling anecdotes.

Rupert Christiansen, Daily Telegraph
Riveting ... It is impossible to imagine a more erudite and incisive history of this fascinating, flawed and ultimately tragic dynasty.

Paul Lay, The Times
The Habsburgs are a writer's gift, offering a regal cast of mad, colourful and deeply flawed characters ... Rady's sparkling study is certainly a good place to start.

Mark Mazower, Financial Times
This is probably the best book ever written on the Habsburgs in any language, certainly the best I have ever read ... a brilliant achievement. Students, scholars and the general reader will never find a better guide to Habsburg history. No one will ever again know as much about the subject as Rady.

Alan Sked, Times Literary Supplement
This volume takes it all in. That Mr. Rady can, in under 350 pages, cover everything from the division of the family's lands in the Swiss Argau in 990 to the surrender of power in 1918 by Charles, the last Habsburg monarch, without sacrificing essential details or losing the reader's attention, is a feat of both scholarship and storytelling.

A. Wess Mitchell, Wall Street Journal
An ambitious, wide-ranging, briskly written narrative that crams a vast amount of often surprising information into twenty-nine dense but very readable chapters.

Ritchie Robertson, Times Literary Supplement
This panoramic account manages to make more sense of the European dynasty than its rulers often did.

John Gallagher, The Guardian
It's staggering how much of the continent we recognise today is the result of the machinations of one family, much of it inbred and with really weird chins, and Rady manages to condense the story into one pacy and highly readable account of generations of chancers, liars, political masterminds, battlefield heroes and ruthless schemers who shaped Europe for centuries.

Charlie Connelly, New European
An engaging combination of fast-flowing narrative and insightful analysis.

Tony Barber, Financial Times