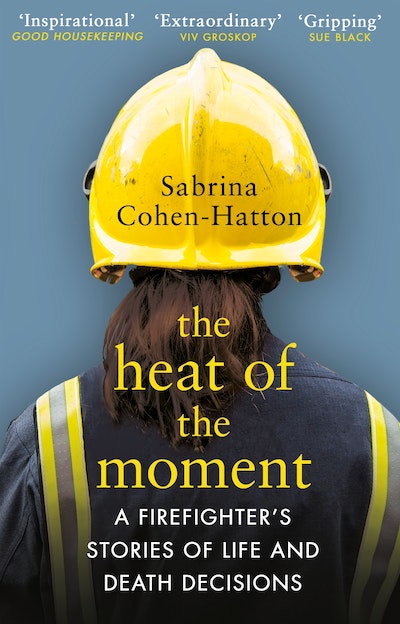 Published:

18 April 2019

ISBN:

9781473558434

Imprint:

Transworld Digital

Format:

EBook

Pages:

304
The Heat of the Moment
Life and Death Decision-Making From a Firefighter
---
---
---
One of the world's most senior female firefighters shares stories from her extraordinary professional life and reveals the reality of how seemingly impossible decisions are made in extreme circumstances.
Dr Sabrina Cohen-Hatton has been a firefighter for eighteen years. She decides which of her colleagues rush into a burning building and how they confront the blaze. She makes the call to evacuate if she believes the options have been exhausted or that the situation has escalated beyond hope. She has managed emergencies that have shocked us and moved us, and made decisions that seem impossible.
Taking us to the very heart of firefighting, shereveals the skills and qualities that are essential to surviving – and even thriving – in such a fast-paced and emotionally-charged environment. And she immerses us in this extraordinary world; from scenes of devastation and crisis, through triumphs of bravery, to the quieter moments when these assumed heroes question themselves, their choices, and decisions made in the most unforgiving circumstances. Ultimately, we are asked to step into their boots. In the face of urgency and uncertainty, would you respond analytically or trust your instincts? How would you decide who lives and who dies?
Sabrina's award-winning research into decision-making in the emergency services has transformed policy at a global level. This is her astonishing account of a profession defined by the most difficult decisions imaginable and by overwhelmingly challenging situations. Honest, eloquent and empowering, here is the truth about how we respond in our most extreme moments.
Published:

18 April 2019

ISBN:

9781473558434

Imprint:

Transworld Digital

Format:

EBook

Pages:

304
Praise for The Heat of the Moment
An inspirational memoir from an extraordinary woman. The Heat of the Moment does for the fire service what Adam Kay's This Is Going to Hurt did for the NHS. A humbling, jaw-dropping read which redefines what is possible in life

Viv Groskop
Gripping, heart-stopping and profoundly reassuring. Thank heavens for such courage.

Sue Black, author of All That Remains
A vivid reminder of the horrors that firefighters face daily - and the debt of gratitude society owes them . . . This book challenges assumptions about who firefighters are, and about what women can do.

The Guardian
[One of] the wonder women of our emergency services

Glamour
An immersive insight into a job which few of us could do, by a woman whose award-winning research into decision-making in the emergency services has transformed policy at a global level.

Stylist
An inspirational woman

Good Housekeeping
Inspirational . . . a powerhouse

Cosmopolitan
The Heat of the Moment places the reader at the centre of life-or-death situations . . . and sets out a mini-charter for the sorts of decisions most of hope we shall never have to make, such as how to save first, and when instinct should override procedure.

The Guardian
Homeless as a teenager, Sabrina Cohen-Hatton has spent the last 18 years dealing with everything from fires to car crashes and terrorist attacks. Who better to write a book about life-or-death situations?

Guardian
A riveting account of the events the author has experienced, endured and overcome with courage, commitment and determination. This compelling book tracks her life, work and ambition in equal measure . . . This book presents a wonderful insight into the human side of firefighting and the decision-making of a talented and professional female fire officer.

Simon Pilling, Chief Fire Officer (retd)
Brilliant! It describes with sparkling emotional intelligence everything that is real about decision-making. Full of fire, passion, science and judgement, truly a giant contribution to research'

Professor Jonathan Crego
Where the book really shines is in its ability to seamlessly weave together the three strands: personal life, firefighting life and her incredible work into decision-making . . . Fascinating.

Clifford Thompson, author of 'Falling Through Fire'
The Heat of the Moment provides a unique personal insight into the world of the firefighter. The author's experiences are presented in a frank and revealing way, and combined with insights from her broad understanding of academic psychology. The result is an inspirational and illuminating read.

Professor Rob Honey, University of Cardiff
A compelling book from start to finish. Cohen-Hatton uses her own experiences as a firefighter to expose the psychology behind her decisions and emotions. A great read and accessible to all.

Phil Butler, University of Cardiff
A compelling and exciting read. A great insight into decision-making on the front line of firefighting . . . Immersive stories, tension and fantastic lessons to take away. I loved it!

Flt Lt (Rtd) Mandy Hickson, former RAF Tornado pilot
One of the UK's most senior firefighters share heart-in-the-mouth stories from her 18 years in the emergency services, taking us to the very heat of battle; from scenes of devastation and crisis, to the quieter moments when these unassuming heroes question both themselves and the decisions they are forced to make. As we all as being extraordinarily courageous, Cohen-Hatton has an impressive professional track record: her award winning research into decision-making in the emergency services has transformed policy at a global level.

The Bookseller
A fascinating read

Dan Walker, BBC Breakfast
This book is incredible!

Louise Minchin, BBC Breakfast
WOW! I just could not put it down! . . . It will enlighten people about the human aspects of firefighting, the challenges of decision-making under pressure and the way in which university research has helped to understand and improve the way leaders approach critical decisions. It's certainly made me think about how I can use the principles discussed to help people in a variety of leadership positions.

Karen Holford, Deputy Vice-Chancellor of Cardiff University
This book will change the way you think. Forever.

Cosmpolitan
As well as being a fire-fighter, she's a fire-thinker, and that's what makes this book stand out.

Daily Mail
An inspiring, vivid account of the dangerous world of firefighting

Jane Shilling, Daily Mail