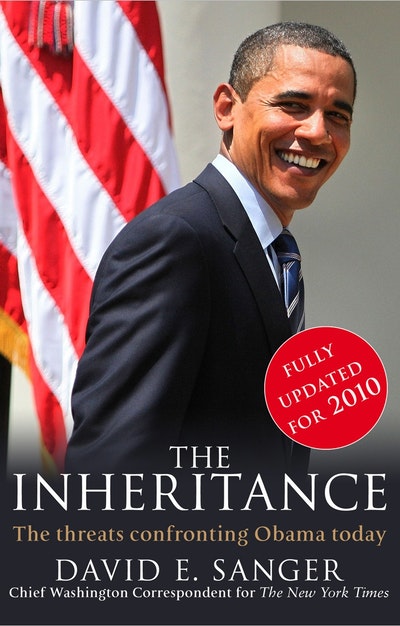 Published:

1 September 2010

ISBN:

9781409085508

Imprint:

Transworld Digital

Format:

EBook

Pages:

544
The Inheritance
---
---
---
Every day President Barack Obama receives security briefings on the perilous state of the world he has inherited. Here's yours.
During his seven years covering the White House for the New York Times, Chief Washington Correspondent David E. Sanger has had extraordinary and unrivaled access to presidents, world leaders and secretaries of state. Here, in The Inheritance, he gathers together all the evidence he has uncovered, both on and off the record, to offer us an insider's look at the many complex and oftentimes terrifying challenges that Obama now faces. Uncovering in fascinating detail the inner workings of the US military and intelligence communities, and describing the huge cost of the decision to invest so much of America, and Britain's, future on what once seemed like an easy mission in Iraq, Sanger talk us through a war gone bad in Afganistan, a power-hungry Iran on the brink of nuclear weapons, an unstable alliance with Pakistan, a rising China and a the worldwide economic crisis.
Mapping the political landscape that Obama has inherited, this book examines the international arenas that will remain the focus of the entire western world throughout the years to come, and gives us a fascinating behind-the-scenes glimpse into the Situation Room of the presidency. If you want to understand the world today in all its complexity, there's only one book for you: The Inheritance by David E. Sanger.
Published:

1 September 2010

ISBN:

9781409085508

Imprint:

Transworld Digital

Format:

EBook

Pages:

544
Praise for The Inheritance
Praise for Howard Linskey
Dark, creepy and compelling, with the claustrophobic sense of a killer waiting around the corner

T.M. Logan
An absolute belter of a thriller. Dark, sinister, clever and creepy. Keeps you guessing right to the very end

Neil Lancaster
From the brilliant first chapter to the heart-in-mouth ending, Howard Linskey has created a dark, clever and engrossing tale that will grip crime readers the world over

C.L. Taylor
Somehow David Sanger has broken through the secrecy and the government gobbledygook... He reveals inside stuff that we have never heard in detail that will surprise and sometimes shock, yet he has framed it all in language that the specialist will appreciate and the layman can understand. One of the most important books of the year.

Bob Schieffer, Chief Washington Correspondent, CBS News
A frightening account of the dangers that America faces.

Daily Telegraph
Journalism at its best: a slew of interviews, visits round the world, an approachable writing style, a dark and compelling tale.

David Shribman, Pittsburgh Post-Gazette
Obama faces a Himalayan range of problems. Sanger does an authoritative and at times devastating job of capturing them...

Edward Luce, Financial Times
Advance warning of the international stories that will be all over the front pages in the next few years.

The Herald
Sanger has a knack for getting Washington insiders to leak like sieves.

The Scotsman
Obama would do well to read David Sanger's highly instructive new book.

Edward Luce, Financial Times