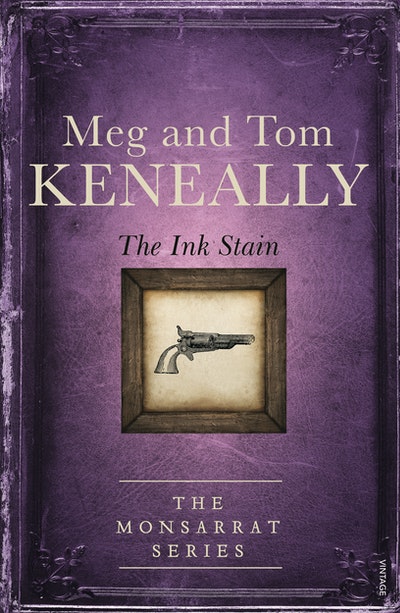 Published:

5 March 2019

ISBN:

9780143790310

Imprint:

Random House Australia

Format:

EBook

Pages:

336
The Ink Stain
Book 4, The Monsarrat Series
---
---
---
Monsarrat and Mrs Mulrooney are sent to Sydney to investigate corruption that may go right to the top – the office of the Governor of NSW.
Henry Hallward, editor of the Sydney Chronicle, is a thorn in the side of the colonial administration with his agitations for greater rights for convicts and his criticism of the governor. He's been imprisoned several times for criminal libel, and during one detention, he is shot dead.
Monsarrat and Mrs Mulrooney are sent to investigate, but after Monsarrat meets with Colonel Duchamp, Governor Darling's right-hand man, it becomes clear they are on their own in solving this murder.
As the duo meets other characters whose lives have touched that of brave Hallward, they realise the scope of their enquiries must be broad. There is Gerald Mobbs, editor of the Chronicle's rival newspaper, the Colonial Flyer, which some call a mouthpiece of the administration. There is Duchamp's sister, Henrietta, who seems to want to befriend Mrs Mulrooney, but also to have ulterior motives. There is Albert Bancroft, an éminence grise who may, or may not, own the house opposite the gaol, from where the murderous shot was fired.
The undaunted pair must sift through these suspects, aware that at any moment Duchamp could ignominiously dismiss them, leaving Hallward's murder unsolved and the freedom of the colony's press in grave jeopardy.
Published:

5 March 2019

ISBN:

9780143790310

Imprint:

Random House Australia

Format:

EBook

Pages:

336
Social standing and the structures of its preservation become one of the novel's themes. Essentially, it is a city of shadows and suggestions, with much of the action taking place in dark streets and closed rooms. Surveillance and its evasion, secrecy and suspicion, combine to create an evocative context for an absorbing narrative, with minimal violence, but with the ever-present threat of the exercise of arbitrary authority.

Michael Wilding, The Australian