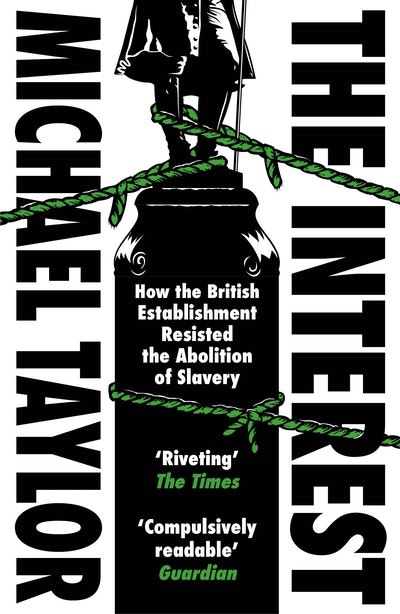 Published:

5 November 2020

ISBN:

9781473566361

Imprint:

Vintage Digital

Format:

EBook

Pages:

400
The Interest
How the British Establishment Resisted the Abolition of Slavery
---
---
---
A dramatic narrative history based on new research revealing the previously hidden side of the story of abolition
In 1807 Parliament outlawed the slave trade across the British Empire. But for the next quarter of a century, over a million people already enslaved in the British colonies remained under bondage. Drawing on dramatic new research, this ground-breaking history reveals the true extent of British efforts to prevent their emancipation.
It describes a period during which slave ownership was the defining political and moral issue of the day. On the one side were a motley mix of brewers, historians, and politicians, pushing for the slaves to be freed. On the other nearly every leading figure of the British establishment lent their weight to preventing it – names as notable as Gladstone, Barclay, and Peel, publications including The Times and the Spectator, even William Wilberforce, the leading light behind the 1807 Slave Trade Act, who claimed that to do so would be 'madness'. They were known as 'the Interest' - and theirs is an extraordinary story of the lengths men will go to rationalise the indefensible in the name of profit.
Between the two sides, of course, were the enslaved people themselves, most notably in the sugar-rich plantations of the West Indies, who were fighting their own brutal battle for freedom during these years. In celebrating the achievement of 1807, British history has overlooked and obscured their story too.
This long-overdue account finally brings to light the true story of the British fight to abolish – and maintain – slavery, and of those who suffered it during those years. It also reveals the astonishing legacy of this period – not least in the gargantuan sums ultimately paid in compensation not to the slaves but to the slave-owners, which transformed British Victorian society – and challenges us to re-think one of the darkest episodes in our collective past.
Published:

5 November 2020

ISBN:

9781473566361

Imprint:

Vintage Digital

Format:

EBook

Pages:

400