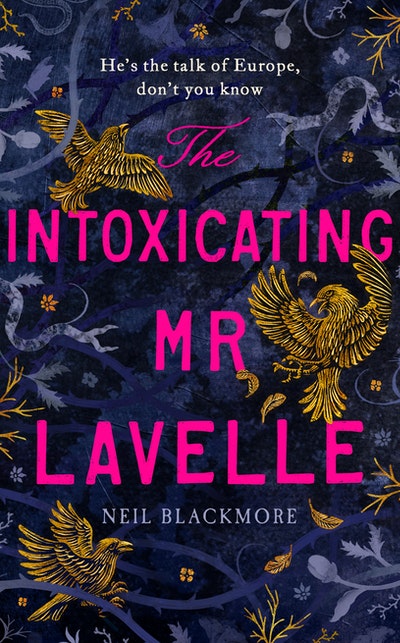 Published:

30 April 2020

ISBN:

9781473574199

Imprint:

Cornerstone Digital

Format:

EBook

Pages:

336
The Intoxicating Mr Lavelle
Shortlisted for the Polari Book Prize for LGBTQ+ Fiction
---
---
---
1764: Two brothers are sent off on a Grand Tour of Europe to meet People of Quality. Instead they meet the man who will destroy everything.
__________________________
'Seductive, decadent, cruel and utterly thrilling - just like Horace Lavelle himself. This is The Talented Mr Ripley for the twenty-first century.' Emma Flint, author of Little Deaths
'An enjoyable dip into decadence.' Observer
__________________________Brothers Benjamin and Edgar have so far led a quiet life, but change is afoot as they enter a world of glorious sights and People of Quality on their Grand Tour of Europe. But a trunk full of powdered silver wigs and matching suits isn't enough to embed them into high society.
As Edgar clings on to conventions, Benjamin pushes against them. And when the charming, seductive Horace Lavelle promises Benjamin a real adventure, it's only a matter of time before chaos and love ensue.
__________________________
'A fizzing, seductive queer romance.' i Paper
'Wildly entertaining and painfully heartbreaking ... Neil Blackmore writes with a fizzy wit that bounds his characters off the page.' Ben Aldridge
Published:

30 April 2020

ISBN:

9781473574199

Imprint:

Cornerstone Digital

Format:

EBook

Pages:

336
Praise for The Intoxicating Mr Lavelle
I gorged myself with wicked glee on Horace Lavelle, and his scandalous joyride through society. Thrillingly cruel, heartbreakingly tender and altogether exhilarating; don't believe a word Lavelle says but relish every one of them.

Zoe Gilbert, author of 'Folk'
A dark and sexy whirl across the Continent on a Grand Tour like no other. Under the spell of the dangerous, delicious Horace Lavelle, every Enlightenment certainty is undone, every taboo is broken and every hypocrisy is wildly and thoroughly trampled.

Alix Christie, author of 'Gutenberg's Apprentice'
Seductive, decadent, cruel and utterly thrilling - just like Horace Lavelle himself. This is The Talented Mr Ripley for the twenty-first century.

Emma Flint, author of 'Little Deaths'
Sexy, smart, funny, dark. Get ready for the intoxicating Mr Lavelle!

Anna Mazzola, author of 'The Story Keeper'
Wildly entertaining and painfully heartbreaking ... a surprisingly timeless journey of self-discovery and the queer experience. Neil Blackmore writes with a fizzy wit that bounds his characters off the page and yet a gentle tenderness that may break your heart.

Ben Aldridge
Blackmore's seductive tale of two brothers who fall in with a mysterious stranger while on a Grand Tour of 18th century Europe fizzes with wit and invention.

i paper
[A] lively narrative.

Sunday Times
[A]n enjoyable dip into decadence.

Observer
An original and spirited novel.

The Times
Most so-called comic novels these days barely raise a smirk. Enter Neil Blackmore to show us all how it's done with his hugely entertaining romp through 18th-century Europe. The Intoxicating Mr Lavelle is a novel for which the word "rollicking" might have been invented ... From the start, Benjamin's voice is a delight ... Blackmore draws clear parallels between the social and financial disparities of the 18th century and today ... The Intoxicating Mr Lavelle is the kind of novel that a reader can sink into, delighting in the merriment of the prose and the eccentricity of the protagonists. But it's not just played for laughs: it's also an insightful study into a period of history often overlooked in fiction.

John Boyne, Irish Times
Neil Blackmore's third novel delves into how a person can be blown open and changed forever by the intoxication of love and sexual desire, however brief. Meeting Lavelle is both a blessing and a curse for Benjamin, but it forces him to live a more honest life.

Erotic Review