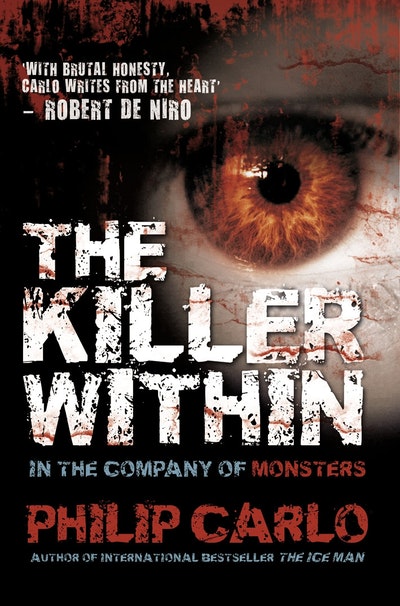 Published:

11 January 2011

ISBN:

9781907195440

Imprint:

Mainstream Digital

Format:

EBook

Pages:

288
The Killer Within
In the Company of Monsters
---
---
---
Insightful memoir by the bestselling author of The Ice Man
As research for his acclaimed true-crime books, Philip Carlo interviewed at length some of the most infamous criminals and killers of our times in prison and on death row. He was able to forge a trusting relationship with his subjects, enabling him to extract the facts behind their infamy and identify what motivated them to commit their horrific crimes.
His successful books reveal the truth about notorious characters such as LA serial killer Richard Ramirez (The Night Stalker), Mafia contract killer Richard Kuklinski (The Ice Man) and crime-family boss Anthony Casso (Gaspipe), and, working closely with the DEA, Carlo also wrote the definitive account of Bonanno Mafia family assassin Tommy 'Karate' Pitera (The Butcher).
Carlo's investigative achievements were remarkable, but what wasn't known to his readers was that, while working on The Ice Man, he learnt he had amyotrophic lateral sclerosis (ALS), a terminal illness that caused all of the muscles in his body to atrophy over time. Suddenly, after years of penetrating the minds of killers, Carlo was himself being pursued by the grim reaper. But rather than lying down and succumbing to the disease, Carlo continued to work right up until his death in 2010, and his books were published to critical and commercial acclaim.
In The Killer Within, Carlo documents his difficult experiences with ALS and explains how he managed to continue working as a true-crime author in the face of adversity. He provides an intimate account of his relationships with Ramirez, Kuklinski and Casso and reveals intriguing information about writing his bestsellers while simultaneously coping with the numerous challenges that ALS presented as it slowly began to steal his life away.
Published:

11 January 2011

ISBN:

9781907195440

Imprint:

Mainstream Digital

Format:

EBook

Pages:

288
Praise for The Killer Within
An inspiring testament to what the human mind can accomplish in the wake of devastating change . . . a brave psychological exploration of a writer's craft and terminal illness

Kirkus Reviews