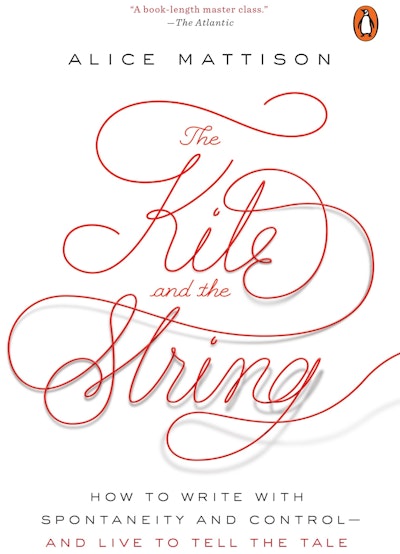 Published:

15 July 2017

ISBN:

9780143111634

Imprint:

Penguin

Format:

Trade Paperback

Pages:

256

RRP:

$35.00
The Kite and the String
How to Write with Spontaneity and Control--and Live to Tell the Tale
---
---
A targeted and insightful guide to the stages of writing fiction and memoir without falling into common traps, while wisely navigating the writing life, from an award-winning author and longtime teacher
A targeted and insightful guide to the stages of writing fiction and memoir without falling into common traps, while wisely navigating the writing life, from an award-winning author and longtime teacher
"A book-length master class." —The Atlantic
Writing well does not result from following rules and instructions, but from a blend of spontaneity, judgment, and a wise attitude toward the work—neither despairing nor defensive, but clear-eyed, courageous, and discerning. Writers must learn to tolerate the early stages, the dreamlike and irrational states of mind, and then to move from jottings and ideas to a messy first draft, and onward  into the work of revision. Understanding these stages is key.
The Kite and the String urges writers to let playfulness and spontaneity breathe life into the work—letting the kite move with the winds of feeling—while still holding on to the string that will keep it from flying away. Alice Mattison attends also to the difficulties of protecting writing time, preserving solitude, finding trusted readers, and setting the right goals for publication. The only writing guide that takes up both the stages of creative work and developing effective attitudes while progressing through them, plus strategies for learning more about the craft, The Kite and the String responds to a pressing need for writing guidance at all levels.
Published:

15 July 2017

ISBN:

9780143111634

Imprint:

Penguin

Format:

Trade Paperback

Pages:

256

RRP:

$35.00
Praise for The Kite and the String
"A book-length master class." —The Atlantic "The Kite and the String does not purport to be either a DIY manual or memoiristic musing. Rather, it is a guide to the stages of writing, exploring an approach which is essentially practical, human, and hopeful. . . . Mattison's close reading of various works of fiction is well worth every writer's while. . . . She is a wonderfully wise and nurturing teacher." —Los Angeles Review of Books "Not a how-to so much as a reflection on how to be happy, or at least productive, as a writer . . . Mattison walks us through the writing process from idea to drafting to revision, offers possible forms for stories, carefully considers issues she's noticed while teaching, then wraps up with proposals for how we might get our minds and expectations right. . . . A much-needed reminder to relax control, to commit the space and the time, then sit back and let the string unspool." —The Rumpus "Full of warm but pragmatic wisdom . . . Mattison cuts through a lot of the mystique around the writing process." —Flavorwire "Alice Mattison's The Kite and the String is the best kind of 'inside job.' Though brimming with a practitioner's reflective wisdom and immediately useful insight, it is never prescriptive—always acknowledging that 'This worked for me. . .' without ever presuming. But Mattison is so canny and experienced that her insights are hugely relevant for all of us who write. Indeed, this book goes right next to James Wood's How Fiction Works on the shelf by the desk." —Sven Birkerts, author of The Gutenberg Elegies and The Art of Time in Memoir "An indispensable writing guide by a master teacher, as tough-minded as it is encouraging. And Alice Mattison's wit, erudition, and transcendent common sense make it a sheer pleasure to read and re-read." —David Gates, author of Jernigan and A Hand Reached Down to Guide Me "The essays in The Kite and the String are brilliant, funny, and wise—everything that readers of Alice Mattison's fine work have come to expect—and they will send you running to your desk with new insight and inspiration. Every page is a keeper." —Jill McCorkle, author of Life After Life and Going Away Shoes "Wry and wise, the voice of master teacher and storyteller Alice Mattison carries us aloft in this useful, funny, and important book about writing and the writing life. Every student, writer, and teacher—of fiction, nonfiction, and, for that matter, poetry—will find new insights, old truths newly expressed, and aid and comfort as we pursue our difficult and glorious art. In this book, Mattison reveals what her colleagues and students have long known—that she is an indispensable writing friend." —April Bernard, author of Miss Fuller  "In this superb book about writing and her own surprising beginnings as a writer, Alice Mattison shows us how to create the vivid dream of successful fiction. If you want to be a writer, read this book." —Susan Cheever, author of Drinking in America "Mattison analyzes how to write compelling fiction in this essential guide . . . a gold mine for writers across a spectrum of experience levels. Her conspiratorial 'we the writers' tone is charming and lively, and her breadth of knowledge makes her an effective and instructive authority. Perfect for aspiring writers or those trying to make it over a bump in the road." —Booklist (starred review) "Unlike other guides on the topic, Mattison's focuses on the process of becoming an author rather than the elements of a genre—finding story, not detailing its pieces. Anecdotes and examples from her career as a writer, mother, and MFA instructor make this a lively and provocative read. . . . The instruction is engaging and approachable, lending the feel of a writer's workshop. A great choice for writers, particularly those with a day job." —Library Journal (starred review) "Mattison offers thoughtful, encouraging advice. . . . She doles out guidance on crafting story, conjuring character, and keeping readers engaged, all peppered with examples taken from her own classroom as well as from the works of literary giants. . . . Novice writers can do themselves (and us all) a favor by dipping into this practical primer." —Publishers Weekly "A generous, empathetic writer's companion." —Kirkus Reviews   From the Hardcover edition.