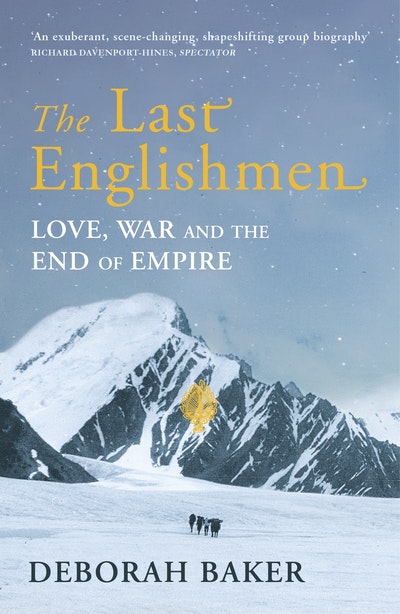 Published:

2 August 2018

ISBN:

9781448191628

Imprint:

Vintage Digital

Format:

EBook

Pages:

384
The Last Englishmen
Love, War and the End of Empire
---
---
---
An engrossing story that traces the end of empire and the stirring of a new world order
Winner of the Kekoo Naoroji Award for Mountain Literature 2019
An engrossing story of passion and exploration that traces the end of empire and the stirring of a new world order.
John Auden was a pioneering geologist of the Himalayas. Michael Spender was the first to draw a detailed map of the North Face of Mount Everest. While their younger brothers - W. H. Auden and Stephen Spender - achieved literary fame, they vied for a place on an expedition that would finally conquer Everest. To this rivalry was added another: their shared love for a painter named Nancy Sharp. Her choice would determine each man's wartime loyalties.
From Calcutta to pre-war London to Everest itself, The Last Englishmen tracks a generation obsessed with a romantic ideal. With a cast including writers, artists, political rogues and spies, this is narrative history at its most engaging and illuminating.
'Wholly original... It wouldn't be an exaggeration to say that there is something Tolstoyan to Baker's vast project... Remarkable' Neel Mukherjee
'An exuberant, scene-changing, shapeshifting group biography' Spectator
Published:

2 August 2018

ISBN:

9781448191628

Imprint:

Vintage Digital

Format:

EBook

Pages:

384
Praise for The Last Englishmen
Wholly original...a dense, rich, exhilarating piece of work that moves deftly between worlds and peoples...she keeps the big events always in view, dramatizing and humanizing the workings of history, particularly the story of empire and its machinations, in a way a novelist would – by making it a story of individuals... It wouldn't be an exaggeration to say that there is something Tolstoyan to her vast project...remarkable

Neel Mukherjee, Wall Street Journal
In The Last Englishmen, Deborah Baker has written an exuberant, scene-changing, shapeshifting group biography, with John Auden and Michael Spender as its chief human protagonists. But she makes the Himalayas, and Mount Everest, palpable and vivid characters in her story too

Richard Davenport-Hines, Spectator
Deborah Baker combines a novelistic alertness to the inner life with an anthropologist's understanding of multiple cultures and a historian's eye for major events. The result, yet again, is a continuously absorbing and stimulating book, which enlarges the cultural and political history of the mid-20th century even as it grippingly relates the adventures of a few men and women

Pankaj Mishra
Love, war, politics, psychoanalysis, poetry, Calcutta and, especially, the Himalayas – Deborah Baker's meticulously researched account of India and Britain in the forties reads like the very best of novels.

Siddhartha Deb
An enlightening and utterly compelling read… what really distinguishes the book is its brilliant characterisation and its structural agility. It reads like fiction. Anyone seeking only information will be disappointed. Non-fiction ought always to be this engaging

John Keay, Literary Review
A refreshingly novel account… this is skilful work, showing ordinary individuals as they cope–or buckle–while great geopolitical events twist and shape their lives

Economist
A Pulitzer Prize and National Book Award finalist takes readers on a journey through the Indian subcontinent at the closing of the British Empire... Seemingly covering disparate topics, Baker beautifully connects them all with an incisive, clear writing style and sharp descriptions of the terrain. A book for any readers curious about India after 1900

Kirkus
Seemingly covering disparate topics, Baker beautifully connects them all with an incisive, clear writing style and sharp descriptions of the terrain. A book for any readers curious about India after 1900

Booklist
Vivid… Baker tells her story as if it were fiction… The result is a book with the narrative sweep of an epic novel

Peter Parker, The Oldie
Ambitious and entertaining… The history of Empire is seen here through a unique prism

Jules Stewart, Geographical
Satisfying and elegant... The book's narrative style is inseparable from its conception of history: it illustrates the essential inwardness of historical experience, and its unexpected conjunctions and coincidences evoke the miscellaneous reality of ordinary life. More than once while reading The Last Englishmen I found myself thinking of Stendhal's account of the Battle of Waterloo from Fabrice's marginal perspective, in The Charterhouse of Parma, and of Virginia Woolf's portrait of a nation on the brink of war, without mentioning it, in an English country house in Between the Acts

Edward Mendelson, Book Post
Satisfying and elegant... The book's narrative style is inseparable from its conception of history: it illustrates the essential inwardness of historical experience, and its unexpected conjunctions and coincidences evoke the miscellaneous reality of ordinary life. More than once while reading The Last Englishmen I found myself thinking of Stendhal's account of the Battle of Waterloo from Fabrice's marginal perspective, in The Charterhouse of Parma, and of Virginia Woolf's portrait of a nation on the brink of war, without mentioning it, in an English country house in Between the Acts

Edward Mendelson, Book Post
Skilfully constructed… The Last Englishmen… [is] a real achievement

Elizabeth Baigent, Times Literary Supplement
Baker is able to inhabit characters from both [India and England], not merely as political entities...but as confused and deluded human beings, crashing into one another with all the dissatisfaction and self-doubt that membership in your and my species entails. The result is a book that offers not only the historical facts, but also a convincing three-dimensional experience of the withering of European ambitions in Asia.

Rupert Arrowsmith, South East Asia Review