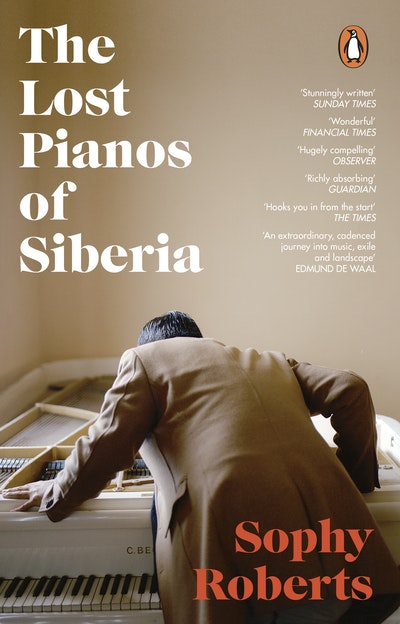 Published:

13 April 2021

ISBN:

9781784162849

Imprint:

Black Swan

Format:

Paperback

Pages:

448

RRP:

$24.00
The Lost Pianos of Siberia
---
---
---
Fusing history, nature writing and travelogue, The Lost Pianos of Siberia is a captivating exploration of an extraordinary and largely unknown landscape, its fascinating people and unexpected musical legacy.
'Stunningly written' Sunday Times
'Richly absorbing' Guardian
'Hooks you in from the start' Times
'Masterful' Independent
'Hugely compelling' Observer
'Wonderful' Financial Times
Siberia's story is traditionally one of exiles, bitter cold and suffering. Yet there is another tale to tell. Dotted throughout this remote land are pianos created during the boom years of the nineteenth century. They tell the story of how, ever since entering Russian culture under the influence of Catherine the Great, piano music has run through the country like blood. How these pianos travelled into this snow-bound wilderness in the first place is remarkable. That stately instruments might still be capable of making music in such a hostile landscape is nothing less than a miracle.
The Lost Pianos of Siberia is a story about a piano hunt - a quixotic journey through two centuries of Russian history and nine time zones stretching across an eleventh of the world's land surface. It reveals not only music, but profound humanity in the last place on earth you might expect to find it.
Published:

13 April 2021

ISBN:

9781784162849

Imprint:

Black Swan

Format:

Paperback

Pages:

448

RRP:

$24.00
Praise for The Lost Pianos of Siberia
This is an amazing journey, the ultimate quest for the oddest objects - pianos - in the most unlikely place - Siberia. But Sophy Roberts makes it much more than that, an elegant and nuanced journey through literature, through history, through music, murder and incarceration and revolution, through snow and ice and remoteness, to discover the human face of Siberia. I loved this book.

Paul Theroux
An impressive exploration of Siberia's terrifying past... Richly absorbing.

Guardian
An exuberant, eccentric journey through Russian vastness, European history and Russian culture, The Lost Pianos of Siberia is a quixotic quest, a picaresque travel adventure and a strange forgotten story, all wrapped into one fascinating book.

Simon Sebag-Montefiore
What shines through in this book is Roberts' genuine, humane affection for and fascination with the people she meets in Siberia.

Literary Review
An extraordinary encounter with a wildly fascinating and astonishingly ill-known region... This is a wonderful book.

Sunday Times
Marvellous… a masterful example of modern historical travel writing

Independent
A richly observed cultural history... thrilling.

New Statesman
Fascinating account of Siberia's horrific legacy told with great verve… Roberts is a wonderfully lyrical writer.

The Observer
Beautifully written... A unique short history of Russia from Catherine the Great to Putin... A sense of the extraordinary marks every page.

History Today
Captures Siberia's wildness, but favours its enchantments.

Times Literary Supplement
Courage, patience, erudition and a sympathetic imagination… A travel book of rare quality.

Dervla Murphy
Roberts achievement is to vividly bring us into a hidden landscape that in an over-travelled world retains its mystique. Through her painterly depiction of the people she encounters, she infuses the epic with the intimate and reveals how sometimes looking is more important than finding

Sunday Business Times
Utterly absorbing - a wonderful addition to the story of resilience, tragedy and triumph that are the hallmarks of Siberia. Roberts displays an empathy and understanding worthy of this deeply haunted, strangely fascinating land.

Benedict Allen
Roberts' writing is beguiling.

The i
A modern-day Freya Stark.

Tatler
The Lost Pianos of Siberia is one of those magical books that captures the imagination and draws you into the beauty and majesty of Siberia. Idiosyncratic in style – part travelogue, part history, part detective trail – it is full of wonderful stories about human endurance through adversity and the transformative power of music in the most remote and forgotten outposts of this vast territory. A book to savour and remember.

Helen Rappaport, author of THE LAST DAYS OF THE ROMANOVS
Utterly fascinating and revealing to anyone who only knows Siberia through its Great Myth as a forgotten, frozen Nowhere.

Christopher Somerville
A thrilling adventure to the ends of the earth, where sunlight glitters in the snowdrifts and the strains of the exile's song floats through the air. Pack your suitcases for Siberia - Sophy Roberts' gorgeous prose will summon you there like a smell.

Cal Flyn, author of THICKER THAN WATER
What worlds this book traverses! From gilded recital halls to the haunts of Siberian tigers; from remote penal colonies to volcanic islands in the Bering Sea: I felt as if I had travelled through places I had only dreamed of, following these magical instruments through landscapes and histories so full of tragedy and hope.

Daniel Mason, author of THE PIANO TUNER
Absolutely intoxicating. Such vivid detail, rich atmosphere, heartbreak, and elegance. Sophy Roberts melds research and personal experience to trace the paths of political prisoners, convicts, and conscripts determined to find beauty in exile, and track down the regal pianos now scattered in villages, museums, and storehouses across the largest country on earth. Some cherished and some neglected, these pianos tell of the musical colonization of a continent, and their stories sing.

Jonathan C. Slaght, author of OWLS OF THE EASTERN ICE
Romance and tragedy, gulags and tower blocks, princes and oligarchs and of course tigers and pianos, Roberts captures all the wonder and heartbreak of an entire Empire in one feast of a book.

Ben Rawlence, author of CITY OF THORNS and RADIO CONGO
Not-to-be-missed travel.

The Tablet
Beautifully constructed, clear-eyed and generous-spirited.

Will Atkins, author of THE MOOR and THE IMMEASURABLE WORLD
An intoxicating journey into the wilds of Siberia.

Stella magazine