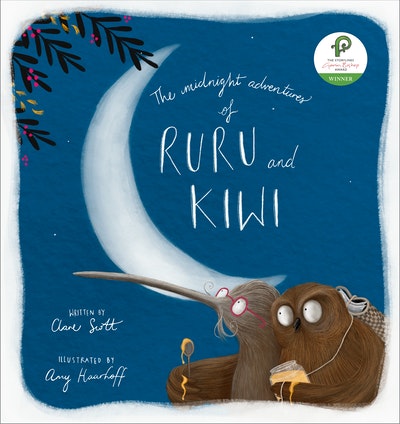 Published:

31 March 2020

ISBN:

9780143773146

Imprint:

Picture Puffin

Format:

Paperback

Pages:

32

RRP:

$21.00
The Midnight Adventures of Ruru and Kiwi
---
---
Ruru and Kiwi invite you to their midnight forest feast, in this delightful twist on the tale of the Owl and the Pussycat, with enchanting illustrations by the winner of the Storylines Gavin Bishop Award 2019.
The delightful rhyming story of Ruru and Kiwi, who host a midnight forest party for their friends, with award-winning illustrations.
The Ruru and Kiwi went into the bush,
wrapped snug in night's velvety black.
They took some runny manuka honey
tied up in a flax-woven sack.
Drawing on a cast of nocturnal New Zealand creatures, with award-winning illustrations by Amy Haarhoff, Clare Scott's story imagines Edward Lear's famous nonsense poem taking place in a moonlit forest in Aotearoa.
Published:

31 March 2020

ISBN:

9780143773146

Imprint:

Picture Puffin

Format:

Paperback

Pages:

32

RRP:

$21.00
Praise for The Midnight Adventures of Ruru and Kiwi
beautifully presented Kiwiana . . . Perfect for a bedtime story and to nurture the love of reading and stories with your little ones.

Sue's Reviews, Wairarapa Times-Age
As well as the story what makes this book special are the beautiful illustrations of the nocturnal creatures as they arrive one by one for the midnight feast in the bush...I think that children 3 years and up would really enjoy this book. They will soon want to join in the rhymes.

Lyn Potter, Grownups.co.nz
...it's a really fun read that will bring a smile to your kids' faces.

Sarah Forster, The Sapling
The fun rhyming text alongside the magical illustrations ... will delight and begs for repeat readings. At the back of the book is a fact sheet about night-time creatures of the bush. For readers 2+.

Swings and Roundabouts
This is what happens when our native nocturnal creatures come out to play...The illustrations by Amy Haarhoff are beautiful and the gentle rhyme a soothing bedtime story. At the back is an illustrated list of the nighttime guests. A great bedtime story.

Ann Kilduff, Northern Advocate
The story is charming and the words are so descriptive, with the paragraphs flowing well and having a beat when read aloud. The illustrations are gorgeous, very lifelike and fitting the story completely. There's a handy section at the back that identifies all the night creatures at the party and gives some information about them.

Jan Butterworth, A Kiwi's Book Reviews
Clare's choice of words, lyrical language and storytelling skills brought together with the Storylines Gavin Bishop Illustration Award winner Amy Haarhoff has resulted in a gorgeous picture book that 4-6 year old children will love. It'll make a great read aloud in classrooms and bedrooms. Teachers can use it to highlight excellent use of supercharged verbs and rhythmic language. Bound to be a favourite in the classroom and homes.

Kids Books NZ
A charming story, written in rhyme and recalling Edward Lear's Owl and the Pussycat in subject and cadence, about Ruru and Kiwi, who host a midnight feast for their friends. The language is lovely and poetic – "wrapped snug in night's velvety black" – and the superb illustrations perfectly reflect the story.

NZ Booklovers
NZ Booklovers Award
Finalist • 2021 • Best Children's Book Award
Article
Video