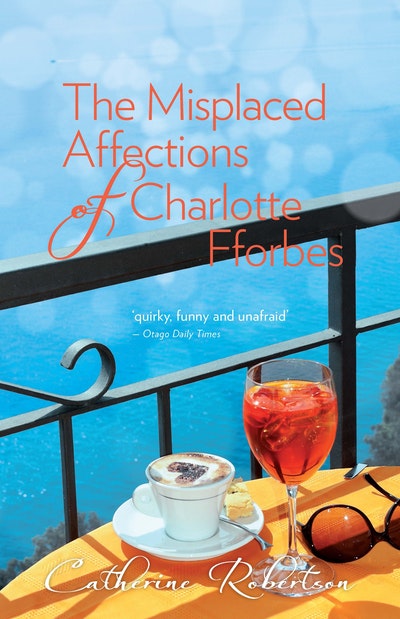 Published:

5 July 2013

ISBN:

9781775533016

Imprint:

RHNZ Adult ebooks

Format:

EBook

Pages:

352
The Misplaced Affections of Charlotte Fforbes
---
---
---
Another entertaining novel from this internationally published writer.
Tangled relationships, misunderstandings and truculent toddlers!
When Charlotte Fforbes inadvertently falls in love with her boss, her usually cool self-control is tested to its limit. Thus far, Charlotte has carefully avoided love's emotional tar pit, but suddenly she is in it up to her neck. Her first strategy is to ignore it – for one thing, boss Patrick is a husband and father.
Then Charlotte is given a clue that Patrick's marriage may not be as stable as believed, and that is enough to fan a spark of hope into an infatuation-fuelled inferno. Transformed from efficient PA into a woman whose reason has been muffled with duct-tape and locked in a cellar, she'll now do anything to find a way into Patrick's heart.
Anything includes arranging to be nanny-for-a-month to the small children of Patrick and his wife and two other families at a Lake Como villa. Charlotte's complete lack of child-minding experience daunts her the least. If she's to win Patrick, she must also prevent his cousin's wife being seduced by her charming, feckless ex, while fending off dogs, Gypsy gatecrashers and a large, vengeful ghost from Patrick's past.
But Charlotte's biggest test will come when she is forced to question whether her affections have been entirely misplaced – and, if so, was this her last ever chance to feel love like this again?
Published:

5 July 2013

ISBN:

9781775533016

Imprint:

RHNZ Adult ebooks

Format:

EBook

Pages:

352
Praise for The Misplaced Affections of Charlotte Fforbes
Listen to this rave review on Radio NZ: http://www.radionz.co.nz/search/results?utf8=%E2%9C%93&q=Catherine+Robertson

Radio NZ
And another rave review from Radio NZ: http://www.radionz.co.nz/national/programmes/afternoons/audio/2564670/book-review-with-dr-cushla-mckinney

Cushla McKinney, Radio NZ
The Misplaced Affections of Charlotte Fforbes, by Catherine Robertson, is as wry and endearing as her two previous novels and continues to explore the lives of their characters from the perspective of new, and just as idiosyncratic, narrators. . . . She has a knack for odd imagery that is humorous and evocative and I found this novel as much fun as its predecessors.

Cushla McKinney, Otago Daily Times
The sheer naughtiness of Charlotte is part of the book's appeal, along with trademark Robertson wit, sharp observations on parenting and less-than-perfect children, and the welcome return of characters from her delightful debut, The Sweet Second Life of Darrell Kincaid. If, like me, you want a bit of grit with your chick lit-style entertainment, it's time you discovered Catherine Robertson.

Sonya Rowell, Dominion Post Weekend