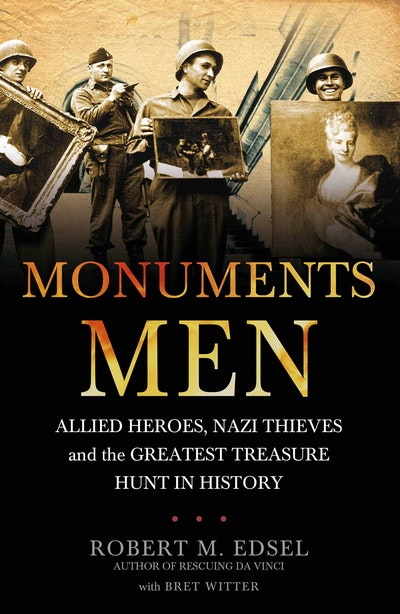 Published:

2 August 2010

ISBN:

9781848091030

Imprint:

Arrow

Format:

Paperback

Pages:

512

RRP:

$29.99
The Monuments Men
Allied Heroes, Nazi Thieves and the Greatest Treasure Hunt in History
---
---
---
World War II was not just the most destructive conflict in humanity - it was also the greatest theft in history: property, culture and heritage were all stolen. The Monuments Men were the people who tried to stop it.
From 1942 to 1951, 365 men and women from thirteen Allied nations served as the men and women of the Monuments, Fine Arts; Archives section (MFAA) of the Allied armed forces, the eyes, ears and hands of the first and most ambitious effort in history to preserve the world's cultural heritage in times of war. They were known simply as Monuments Men. But during the thick of the fighting in Europe, from D-Day to V-E Day, when Germany surrendered, there were only 65 Monuments Men in the forward operating area. Sixty-five men to cover thousands of square miles, save hundreds of damaged buildings and find millions of cultural items before the Nazis could destroy them forever.
The Monuments Men is the story of seven of these men. Six of them were in the forward operating theatre: America's top art conservator; an up-and-coming young museum curator; a sculptor; a modestly successful portrait painter; a straight-arrow architect and a highly cultured, openly gay infantry private with no prior knowledge of or appreciation for art, but first-hand experience as a victim of the Nazi regime.
They built their own treasure maps from scraps and hints: the diary of a Louvre curator who secretly tracked Nazi plunder through the Paris rail yards; records recovered from bombed out cathedrals and museums; overheard conversations and behind-enemy-lines interviews; a tip from a dentist while getting a root canal. They started off moving in different directions, but ended up heading for the same place at the same time: the Alps near the German-Austrian-Italian border in the last two weeks of the war, where the great treasure caches of the Nazis were stored: the artwork of Paris, stolen mostly from Jewish collectors and dealers; masterworks from the museums of Naples and Florence; and the greatest prize of all, Hitler's personal hoard of masterpieces, looted from the most important art collections and museums in Europe and hidden deep within a working salt mine - a mine the Nazis had every intention of destroying before it fell into Allied hands.
How does the Greatest Treasure Hunt in History end? As is often the case, history is often more extraordinary than fiction.
Published:

2 August 2010

ISBN:

9781848091030

Imprint:

Arrow

Format:

Paperback

Pages:

512

RRP:

$29.99
Praise for The Monuments Men
After World War Two I served as a British member of the 'Monuments' section in Germany. Our task, I believe, was truly important - we were restoring to Europe evidence of its own civilization, which the War seemed virtually to have destroyed - and I was lucky to have had a chance to participate. It is excellent that Mr Edsel has now recorded this remarkable episode, and I am grateful to him for devoting so much energy to telling the stories of those involved.

Anne Olivier Bell
In the great storytelling tradition of my longtime friend, Stephen Ambrose, Monuments Men is a marvelous addition to the many great books on World War II and is a reminder that we fought to save western civilization as well as our freedom. Robert Edsel's brilliant work tells the story of how a small unit of American soldiers raced across the front lines in Europe to rescue the art treasures of western culture that had been stolen by the Nazis. Edsel's book is a thriller, in the style of Indiana Jones, but in this case it's all fact and great history. I read the book from cover to cover - couldn't put it down!

Dr. Gordon 'Nick' Mueller, CEO/President and co-founder of the National World War II Museum