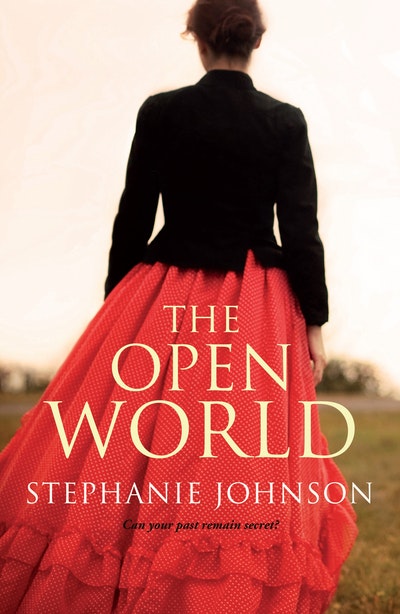 Published:

5 April 2012

ISBN:

9781869797843

Imprint:

Random House New Zealand

Format:

EBook

Pages:

306
The Open World
---
---
---
A fascinating novel about secrets, finding a home and early colonial New Zealand
A fascinating novel about secrets, finding a home and early colonial New Zealand.
'I miss my smiling son more than any other man before or since.'
London 1866.
Elizabeth Smith is struggling to survive when she hears that her former New Zealand employers, Judge and Lady Martin, are returning to England. Accompanied by her dear friend, the lunatic Reverend Cotton, she makes a pilgrimage to settle old scores. Elizabeth is also accompanied by liberal doses of opiates and two small ghosts, walking by her side, whispering, murmuring, calling her.
Award-winning writer Stephanie Johnson lovingly peoples a landscape of the past. Mid-century New Zealand, London and the spa town of Buxton are vividly evoked in a novel about motherhood, earliest colonial days, pharmacology and poreirewa - the yearning for absent loved ones.
Published:

5 April 2012

ISBN:

9781869797843

Imprint:

Random House New Zealand

Format:

EBook

Pages:

306
Praise for The Open World
What a triumph! Elizabeth Smith is still in my head & will be for days. What a woman! You have brought her, & all the characters, vividly to life.You have also created the life of the times, both in NZ & UK, absolutely brilliantly, with wonderful language & detail. And I love the way you have so subtly explored colonial attitudes...This is a fantastic book...!

an Auckland bookseller
Johnson's writing is skilful, insightful, witty and she has a truly light touch.

New Zealand Herald
Immensely satisfying, utterly believable, Music from a Distant Room is Stephanie Johnson in top form. She has written the year to date's best New Zealand novel.

Warwick Roger, North and South
John Tomb's Head is a thought-provoking work, continually surprising, with many brilliant moments

Iain Sharpe, Sunday Star-Times
Johnson's work is marked by a dry irony, a sharp-edged humour that focuses unerringly on the frailties and foolishness of her characters . . . There is compassion, though, and sensitivity in the development of complex situations . . . A purposeful sense of such larger concerns balances Johnson's precision with the small details of situation, character and voice that give veracity and colour.

The Oxford Companion to New Zealand Literature
This is a very well-researched novel that paints a picture of colonial life in mid-19th century New Zealand . . . The Open World is worth a read, not so much for escapist pleasure, as for a well-crafted novel that brings to life an important and tumultuous period in New Zealand history.

Jodi Yeats, NZ Doctor