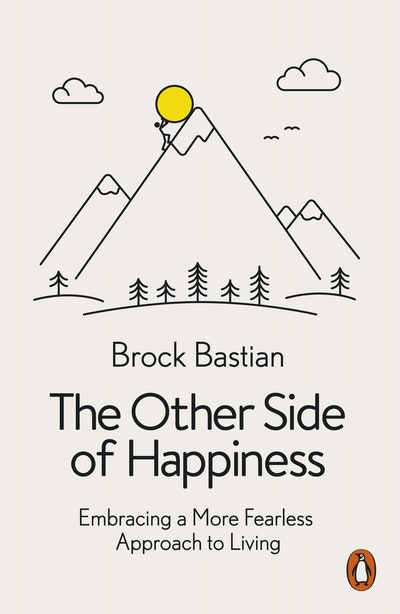 Published:

5 February 2019

ISBN:

9780141982106

Imprint:

Penguin Press

Format:

Paperback

Pages:

208

RRP:

$30.00
The Other Side of Happiness
Embracing Pain to Find Pleasure
---
---
---
An internationally acclaimed social psychologist offers a counter-intuitive approach to finding happiness.
In Western culture, we have become addicted to positivity. We try to eradicate pain through medication and by insulating ourselves and our children from risk, even though we are the safest generation that ever lived. Yet in his research renowned social psychologist Brock Bastian has found that hardship and sadness are neither antithetical to pleasure nor incidental: they are a necessary ingredient for happiness.
Drawing on psychology, neuroscience and internationally acclaimed findings from Bastian's own lab, The Other Side of Happiness encourages us to take a more fearless approach to living that acknowledges the value of pain in our lives. As Bastian shows us, the most thrilling moments of our lives are usually balanced on a knife edge between pleasure and pain, whether it is finding your true love, holding your new-born for the first time, finishing a marathon or even taking a dip in an icy sea. This is because hardship quite literally increases our capacity for happiness, making us stronger, more resilient and more connected to those around us.
Published:

5 February 2019

ISBN:

9780141982106

Imprint:

Penguin Press

Format:

Paperback

Pages:

208

RRP:

$30.00
Praise for The Other Side of Happiness
Pain is bad, right? In this fascinating book, Brock Bastian will convince you otherwise. Drawing on both vivid everyday examples and surprising laboratory findings, he shows how pain, suffering, and struggle give us pleasure, make us kinder, focus our thoughts, and give our life meaning . . . brilliant

Paul Bloom, author of Against Empathy
A marvellous, thought-provoking challenge to how we think about and go about the pursuit of happiness

Roy F. Baumeister, author of Willpower
A beautifully written and important book that should be required reading for anyone who's ever wondered why well-being so often flourishes in unexpected places

Adam Alter, author of Drunk Tank Pink
This deft, evidence-based study reveals how avoiding pain backfires

Barbara Kiser, Nature
Brock Bastian skilfully shatters the zeitgeist of positive thinking, showing how struggle and suffering are vital elements of a life well lived

Adam Grant, author of Originals