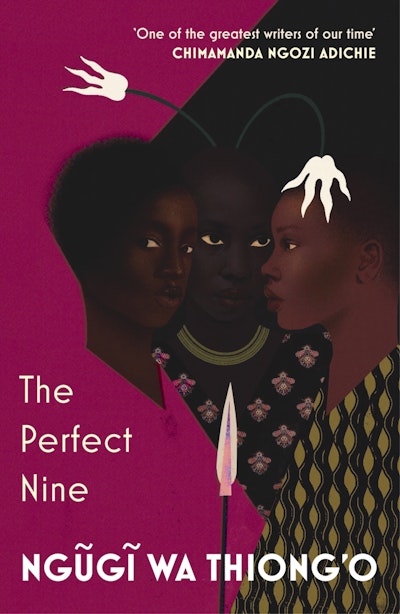 Published:

8 October 2020

ISBN:

9781473548930

Imprint:

Vintage Digital

Format:

EBook

Pages:

240
The Perfect Nine
The Epic of Gikuyu and Mumbi
---
---
---
A powerful epic in verse which tells the origin story of the Gikuyu people and their tribes.
This is the story of the founding mother and father of the Gikuyu people and their daughters.
It begins with the flight of Gikuyu and Mumbi from unnamed disasters in an unnamed region north of the Great Lakes. They battle earthquakes, volcanic eruptions and fires to reach Mount Kenya, one of the mountains of the Moon talked of by early Egyptians, and finally settle on the lands around the Mountain. They have ten beautiful daughters who are referred to as the Perfect Nine; alas, the tenth is born with weak, under-developed legs and can only crawl. The wind spreads the wonder of the other sisters' beauty to all corners of the continent, attracting suitors who travel along the great rivers of Africa to seek their hands. Only 99 manage to get to Mount Kenya region.
Gikuyu and Mumbi send the 99 suitors and the 9 daughters on a journey up the Mountain to test of their endurance and to search for a Cure of All Ailments – a strand of hair from a man-eating Ogre – to help heal the legs of their last born, who must wait at home for their return.
The 99 suitors and the 9 sisters encounter all sorts of ogres and monsters and in the end, only ten of the men survive, and of course the Perfect Nine. The last daughter, who through sheer will or through the Cure of All Ailments, recovers the use of her legs, and, with the tenth man, undertakes another journey that ends with a Lion killing her man, and with her tracking down the Lion, till finally she overcomes it, and returns home, but pregnant with the child of her late lover-husband. She is the founding mother of the tenth clan…
Published:

8 October 2020

ISBN:

9781473548930

Imprint:

Vintage Digital

Format:

EBook

Pages:

240
Praise for The Perfect Nine
One of the greatest writers of our time

Chimamanda Ngozi Adichie
A tremendous writer... it's hard to doubt the power of the written word when you hear the story of Ngugi wa Thiong'o

Guardian
A visionary writer

Financial Times
In his crowded career and eventful life, Ngugi has enacted, for all to see, the paradigmatic trials and quandaries of a contemporary African writer, caught in sometimes implacable political, social, racial and linguistic currents -

Daily Telegraph