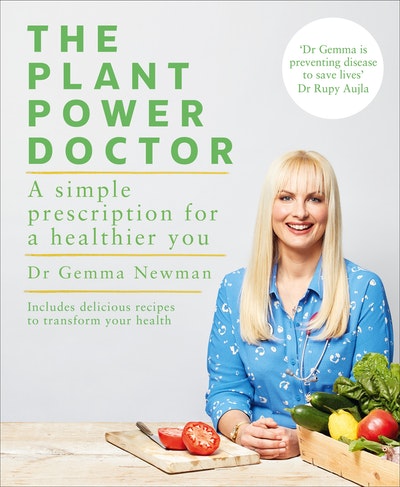 Published:

2 March 2021

ISBN:

9781529107746

Imprint:

Ebury Press

Format:

Trade Paperback

Pages:

304

RRP:

$40.00
The Plant Power Doctor
A simple prescription for long-term good health and vitality
---
---
---
The down-to-earth medical doctor's guide to the radical healing power of wholefood plant-based eating.
An apple a day keeps the doctor away...
'Dr Gemma Newman is a sparkling light in the medical field. She speaks from a point of knowledge and wisdom as well as making it easy to digest.' The Happy Pear
Discover the transformative effect a simple change of diet can have on your health, with medical doctor Gemma Newman. It's easy to get started with Dr Newman's delicious and simple recipes.
All it takes is 3 simple steps.
1. Learn what plant-powered eating means and what it can do for you.
Medical research shows that many chronic diseases - including heart health, cancer, type 2 diabetes and gut health, mental health and hormones, blood pressure, cholesterol and weight loss can all be helped with a plant-powered lifestyle, at any age.
2. Find out how to make the simple switch to plant-power.
Try 30 delicious and easy recipes, and the plant-power 7-day challenge to get you started.
3. Make easy lifestyle changes that can have a big impact on your health.
We look at the science of sleep, how purpose and gratitude can keep you young, how nature can boost your immunity, and effective, gentle exercise to stay strong throughout life.
Dr Newman will show you the compelling evidence so you can see why she advocates the switch to a plant-powered diet, Discover the transformative effect it has had on her, her family and her patients and the science that explains why it works.
You can take control of your health - true wellbeing lies within you.
Published:

2 March 2021

ISBN:

9781529107746

Imprint:

Ebury Press

Format:

Trade Paperback

Pages:

304

RRP:

$40.00
Praise for The Plant Power Doctor
Dr Gemma Newman is a sparkling light in the medical field. She speaks from a point of knowledge and wisdom as well as making it easy to digest. We are honoured to have her as a friend and love what she does and what she stands for.

The Happy Pear
Dr Gemma is delightful and whip-smart. May you be equal parts entertained and enlightened by her welcoming presence.

Rich Roll