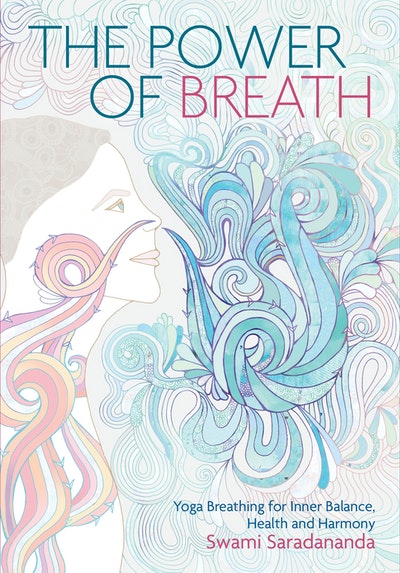 Published:

1 November 2018

ISBN:

9781786780188

Imprint:

Watkins

Format:

Paperback

Pages:

160

RRP:

$38.00
The Power of Breath
The Art of Breathing Well for Harmony, Happiness and Health
---
---
Discover how the art of breathing can enhance your wellbeing and relieve stress with this engaging guide from one of the world's leading yoga gurus
Breathing is the most fundamental of our body's physical processes and our most intimate companion—yet most of us give it little to no thought. However, once fully acknowledged and harnessed, the power of the breath is unlimited. It can ease stress and anxiety, boost energy and stamina, enhance self-confidence, sharpen the ability to focus, strengthen the quality of voice, and even relieve pain.
With The Power of Breath, renowned yoga teacher Swami Saradananda aims to give gentle yet powerful guidance on the art of breathing, from the basic practices to its myriad effects on the mind and body. She explores the five types of breath—vitalizing (prana), nourishing (samana), expansive (vyana), cleansing (apana) and expressive (udana)—and provides breathing exercises for each one. She also offers mini programs for targeting specific common ailments and issues such as asthma, skin disorders, depression, lethargy and phobias—plus ways to harness your breath to enhance vocal, dramatic, or sports performance.
With evocative artwork, inspiring photography, and easy-to-follow guidance, this book will enhance and affirm your daily life through the power of breathwork.
Published:

1 November 2018

ISBN:

9781786780188

Imprint:

Watkins

Format:

Paperback

Pages:

160

RRP:

$38.00
Praise for The Power of Breath
"This is a much-needed jewel of a book, offering a range of effective breathing practices - some simple enough to read and try immediately - while helping people understand the esoteric aspects of prana (did you know there are five kinds?)."  - Pamela Miles; New York City; spiritual mentor and Reiki master, author "REIKI: A Comprehensive Guide" "This book brings clarity, light and ease of practice to the ancient art of pranayama. Understanding and regulation of  breathing brings balance to the nervous system so that physical and mental health follow naturally. All levels of practitioners will find guidance in this valuable and knowledgeable book". - Robert Moses, Yoga Teacher and co-publisher Namarupa Magazine  Namarupa.org "The blissful depth of Pranayama can be experienced in no other way but through dedicated practice. Only one who has felt the true 'power of the breath' can share it with so much of love, beauty and clarity. Swami Saradananda has proven once again that she is a true Yogacharini through this delightful and wise exposition of subtle aspects of Pranayama, that hidden treasure missing from most modern Yoga teachings." - Yogacharya Dr Ananda Balayogi Bhavanani, Chairman ICYER at Ananda Ashram, Pondicherry, India. www.icyer.com