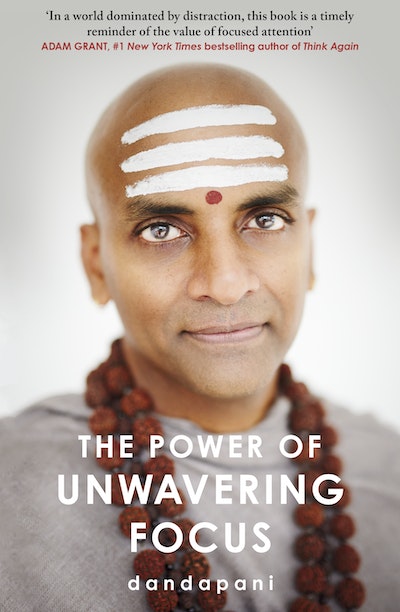 Published:

30 August 2022

ISBN:

9781787635999

Imprint:

Bantam Press

Format:

Trade Paperback

Pages:

304

RRP:

$40.00
The Power of Unwavering Focus
Focus Your Mind, Find Joy, and Manifest Your Goals
---
---
Drawing on over two thousand years of Hindu monastic wisdom, this is a book for anyone who struggles to focus on one task at a time.
Does your mind wander? Do you find it hard to focus? Would you like to learn how to take control of your attention?
Focus, or concentration, lies at the core of all human success. But bever before have so many of us experienced the inability to focus. Distraction is a silent epidemic in our modern world. It is damaging relationships, our working lives and, ultimately, our happiness. We've become masters of distraction because that's what we practice all day, every day. As our fast-paced lifestyles compete with a relentless bombardment of information, we switch focus from one thing to another all the time. And it's making us unhappy. The Power of Unwavering Focus is a practical, step-by-step guide to understanding and harnessing the human mind. Drawing on ancient Hindu monastic tradition, Dandapani, a former monk, provides a toolkit for learning, practicing and mastering concentration. Empowered by these new skills, the end result will be your ability to achieve your dreams and goals, and live a happy life full of purpose and joy.
Published:

30 August 2022

ISBN:

9781787635999

Imprint:

Bantam Press

Format:

Trade Paperback

Pages:

304

RRP:

$40.00
Praise for The Power of Unwavering Focus
In a world dominated by distraction, this book is a timely reminder of the value of focused attention.

Adam Grant, #1 New York Times bestselling author of Think Again and host of the TED podcast WorkLife
Concentration is one of the most important skills any leader can have. The Power of Unwavering Focus shows us not only that focus is a learnable skill but that anyone can master the practice of intense concentration.

Indra Nooyi, former chairperson and CEO of PepsiCo
Being able to concentrate in our distracted world is a superpower. In this conversational but profound book, Dandapani shows how to take practical steps to become better at this skill, so we can feel less busy and get more done.

Laura Vanderkam, author of Tranquility by Tuesday: 9 Ways to Calm the Chaos and Make Time for What Matters
Dandapani offers a radical and timely call to cultivate the deep joys and resilience of the focused life. Highly recommended for anyone feeling adrift in a sea of distraction and mindlessness.

Cal Newport, New York Times bestselling author of Digital Minimalism and Deep Work
If you struggle with distraction or stress-and of course you do-you need Dandapani's wonderful new book. Both profound and practical, The Power of Unwavering Focus will lead you on a journey to reclaim your life and live it with joy and purpose.

Arthur C. Brooks, professor at Harvard Kennedy School and Harvard Business School and #1 New York Times bestselling author
The disciplined application of fundamental concepts is synonymous with elite performance. As a former Navy SEAL and combat leader, simplicity has always been a critical component to thriving in high-stress scenarios. Dandapani provides clear, concise, simple instruction for anyone to achieve elite focus in their life.

Nick Norris, entrepreneur and former Navy SEAL