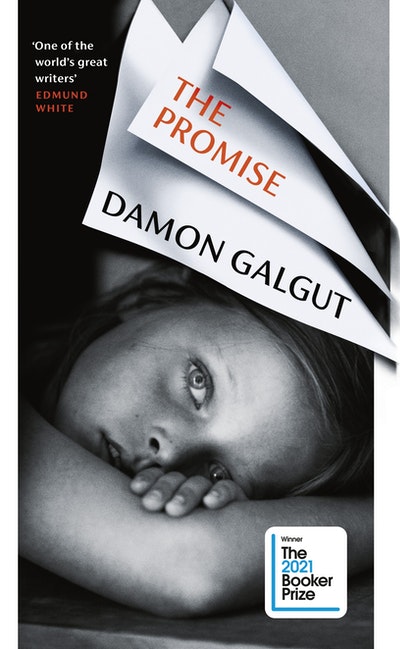 Published:

16 June 2021

ISBN:

9781784744076

Imprint:

Chatto & Windus

Format:

Trade Paperback

Pages:

304

RRP:

$37.00
The Promise
WINNER OF THE BOOKER PRIZE 2021 and a BBC Between the Covers Big Jubilee Read Pick
---
---
---
Masterful new fiction from twice Booker-shortlisted author Damon Galgut
**WINNER OF THE BOOKER PRIZE 2021**
Discover the powerful prizewinning story of a family in crisis.
'Astonishing' Colm Tóibín

The Promise charts the crash and burn of a white South African family, living on a farm outside Pretoria. The Swarts are gathering for Ma's funeral. The younger generation, Anton and Amor, detest everything the family stand for - not least the failed promise to the Black woman who has worked for them her whole life. After years of service, Salome was promised her own house, her own land... yet somehow, as each decade passes, that promise remains unfulfilled.
The narrator's eye shifts and blinks: moving fluidly between characters, flying into their dreams; deliciously lethal in its observation. And as the country moves from old deep divisions to its new so-called fairer society, the lost promise of more than just one family hovers behind the novel's title.
In this story of a diminished family, sharp and tender emotional truths hit home. Confident, deft and quietly powerful, The Promise is literary fiction at its finest.
'Gorgeous and pleasurable' Tessa Hadley
'The most important book of the last ten years' Edmund White
'Simply: you must read it' Claire Messud
Published:

16 June 2021

ISBN:

9781784744076

Imprint:

Chatto & Windus

Format:

Trade Paperback

Pages:

304

RRP:

$37.00
This tour-de-force unleashes a searing portrait of a damaged family and a troubled country in need of healing

Publisher's Weekly (Starred review)
Damon Galgut's The Promise is about an unfulfilled but promising life and about the repeatedly broken promises by a white family to a black household worker. With unostentatious virtuosity Galgut - one of the world's great writers - enters the minds of all his characters, rich or poor, white or black, male or female, even the thoughts of a homeless man beset by visions. The language has a Flaubertian clarity and the intimate knowledge of the family is matched by an authoritative understanding of South Africa's complex history. This is the most important book of the last ten years

Edmund White
The Promise satisfies in so many ways: a multi-layered family story set against the shifting destiny of South Africa itself since Mandela; its characters' stories interwoven in prose that is poignant and wryly amusing. The book's power and immediacy merge to create an outstanding novel of its time

Joan Bakewell
Galgut extends his extraordinary corpus with a rich story of family, history, and grief

Kirkus
If possible, The Promise packs yet more of a punch than Galgut's previous novels. Fuelled by sex and death, this is a South African Gotterdammerung charting a white family's inexorable decline from significance and power. Its indignation at its morally bankrupt central characters is leavened with languid comedy, as though Galgut had collaborated with Tennessee Williams. The effect is utterly compelling

Patrick Gale
Galgut understands the complexities of the human heart which he reveals with the finest delicacy. This is an emotionally powerful and thrilling novel that haunts one long after it has been laid down

Gabriel Byrne
The Promise recalls the great achievements of modernism in its imagistic brilliance, its caustic disenchantment, its relentless research into the human. For formal innovation and moral seriousness, Damon Galgut is very nearly without peer. He is an essential writer

Garth Greenwell
I was mesmerised by The Promise, Damon Galgut's novel of the decline and fall of a South African family, told over four decades and four funerals. These are characters dancing on the edge of ruin, living out their lives around a family farm in Pretoria, a place suffused with the threat and consequence of violence. Galgut's prose is intoxicating, managing the rare feat of being utterly liberated and fiercely controlled. A brilliant book

Anna Hope
Damon Galgut is a consummate and provocative writer whose books always dazzle and delight me. His new book, The Promise, brilliantly illuminates how both a small family and a large world endure - or don't endure. It is both tender and brutal, and Amor, its enigmatic heroine, is the most fascinating character I've encountered in recent fiction. I will remember her, and this beautifully devastating book, for a long time

Peter Cameron
The Promise is a gorgeous and pleasurable novel, with an imaginative heft to match Galgut's fellow South African writers Gordimer, Coetzee and Brink. It's richly evocative of the land and its people, and reports on a new South Africa without fake moralising; it made me laugh, too. Dreamlike yet so solidly well-made, The Promise has lived on inside my head, unsettling and troubling me

Tessa Hadley
The Promise is fully rooted in contemporary South Africa, but the novel's weather moves into the elemental while attending also to the daily, the detailed and the personal. The book is close to a folktale or the retelling of a myth about fate and loss, about three siblings and land, a promise made and broken. The story has an astonishing sense of depth, as though the characters were imagined over time, with slow tender care

Colm Tóibín
A surprising number of novelists are very good; few are extraordinary. Like his compatriot J.M. Coetzee, the South African writer Damon Galgut is of this rare company . . . To praise the novel in its particulars - for its seriousness; for its balance of formal freedom and elegance; for its humor, its precision, its human truth - seems inadequate and partial. Simply: you must read it. Like other remarkable novels, it is uniquely itself, and greater than the sum of its parts. The Promise evokes, when you reach the final page, a profound interior shift that is all but physical. This, as an experience of art, happens only rarely, and is to be prized

Claire Messud, Harpers US
A literary masterpiece of heart, soul and incorrupt wisdom. Galgut addresses conflict and reparation - both political and personal - with extraordinary skill, truthfulness and sensitivity.

Sarah Hall
So acute, indeed, are Mr. Galgut's descriptions - of a character's inner life, a body's fragility, a family's shared wounds, a country's accumulated scars - that they seem like our perceptions, not his . . . Time and again in Mr. Galgut's fiction, South Africa materializes, vast, astonishing, resonant. And on this vastness, he stages intimate dramas that have the force of ancient myth

Anna Mundow, Wall Street Journal
Remarkable . . . The Promise suggests that the demands of history and the answering cry of the novel can still powerfully converge . . . the novel's beautifully peculiar narration aerates and complicates this fatal family fable, and turns plot into deep meditation . . . Galgut is wonderfully, Woolfianly adept at moving quickly between characters' thoughts

James Wood, New Yorker
Superbly narrated, Galgut's book combines state-of-the-nation novel . . . with something like allegory or even Christian parable

Phil Baker, Sunday Times
Stunning . . . Galgut deploys every trick in the book; he's heart-swellingly attentive to emotional complexity . . .

Anthony Cummins, Observer
A strange, skilful, spellbinding eighth novel . . . Galgut explores grief, despair and love in a way that feels ageless . . . By the end of this enormously enjoyable novel, our laughter has become complicity and farce become force

David Isaacs, Literary Review
The Promise functions as a spare but thoroughly satisfying parable, the decline of the Swarts into moral degeneracy and death tracing the forsaken promises of the post-apartheid era, from early hope to the contemporary realities of corruption and racial enmity . . . [a] magisterial, heart-stopping novel

Nat Segnit, Times Literary Supplement
Galgut seems to deliver effortlessly...there's nothing he can't do... [his] style is quiet but the book feels bursting with life because of all the of all the off-page, between-times details he hints at... This is so obviously one of the best novels of the year... a book that answers the question "what is a novel for?" With a simple: "This!"

John Self, The Times
A complex, ambitious and brilliant work - one that provides Galgut's fullest exploration yet of the poisonous legacy of apartheid . . . Galgut describes his characters with rare assurance and skill, conjuring them to life in a narrative voice that moves restlessly from character to character . . . Rarely have I had such a strong sense, while reading a novel, that I myself was there, in the room with the characters

William Skidelsky, Financial Times
The Promise by Damon Galgut is a masterpiece - one of the best books I have read in the past decade and definitely my book of the year so far. Galgut is a master of the form. His free-flowing prose moves effortlessly from inside one character's head to another and displays a wealth of compassion and insight from multiple perspectives. This novel is a moving, brilliantly-told family epic with political resonance which also manages in parts to be darkly comic. Phenomenally good

Elizabeth Day
Galgut is a terrifically agile and consistently interesting novelist, certain up there with Nadine Gordimer and JM Coetzee as a chronicler of his nation's anguished complexity

Jon Day, Guardian, *Book of the Week*
[A] magnificent new novel. Galgut sweeps his ruthlessly forensic gaze over each of the protagonists...as well as the country at large

Laura Battle, Financial Times, *Summer Reads of 2021*
Labelled a masterpiece and one of the best novels of the year within a week of publication... Galgut is on his finest form as he explores grief, despair and love in his inimitable style. Read this book if nothing else this year.

A Little Bird, *Summer Reads of 2021*
[A] gripping, profound tale... a damning commentary on South Africa's many broken promises

Economist
Ingenious... The most distinctive element of the novel, and its greatest pleasure, is the effortless way Galgut flows from mind to mind and body to body, whether male, female, pubertal, menopausal, maturing, ageing or dying. It's almost uncanny

Suzi Feay, Spectator
Surrender to the music of Galgut's prose, however, and the rewards are considerable

Max Liu
Excellent... The Promise is a powerful novel of character... [an] ambitious novel but, remarkably, Galgut rarely needs to strain for impact... his ability deftly to shift perspective from one character to the next creates a distinctive polyphonic effect

Alun David, Jewish Chronicle
A convincing and heartfelt novel

Eva Waite-Taylor, Independent
Politically chastening and technically superb. It's hard to see any novel beating it

Claire Allfree, Daily Telegraph
A powerful read

World of Cruising
This is the finest of all Damon Galgut's extraordinary novels. It reads as if the author has liberated himself from certain shackles he has needed in the past to convey the feelings of repression and social discomfort his people suffer... The writing - so impish, so playful - is a constant joy

Paul Bailey, Oldie
Vivid and suggestive, moving and often very funny

Alex Clark, Daily Telegraph, *Books of the Year*
Damon Galgut is the most worthy winner of the Booker prize we've seen for many years... The book trembles in the hand with its political relevance

Rose Tremain, New Statesman, *Books of the Year*
A sobering allegory, to be sure, but also a giddy pleasure, thanks to Galgut's restlessly acrobatic narrative voice, which darts and zooms unpredictably around the action

Anthony Cummins, Daily Mail, *Christmas Gift Guide 2021*
One of the world's great writers

Critic, *Books of the Year*
A dazzling feat of kaleidoscopic storytelling

Claire Allfree, The Times, *Books of the Year*
I would have chosen this novel before it won the Booker... What makes it special is the humanity with which it is written and Galgut's cinematic prose, which shifts seamlessly from one perspective to the next

Elizabeth Day, i, *Book of the Year*
The Promise...is a remarkable tale of four generations of one South African family and of the country itself. Like his earlier books, it reveals him as a master of human complexity. No wonder it won the Booker

Joan Bakewell, Observer, *Books of the Year*
A complex, clever, wryly observant tale of one family's decline amid a nation's birth

Patricia Nicol, Sunday Times, *Books of the Year*
[A] masterful, sweeping novel... a piercing dissection of a country at a decisive historical junction and the intersection of socio-political events and private life

Juanita Coulson, Lady, *Books of the Year*
The Promise is just 300 pages long, but Galgut shows his skills as a concise and piercing novelist by packing so much into this exceptional book

Martin Chilton, Independent, *Books of the Year*
A layered, clever and sometimes uncomfortable read, but with a gripping story

Claire Fuller, Daily Mail, *Books of the Year*
A remarkably successful combination of formal discipline and finely observed characterisation, it was a worthy winner of the 2021 Booker prize

Alun David, Jewish Chronicle, *Books of the Year*
The judges of this year's Booker prize rightly crowned this outstanding multigenerational saga... The morally chewy scenario is given extra zest by an acrobatic narrative voice full of trickery

Anthony Cummins, Metro, *Books of the Year*
The Promise...is mesmerising

Helena Morrisey, Daily Mail, *Books of the Year*
A remarkable tale of four generations of one South African family and of the country itself... No wonder it won the Booker

Observer, Books of the Year
Vivid and suggestive, moving and often very funny

Daily Telegraph, Books of the Year
Brilliant... Rarely have I had such a strong sense, while reading a novel, that I myself was there, in the room with the characters

Financial Times
A dazzling feat of kaleidoscopic storytelling

The Times, Books of the Year
Layered, clever...with a gripping story

CLAIRE FULLER, Daily Mail, Books of the Year
A joyful masterclass in fiction... a dizzying adventure that underlines one of the most appealing things about fiction: it is the closest we can ever get to inhabiting other perspectives

Susie Mesure
A superb novel; a nuanced, sad, hilarious portrait of a family and a country

PAULA HAWKINS
A moving, brilliantly told family epic . . . darkly comic . . . phenomenally good

ELIZABETH DAY
Astonishing . . . about fate and loss, about three siblings and land, a promise made a broken

COLM TOIBIN
A brilliant book told over four decades and four funerals . . . These are characters dancing on the edge of ruin . . . Intoxicating

ANNA HOPE
Outstanding . . . Gripping . . . There is also plenty of unexpected comedy

BBC News
This story was so powerful, the writing so strong and supple... What an achievement

CLARE CHAMBERS
Inventive and full of energy

The Times, *Summer Reads of 2022*
Article
5 books to take to the beach this summer!
Summer is a great time to catch up on prizewinners from the previous 12 months, return to old favourites or for a bit of personal development. Here are our top five suggestions.
Article