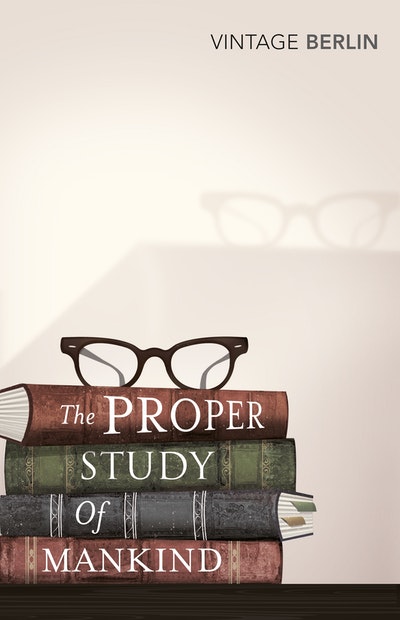 Published:

2 September 2013

ISBN:

9780099582762

Imprint:

Vintage Classics

Format:

Trade Paperback

Pages:

720

RRP:

$52.99
The Proper Study Of Mankind
An Anthology of Essays
---
---
---
The long-awaited Isaiah Berlin 'Reader' - an anthology of his best and most representative work, drawn from a lifetime's writing by this most distinguished philosopher and historian of ideas.
WITH A NEW INTRODUCTION BY ANDREW MARR
Isaiah Berlin was one of the leading thinkers of the century, and one of the finest writers. The Proper Study Of Mankind selects some of the best of his essays. The full (and enormous) range of his work is represented here, from the exposition of his most distinctive doctrine - pluralism - to studies of Machiavelli, Tolstoy, Churchill and Roosevelt. In these pages he encapsulates the principal movements that characterise the modern age: romanticism, historicism, Fascism, relativism, irrationalism and nationalism. His ideas are always tied to the people who conceived them, so that abstractions are brought alive. His insights both illuminate the past and offer a key to the burning issues of the today.
Published:

2 September 2013

ISBN:

9780099582762

Imprint:

Vintage Classics

Format:

Trade Paperback

Pages:

720

RRP:

$52.99
Praise for The Proper Study Of Mankind
He speaks with such infectious energy that he sweeps us up and carries us with him into territory that had seemed inaccessible. He becomes everyman's guide to everything exciting in the history of ideas

New York Review of Books
A restatement of liberalism in a form by which the world could live

Observer
His uniqueness can be very well sampled in this admirable selection... Large as it is, it can serve only to stimulate the appetite

Evening Standard
The pleasure in reading Berlin lies in the clarity of the argument, in the laying out of his monumental sentences and paragraphs each of which is complete in itself while part of the greater and seemingly irrefutable whole which is gradually and massively revealed

Observer