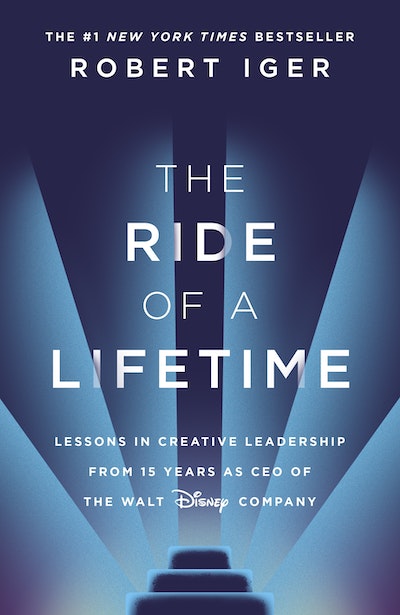 Published:

1 October 2019

ISBN:

9781787630475

Imprint:

Bantam Press

Format:

Trade Paperback

Pages:

272

RRP:

$40.00
The Ride of a Lifetime
Lessons in Creative Leadership from 15 Years as CEO of the Walt Disney Company
---
---
---
Robert Iger shares his ten vital lessons in creative leadership, drawn from his extraordinary career as CEO of Disney. Packed full of inspiring stories and business insights, Iger offers a fascinating view of the creative culture he has fostered at one of the world's most successful and adored media organisations.
Robert Iger's visionary leadership of The Walt Disney Company has marked a new era at one of the world's largest media companies, preserving Disney's heritage whilst transforming the business into an agile and disruptive force within the entertainment industry.
As the steward of some of the most respected and beloved brands around the globe, Iger's strategic vision focuses on three fundamental pillars: generating the best creative content possible; fostering innovation and utilizing the latest technology; and expanding into new markets.
Building on Disney's rich history of unforgettable storytelling, Iger's acquisitions of Pixar, Marvel, Lucasfilm, and 21st Century Fox, and the landmark opening of Disney's first theme park and resort in Mainland China, have made Disney an industry leader through its creative content offerings across new and multiple platforms.
Reflecting on a remarkable career, Iger offers vital lessons on leadership and creativity.
Published:

1 October 2019

ISBN:

9781787630475

Imprint:

Bantam Press

Format:

Trade Paperback

Pages:

272

RRP:

$40.00
Praise for The Ride of a Lifetime
The Ride of a Lifetime is an entertaining example of a business memoir whose author does not pretend to be a superhero. Iger's book works as an argument for the importance of emotional intelligence in business.

New Statesman
One of the best business books I've read in years. Unlike most books on leadership, this one is worth your time.

Bill Gates
The story of life at the top of Disney is a thoughtful tale of surviving disruption.

Financial Times
Nurturing creativity is less a skill than an art—especially at a company where the brand alone is synonymous with creativity. That's a lot to live up to. Bob Iger has not only lived up to ninety-six years of groundbreaking history but has moved the Disney brand far beyond anyone's expectations, and he has done it with grace and audacity. This book shows you how that's happened.

Stephen Spielberg
Iger's tenure as the leader of the world's most lucrative dream factory has been one long CEO highlight reel. Iger is unassailable. He's transformed his company from a stuffy media doyen into a sexy cultural force.

TIME - Businessperson of the Year 2019
I expected a book written by the person who has led Disney for decades to be defined by both gripping storytelling and deep leadership wisdom. Bob Iger delivers, and then some! The Ride of a Lifetime is leadership gold—you won't forget the stories or the lessons.

Brené Brown
Offers a rare glimpse at the extraordinary stress that goes hand in hand with the perks of being a Hollywood oligarch…a digest of his business life as the spectacularly successful leader of the world's most powerful media company, forever guided by the principle innovate or die.

Stephen Galloway, Hollywood Reporter
He treats readers to a vivid account of his 45-year career. As it turns out, there's a lot we didn't know about Iger's manoeuvres and, indeed, the man himself…His ride isn't over yet.

Devin Leonard, Bloomberg
An amazing book and a great insight into one of the most popular, beloved, and important entertainment companies today.

Chuck Mirarchi, WDWINFO
People have been waiting years for Bob Iger to share his leadership secrets. Now he has, and they are utterly brilliant. The Ride of a Lifetime is not merely a memoir; it's a personal, all-access session with the wisest CEO you've ever met and a playbook for handling the key challenges of our age: how to drive change, leverage technology, build an enduring culture, and empower people. It's a rippingly good, revelatory read.

Daniel Coyle, NYT bestselling author of The Culture