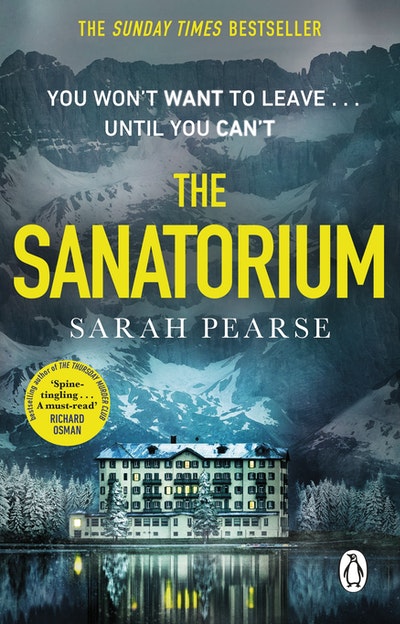 Published:

5 January 2022

ISBN:

9780552177313

Imprint:

Corgi

Format:

Paperback

Pages:

448

RRP:

$24.00
The Sanatorium
The spine-tingling #1 Sunday Times bestseller and Reese Witherspoon Book Club Pick
---
---
---
The breakout bestselling crime thriller debut of 2021, The Sanatorium published with rave endorsements from Richard Osman, Lucy Foley and A J Finn. It was an instant #3 Sunday Times bestseller and spent eight weeks in the Top Ten.
'The Sanatorium will keep you checking over your shoulder. This spine-tingling, atmospheric thriller has it all: an eerie Alpine setting, sharp prose, and twists you'll never see coming. A must-read.' Richard Osman
'An eerie, atmospheric novel that had me completely on the edge of my seat.' Reese Witherspoon
A beautiful, eerie hotel in the Swiss Alps, recently converted from an abandoned sanatorium, is the last place Detective Elin Warner wants to be. But her estranged brother has invited her there for his engagement party, and she feels she has no choice but to accept.
Arriving in the midst of a threatening storm, Elin immediately feels on edge. And things only get worse when they wake the next morning to find her brother's fiancée is missing. With access to the hotel cut off, the guests begin to panic.
But this is only the first disappearance. Everyone's in danger - and anyone could be next . . .
____________________
'The Sanatorium is an absolutely splendid Gothic thriller.' A. J. Finn
'One of the best books of 2021 [...] guaranteed to give you goosebumps.' Woman & Home
'I absolutely loved The Sanatorium - it gave me all the wintry thrills and chills.' Lucy Foley
'A menacing, creepy debut [...] echoes of Hitchcock and du Maurier.' Daily Mail
'A chillingly vivid thriller in a fantastic setting.' T. M. Logan
Readers love The Sanatorium:
***** 'Thrilling, chilling - a tingles down my spine type of read.'
***** 'Imagine a universe where Agatha Christie and Stephen King collaborated on a book.'
***** 'Sarah Pearse wastes no time in ramping up the tension and is clearly destined to be a master of this genre.'
Published:

5 January 2022

ISBN:

9780552177313

Imprint:

Corgi

Format:

Paperback

Pages:

448

RRP:

$24.00
Praise for The Sanatorium
A seriously sinister setting, an incredible sense of place and a twisty, unpredictable plot combine to make an utterly terrifying read. I loved it.

Allie Reynolds, author of SHIVER
What an incredible debut novel. Clever, creepy and utterly compelling.

Samantha King, author of THE CHOICE
I loved it - such a wonderful sense of location, and the tension is knife edge-sharp. I was up at 5.30 in the mornings to read it.

Michelle Adams, author of THE SISTER
Dark, suspenseful and downright chilling, The Sanatorium is a triumph. Vividly set against the backdrop of the Swiss Alps, it had me on the edge of my seat from the first page. Pearse's writing is sublime. What a talent! Pearse has a big future ahead of her.

Sally Hepworth, author of THE MOTHER-IN-LAW
A superb debut offering an astonishingly creepy and isolated backdrop, great characters, tension and twists. Hugely atmospheric with enough menace to keep you looking over your shoulder!

Sam Carrington, author of BAD SISTER
Tense and fast paced, filled with revelations to keep you hooked and all set in a wonderfully creepy Alpine location.

G. R. Halliday, author of FROM THE SHADOWS
The Sanatorium is an absolutely splendid Gothic thriller - gracious in its nods to the classic locked-room mystery, yet bold enough to burst out of that room through the window. Pearse writes prose fresh and crisp as Swiss Alp powder, and her characters fascinate even as their numbers dwindle.

A. J. Finn, bestselling author of THE WOMAN IN THE WINDOW
The Sanatorium is definitely a debut novel to watch out for. Wow, what a chilling read! One of the creepiest thrillers I've ever read. So atmospheric, clever and compulsive. LOVED it!

Claire Douglas, author of LOCAL GIRL MISSING
An atmospheric thriller with the perfect claustrophobic setting - a converted sanatorium in the remote Alps. This is equal parts creepy, suspenseful and gruesome - everything you could want in a novel for this genre. The heroine Elin is intensely flawed but totally relatable. This is a sure-fire hit guaranteed to keep you seeing shadows in the snow on those freezing winter nights. I loved it.

C J Skuse, author of SWEETPEA
The perfect claustrophobic setting packed with mystery and edge-of-your-seat tension.

Natasha Preston, New York Times bestselling author of THE CELLAR
An elegant, tense and chilling read. The glowering Swiss Alps setting was beautifully rendered - for all the horrors, I still wanted to be there!

Emylia Hall, author of THE THOUSAND LIGHTS HOTEL
A tense and seriously chilling page-turner.

Emma Curtis, author of KEEP HER QUIET
Pearse's The Sanatorium will keep you checking over your shoulder. This spine-tingling, atmospheric thriller has it all: an eerie Alpine setting, sharp prose, and twists you'll never see coming. A must-read.

Richard Osman, internationally bestselling author of THE THURSDAY MURDER CLUB
A superbly atmospheric crime debut. Deliciously creepy and clever, it's everything you could want in a thriller. Very highly recommended!

Simon Lelic, author of THE SEARCH PARTY
A spine-tingling setting, an unnerving cast of characters and so many incredibly creepy moments . . . this is not one to read before bed!

Elizabeth Kay, author of SEVEN LIES
Sarah Pearse's The Sanatorium is a knockout. Mesmerizing, lyrical prose contrasts starkly with the dark story events in this debut thriller set at a remote luxury hotel in the Swiss Alps. Tense, claustrophobic, with a horrific connection between past and present that is utterly unpredictable - I loved this book!

Karen Dionne, author of THE MARSH KING'S DAUGHTER
It's hard to believe this is a debut novel, given how masterfully Sarah Pearse writes. The setting is starkly chilling, the characters are smart and vulnerable, and as you turn the pages, the slow creep of claustrophobia sets in . . . Highly recommended.

Sarah Pekkanen, co-author of THE WIFE BETWEEN US
A chillingly vivid thriller in a fantastic setting - you can almost feel the icy Alpine wind on your face as you turn the pages.

T M Logan, bestselling author of THE HOLIDAY
A tense page-turner.

Sunday Times Style magazine
One of the most eagerly awaited debuts of the year.

Sunday Express magazine
The nail-biting suspense and spooky atmosphere of Sarah Pearse's thrilling debut novel kept me reading until late in the night. I loved Sarah's masterful descriptions of the Alpine setting, the creepy history of the hotel, and the growing sense of danger as the hapless characters are cut off from the outside world by a massive storm . . . just as the realisation dawns that a deranged killer is on the loose.

Ann Gosslin, author of THE SHADOW BIRD and THE DOUBLE
Tense, claustrophobic and chilling in every sense of the word.

Tammy Cohen, author of WHEN SHE WAS BAD
Dark and suspenseful - I had shivers running down my spine as I read this chilling thriller.

Good Housekeeping
An addictive, creepy and twisting read. The perfect gothic story for a cold February night.

Stylist
An eerie, atmospheric novel that had me completely on the edge of my seat.

Reese Witherspoon, for Reese's Book Club
[A] menacing, creepy debut [...] There are echoes of Hitchcock and du Maurier, but Pearse has her own distinctive, emotional voice - one to be admired.

Daily Mail
Tense, chilling and full of surprises.

Sun, Pick of the Week
Locked-room mysteries a la Agatha Christie are proving to be very popular right now, and this one doesn't disappoint.

Prima
This atmospheric chiller has a few shocks up its sleeve.

Crime Monthly
A mix of whodunnit and psychological thriller with hints of horror, this fine debut [...] is smartly structured and often powerful.

Sunday Times
Spooky, chilling and claustrophobic.

Observer
This impressive debut is a twist on the classic locked-room mystery in a wonderfully eerie Gothic setting. Its sharp prose builds suspense through a series of twists that will send an Alpine chill up your spine, building to an unpredictable finale. This clever, compelling thriller deserves to be a bestseller and marks out Sarah Pearse as one to watch.

Sunday Express S Magazine
Want a book that's going to leave you chilled to the bone? This is it!

Fabulous Magazine
Sarah Pearse's chilling debut is making waves. The Sanatorium certainly has an eerie, cinematic appeal [...] With whispers of The Shining in setting and The Girl on the Train in pace.

Vanity Fair
I absolutely loved The Sanatorium - it gave me all the wintry thrills and chills. It was just wonderful.

Lucy Foley, bestselling author of THE HUNTING PARTY and THE GUEST LIST
Genuinely scary and deliciously atmospheric, and one of the best books of 2021, this international bestseller is guaranteed to give you goosebumps.

Woman & Home
What a page-turner! Like Agatha Christie crossed with Scandi noir, and doing with Swiss mountains what Jane Harper books do with the Australian outback. Loved it, and can't wait for the next Elin book!

Andrea Mara, author of ALL HER FAULT
Creepy, deeply claustrophobic, mind-numbing, teasing, twists and turns galore, this book is a towering example of a masterful hand at work. If only Hitchcock were still around to film it.

David Baldacci, internationally bestselling author of MERCY