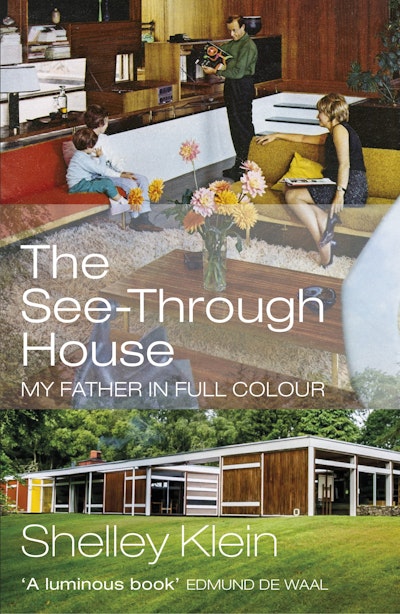 Published:

23 April 2020

ISBN:

9781473569805

Imprint:

Vintage Digital

Format:

EBook

Pages:

288
The See-Through House
My Father in Full Colour
---
---
---
A daughter's moving farewell to her father and their extraordinary family home
Shelley Klein grew up in an open-plan modernist masterpiece in the Scottish Borders. Her father, Bernat Klein, a Yugoslav émigré, was a ground-breaking textile designer whose pioneering use of contemporary colours and textures in tweed changed the face of fashion in the 1970s. As a child, Shelley adored the house, but as a Laura Ashley wearing teenager she rebelled against Beri's design mandates, much to his aesthetic distress, and even demanded that she have a (slammable) door built for her bedroom.
Shelley left home at seventeen, but returned thirty years later to look after her father, widowed and in his eighties: these two contrasting periods form the backbone of THE SEE-THROUGH HOUSE. What doesn't change is Beri's uncompromising vision: as Shelley installs her pots of herbs on the kitchen windowsill, he insists she take them into her bedroom because "they spoil the line of the house".
Threaded through the book is Beri's own story -- an Orthodox Jewish childhood; his own rebellion from rabbinical studies to art school; his journey to England as the news broke of the loss of his mother and many other close relatives in the death camps of Nazi Germany. His imagining of a new start, all bright windows and clean edges, as interpreted by the architect Peter Womersley, brought light and colour into a loving family home.
THE SEE-THROUGH HOUSE is a book about family, belonging, good design and the pain of letting go. It is a very funny account of looking after an adored yet maddening parent and a piercing portrait of the harrowing grief that followed his death. THE SEE-THROUGH HOUSE is the bittersweet leavetaking not only of the family home but of one man's distinctive way of looking at the world.
Published:

23 April 2020

ISBN:

9781473569805

Imprint:

Vintage Digital

Format:

EBook

Pages:

288
Praise for The See-Through House
A sad, funny, utterly fascinating book about families, home and how to say goodbye

Mark Haddon
Original, moving and bracingly honest... often hilarious... Each room has particular memories for Klein. And her journey through them is also a psychological quest, an attempt to understand how the house shaped her personality and whether she can ever get free of her attachment

Blake Morrison, Guardian
A luminous book, full of light and colour, and a remarkable reflection on childhood and untold stories

Edmund de Waal
A charming account of a daughter, a house and a fastidious dad: Secrecy is not a trait found in Klein's writing, which is at times disarmingly honest. Her openness pays off — we get a full and nuanced portrait of her life and all those in it

Lucy Knight, The Sunday Times
In this remarkable, moving tribute to a house and a father, Shelley Klein taps in to three universal emotions: our lifelong bond to the house we grew up in; our sense that our childhood home and our parents are intertwined; and our feelings of profound bereftness at saying goodbye to both parents and house ... beautifully illustrated ... Deeply affectionate

Ysenda Maxtone Graham, Daily Mail
A moving study in grief

Craig Brown, Mail on Sunday
An honest, piercing account of love, death and everything in between... there is an undercurrent which makes this book special. It weaves the complexity of relationships and family into its pages. At its most compelling, it tackles psychodynamics, addressing the influence of earlier encounters and memories on future behaviour and emotions... A poignant homage to her father's legacy

Amira Hashish, Evening Standard
The See-Through House is part of a lineage of central European history filtered through its buildings... In its curious mix of chicken soup Jewishness and Swinging Sixties creativity it also creates a very vivid picture of a minimal modernism almost overloaded with meaning

Edwin Heathcote, Financial Times
This unusual memoir is both a beguiling account of an adored yet maddening parent and his complex family history, and an affecting portrait of the grief that follows his death

The Bookseller
A touching and timely account of familial love, The See-Through House arrives with all the greater power in our period of lockdown, compelling readers to appreciate the importance of home and family anew.

TalkTalk
A touching and timely account of familial love, The See-Through House arrives with all the greater power in our period of lockdown, compelling readers to appreciate the importance of home and family anew

UK Press Sydication
The See-Through House is a beautiful testament to a father-daughter bond, an exploration of the complexities of grief and, all together, a quite stunning account of a one of a kind house

Aisling McGuire, Wee Review