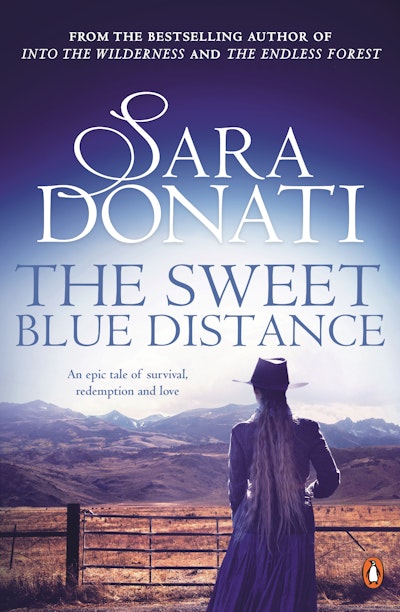 Published:

3 April 2024

ISBN:

9780143795223

Imprint:

Bantam Australia

Format:

Trade Paperback

Pages:

800

RRP:

$38.00
The Sweet Blue Distance
---
---
---
In the 1850s a young midwife braves the perilous journey west from New York City to Sante Fe in this captivating epic from Sara Donati, the international bestselling author of Into the Wilderness and The Endless Forest.
Over half a million copies now sold of the WILDERNESS series in Australia and New Zealand!
In 1845 Carrie Ballentyne was forced to leave the only home she'd ever known in the mountains of upstate New York, and her separation from Bonner, Ballentyne, and Savard relatives weighs heavily.

In time Carrie finds footing as a midwife, but she never feels at ease in the city. So when, a decade later, she receives an invitation from a doctor in Santa Fe to join him at his practice, she readily accepts.
The trip across the country is long and often dangerous, but she travels the last leg on horseback with men who have been hired to see her safely through the Native nations fighting the westward flood of colonisers. On that journey she makes friends who will be with her for all her life: Eva, a young widow; and Eli, an experienced surveyor.
Once Carrie is established in Santa Fe, it becomes clear that her employer is not everything she was led to believe, and she is forced to face far more challenges and responsibilities than she anticipated. But she dedicates herself to the work and the women, providing health care, delivering babies, and earning the trust of her female patients.

In the course of that first summer in New Mexico, determined to make a life for herself in a new kind of wilderness far beyond her imagination, Carrie finds friendship, support, and even love where she least expected.
Published:

3 April 2024

ISBN:

9780143795223

Imprint:

Bantam Australia

Format:

Trade Paperback

Pages:

800

RRP:

$38.00