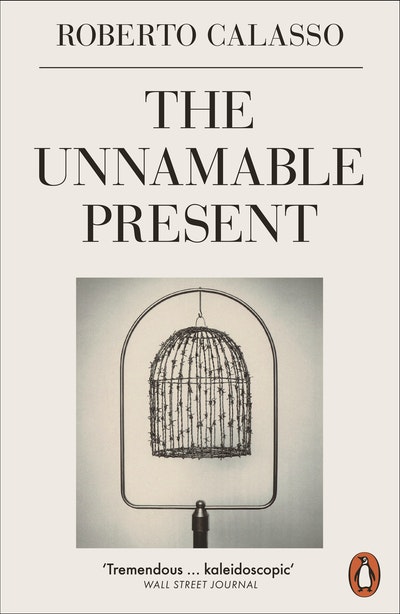 Published:

21 July 2020

ISBN:

9780141988016

Imprint:

Penguin Press

Format:

Paperback

Pages:

208

RRP:

$30.00
The Unnamable Present
---
---
---
A concise, yet wide-ranging inquiry into the roots of modernity and the turmoil of the present day.
Tourists, terrorists, secularists, hackers, fundamentalists, transhumanists, algorithmicians: in this book Roberto Calasso considers the tribes that inhabit and inform the world today. A world that feels more elusive than ever before.
Yet once contrasted with the period between 1933 and 1945, when the world made a partially successful attempt at self-annihilation, the new millennium begins to take on an unprecedented form. What emerges is something illusory, ever-shifting and occasionally murderous: the unnamable present.
This book, the ninth part of a work in progress,is a meditation on the obscure and ubiquitous process of transformation happening in societies today, where distant echoes of Auden's The Age of Anxiety give way to something altogether more unsettling.
Published:

21 July 2020

ISBN:

9780141988016

Imprint:

Penguin Press

Format:

Paperback

Pages:

208

RRP:

$30.00
Praise for The Unnamable Present
I love Roberto Calasso's writing: it's rigorous, elusive, and expansive. The Unnamable Present continues his austere, zigzagging history of the world, but the difference is that now he's examining the supermodern - and this shift would I guess be a moment for pure celebration, were his conclusions not so inescapable and so terrifying

Adam Thirlwell
This slim but wide-ranging philosophical inquiry extends the Italian author's series on the roots of modernity, with particular attention to moral relativism

The New York Times
A public intellectual in the great European tradition, whose new book attempts to define the era we're currently living through

Irish Times
The ninth in Mr. Calasso's kaleidoscopic series of investigations into the spiritual biography of the secular West . . . the two long essays in The Unnamable Present examine the effects of novel and often dangerous mythologies-democracy, nationalism, Darwinism, race theory- in 20th-century Europe . . . he handles the events of the past with the reverence of a priest, rather than the dispassion of a historian. Material facts are the tangible aspect of hidden truths

Dominic Green, The Wall Street Journal
Calasso's erudition is dazzling . . . his assertions come in short, verbless sentences, darting from historical moment to historical moment, alighting on a person, a place, a topic, before moving briskly on

Caroline Moorehead, Times Literary Supplement
Surprising, illuminating . . . one of the many pleasures of reading Calasso is to follow the bumper-car ride of his thinking, as he caroms off this and that totemic figure dotted about the intellectual fairground

John Banville, The New York Times Review of Books