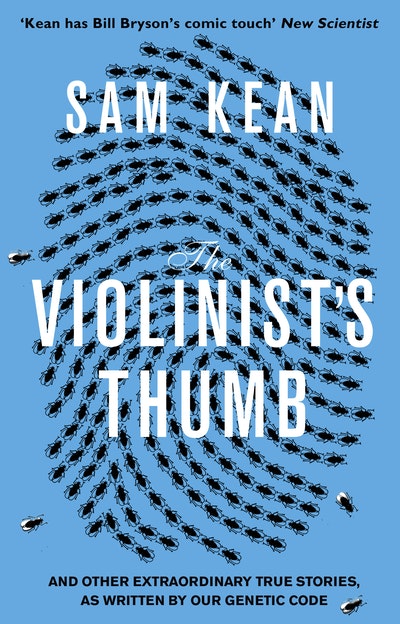 Published:

16 May 2013

ISBN:

9780552777513

Imprint:

Black Swan

Format:

Paperback

Pages:

496

RRP:

$27.99
The Violinist's Thumb
And other extraordinary true stories as written by our DNA
---
---
What human DNA can tell us about vampires, spies, poets and musical genius
Understanding DNA can help us understand how our bodies and, to some extent, minds work. But understanding the limits of DNA will also help us understand how our bodies and minds don't work. To a similar degree, we'll have to prepare ourselves for whatever DNA says (and doesn't say) about intractable social problems like gender and race relations, and whether traits like aggression and intelligence are fixed or flexible. And we'll have to decide whether to trust eager thinkers who, while acknowledging that we don't understand completely how DNA works, already talk about the opportunity, even the obligation, to improve upon four billion years of biology.
To this point of view, the most remarkable story about DNA is that our species survived long enough to master it.In other words, the collective history in this book is still being constructed; and this book aims, in retelling that history, to arrive at wisdom enough to understand the choices we have to make.
The Violinist's Thumb is structured so that each chapter provides the answer to one mystery. The mysteries start in the remote past; move into our animal and primate ancestries; and culminate with the emergence of cultured human beings. Some are recent mysteries about how we acquired language or "beat" the Neanderthals. Some reach back to our earliest hours. But as the book advances chronologically toward the final section, I admit that the mysteries have not been fully solved. They remain mysteries-especially the mystery of how this grand human experiment of uprooting everything there is to know about our DNA will turn out.
Published:

16 May 2013

ISBN:

9780552777513

Imprint:

Black Swan

Format:

Paperback

Pages:

496

RRP:

$27.99
Praise for The Violinist's Thumb
Summer's must-read non-fiction book

Huffington Post
The Violinist's Thumb is one of the Ten Books to Look Out for in 2012

New Scientist
A fast-paced, breezy romp through history using DNA as a unifying theme... it's nerd-vana

New Scientist
Explored in his Bryson-esque style, [The Violinist's Thumb] provokes fascinating stuff, full of oddball stories and amazing facts. Kean's book is full of wonderfully weird anecdotes, but it's also an accessible history of the discovery and mapping of DNA... compellingly entertaining

Daily Mail
Sam Kean is the best science teacher you never had

Entertainment Weekly
[Kean] writes with a humor and humanity that make him poised to become the next Brian Greene, maybe, or Oliver Sacks - explaining small corners of the universe one case study at a time

Washington Post
An excellent book – highly readable and with lots of great stories

Popular Science
Kean's real knack is for digging up strange details most textbooks leave out … the book is an engaging history

Science News
Though his subject is a serious one, Mr. Kean enlivens his narrative with an appealing sense of humor... Kean's witty style nicely blends facts and stories in an engaging package

Wall Street Journal
The wonderful thing about Kean… is his ability to focus on a spiraling narrative while he climbs up the double-helix ladder in this history of genetics… It is a handsome story

The Daily Beast
Enthralling... wonderfully witty... Kean's thoughtful, humorous book is a joy to read

Publishers Weekly
Anyone reading this fine book could be excused for asking, with wide-eyed amazement: is there anything DNA can't do?

Boston Globe