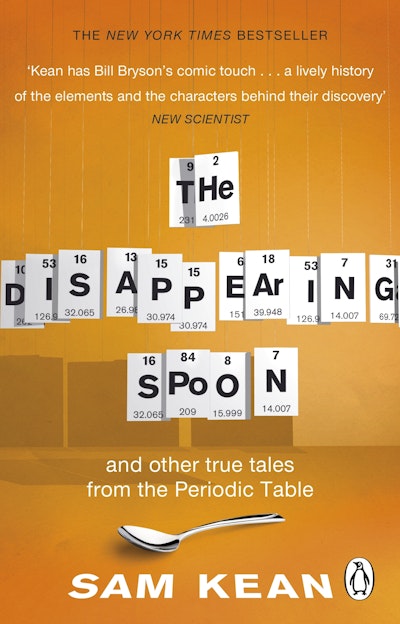 Published:

1 May 2011

ISBN:

9781446437650

Imprint:

Transworld Digital

Format:

EBook

Pages:

400
The Disappearing Spoon...and other true tales from the Periodic Table
---
---
---
Fascinating and hilarious true stories from the Periodic Table - Shortlisted for the Royal Society Winton Prize for Science Books 2011
Why did Gandhi hate iodine (I, 53)? Why did the Japanese kill Godzilla with missiles made of cadmium (Cd, 48)? How did radium (Ra, 88) nearly ruin Marie Curie's reputation? And why did tellurium (Te, 52) lead to the most bizarre gold rush in history?
The periodic table is one of our crowning scientific achievements, but it's also a treasure trove of passion, adventure, betrayal and obsession. The fascinating tales in The Disappearing Spoon follow carbon, neon, silicon, gold and every single element on the table as they play out their parts in human history, finance, mythology, conflict, the arts, medicine and the lives of the (frequently) mad scientists who discovered them.
Why did a little lithium (Li, 3) help cure poet Robert Lowell of his madness? And how did gallium (Ga, 31) become the go-to element for laboratory pranksters? The Disappearing Spoon has the answers, fusing science with the classic lore of invention, investigation, discovery and alchemy, from the big bang through to the end of time.
Published:

1 May 2011

ISBN:

9781446437650

Imprint:

Transworld Digital

Format:

EBook

Pages:

400
Praise for The Disappearing Spoon...and other true tales from the Periodic Table
A science book you didn't have to get beaten up in high school to read

Daily Beast
A superb read... This book stands comparison with Primo Levi's The Periodic Table, and indeed of the two I prefer it

BBC Focus
A wealth of fascinating stories with a dazzling cast of heroes and villains. Written with gusto and backed by a mind-boggling amount of research, this is a real page turner

Robert Matthews, Daily Telegraph
Kean has Bill Bryson's comic touch... a lively history of the elements and the characters behind their discovery

New Scientist
One of the most readable and entertaining books about science yet published ... [Kean] is master of enlightening metaphors

Daily Express
Only once in a rare while does an author come along with the craft and the vision to capture the fun and fascination of chemistry. The Disappearing Spoon is a pleasure and full of insights. If only I had read it before taking chemistry

Mark Kurlansky, author of "Cod and Salt"
the anecdotal flourishes of Oliver Sacks and the populist accessibility of Malcolm Gladwell

Entertainment Weekly
The periodic table meets the best-seller list with Sam Kean's Disappearing Spoon, an engaging tour of the elements... with the éclat of raw sodium dropped in a beaker of water

The New York Times
This book is entirely entertaining - it's a real page turner, and there's very little not to like about the combination of a string of QI like fascinating facts with a whole slew of engaging stories... a delight to read, taking a very predictable subject and approaching it in an entertaining, original and informative way... if you want to be entertained and find out lots of history and fascinating facts around the elements themselves, this is the one for you

popularscience.co.uk