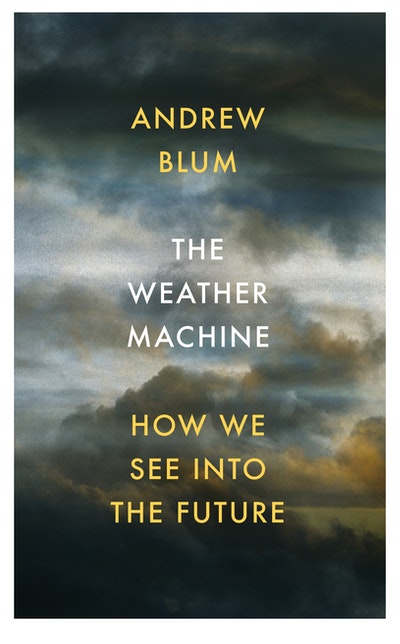 Published:

27 June 2019

ISBN:

9781473521698

Imprint:

Vintage Digital

Format:

EBook

Pages:

224
The Weather Machine
How We See Into the Future
---
---
---
A gripping account of the ingenious minds who gathered together the greatest technological inventions of our species to create a machine that can see into our planet's future with astonishing accuracy
'Revelatory . convey[s] the technical brilliance and political significance of an achievement that hides in plain sight'
Telegraph
From satellites circling the Earth, to weather stations far out in the ocean, through some of the most ingenious minds and advanced algorithms at work today - In this gripping investigation, Andrew Blum takes us on a global journey. Our destination: the simulated models weather scientists have constructed of our planet, which spin faster than time, turning chaos into prediction, offering glimpses of our future with eerie precision.
This collaborative invention spans the Earth and relies on continuous co-operation between all nations - a triumph of human ingenuity and diplomacy we too often shrug off as a tool for choosing the right footwear each morning. But in this new era of extreme weather, we may come to rely on its maintenance and survival for our own.
Published:

27 June 2019

ISBN:

9781473521698

Imprint:

Vintage Digital

Format:

EBook

Pages:

224
Praise for The Weather Machine
This fascinating book reveals the existence and origins of surely one of our species' greatest creations, and Andrew Blum is the perfect writer to share both the remarkable human stories and the astonishing technical wizardry behind it all

MARK VANHOENACKER, author of Skyfaring
Sharp, stylish and often surprising. In this absorbing book Andrew Blum tracks the development, from wild dream to astonishing reality, of the quietly revolutionary technology that shapes our everyday lives

PETER MOORE, author of The Weather Experiment
Andrew Blum is a master of revealing the hidden systems behind technologies we take for granted. In the The Weather Machine he takes on the daily forecast, and the result is deeply researched, tightly written, compulsively readable and totally fascinating

SETH FLETCHER, author of Einstein's Shadow
Exhilarating ... a hurricane-force tour of one of the most astonishing but under-appreciated facets of the modern world

LEWIS DARTNELL, author of Origins
A vivid account of the history and evolution of the modern daily forecast... Blum is a sharp analyst and engaging guide, adept at translating difficult concepts in meteorology and computer science for the uninitiated

Economist
It's easy to . overlook the monumental achievement [weather forecasts] represent . The Weather Machine asks us to pause and marvel at . one of humankind's greatest accomplishments

HANNAH FRY (author of Hello, World), New Yorker
Revelatory . convey[s] the technical brilliance and political significance of an achievement that hides in plain sight. The machine's complexity alone is off all familiar charts . Blum does an excellent job

Telegraph
Totally fascinating to anyone with even a passing interest in weather or technology

Gizmodo
Andrew Blum's excellent book describes a global meteorological machine that uses scientific models of the atmosphere to convert observations into ever more accurate speculations - or forecasts - of future weather . all described in lively detail

Financial Times
Written with an ease and beauty that will captivate anyone who is simply curious about how things work and came to be' (Literary Review)

Literary Review
[A] compelling survey of meteorological acceleration from nineteenth-century hand-drawn charts to the trillions of calculations per second performed by today's supercomputers

Times Literary Supplement
Blum's wonderful book succeeds in making the science and industry of forecasting the weather . at once vitally human, technologically awesome and urgently, thrillingly relevant

Royal Geographical Society
I strongly recommend th[is] book, which is a fascinating glimpse of a mysterious world

Tim Haford, author of The Undercover Economist