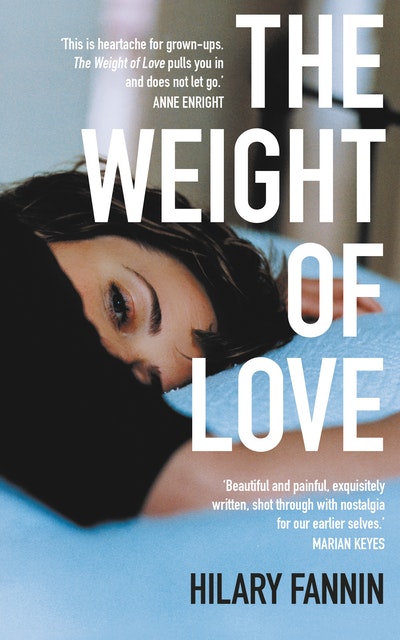 Published:

19 March 2020

ISBN:

9781473578333

Imprint:

Transworld Digital

Format:

EBook

Pages:

352
The Weight of Love
---
---
---
Maggie O'Farrell with bite: a powerful love story set between London & Dublin, from the much lauded Irish Times columnist who counts Roddy Doyle among her fans.
London 1996. Two young Irish emigres – Ruth, a classroom assistant, and Robin, a teacher – meet in a city energised by a mood of cultural optimism and a sense of tentative political revival. Both are escapees: Robin, fleeing the wilds of West Cork and his German hippie mother's ferocious affection; Ruth is attempting to outrun grief after the death of her father.
Robin, already in love with Ruth, introduces her to his childhood friend, artist Joseph, a fragile, beautiful young Londoner unable to cope with the sudden attention his work is receiving. Ruth and Joseph begin a passionate affair, one ultimately destined for tragedy.
Dublin 2016. Ruth and Robin are married and living in Dublin with their son, Sid, who is about to emigrate to Berlin. After eighteen years of marriage Robin, always cautious, ever the realist, has long since understood that Ruth believes it was Joseph, not Robin, who was the great love of her life. Derailed by his own mother's illness, Robin begins an affair with the mother of one of his pupils.
Ruth, meanwhile, returns to London to confront her memories and reappraise a past that has haunted her present.
The Weight of Love is a beautiful exploration of how we manage life when the notes and beats of our existence, so carefully arranged, begin to slip off the stave.
Published:

19 March 2020

ISBN:

9781473578333

Imprint:

Transworld Digital

Format:

EBook

Pages:

352
Praise for The Weight of Love
This is heartache for grown ups. The Weight of Love pulls you in and does not let go.

Anne Enright
Beautiful and painful, exquisitely written, shot through with nostalgia for our earlier selves.

Marian Keyes
Fannin writes with acute insight on loss, grief, and the ways in which time fold in our lives ... We are not long into 2020, but Fannin's novel is already likely to be a serious contender for one of the books of the year

Sunday Times
Incredibly beautiful, aching; it feels like it's being whispered to me. The story unfolds so naturally in prose at once delicate and powerful, hypnotic. Gorgeous.

Donal Ryan
A masterful dissection of romantic love ... This novel is still revealing new unexpected depths until the final page

Sunday Independent
An absorbing, cleverly structured, yet very human novel. It is hard to accept that it is Hilary Fannin's first

Roddy Doyle
An exquisitely written, deeply moving novel about the agonies of love, intimacy, and the harm we inflict upon one another in the name of romance.

Louise O'Neill
A tender, beautiful novel that sparkles with humour

Danielle McLaughlin
It's a gorgeous read; delicate, well crafted, full of clever insights into relationships, loss and the human condition of the calibre you might expect from Anne Enright.

The Irish Times Magazine
Fannin proves the efficacy of fiction as a medium for truth - and in doing so, exceeds all expectations.

The Irish Times Ticket
Intimate and moving … It is all in there: family love, friendship and romantic love. Hilary looks at these universal themes with microscopic precision.

Irish Examiner
This beautifully written and intimate story is profoundly moving

Irish Sunday People
A startling debut

Must Read, Image Magazine
An utterly beautiful book

Michael Harding
A beautifully written account of a love triangle that feels so real I could have lived it myself

Kathleen MacMahon
Gorgeous, romantic, sad, melancholy, wise, amazing. I really recommend it ... One of the best books of the year

Seán Hewitt
Wise and beautifully bittersweet, The Weight of Love explores how we can be haunted by our own ghosts and the ghosts of others, by versions of our younger selves and the lives we failed to lead

Irish Independent
The Weight of Love left me with a feeling I so rarely get with fiction - a sort of drunkenness, an ease. I sank into it and when I got to the end, I wanted to turn it over and start again

Business Post
Wonderful ... A novel about lots of different forms of love ... Everyone should buy it

Miriam O'Callaghan, RTÉ Radio 1