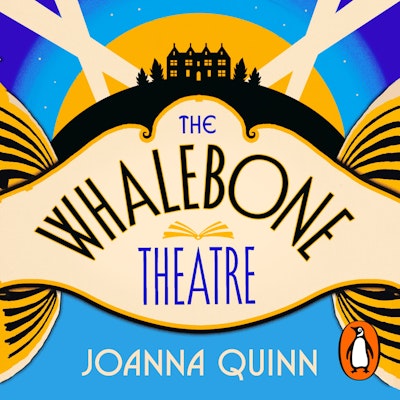 Published:

2 June 2022

ISBN:

9780241995129

Imprint:

Penguin Audio

Format:

Audio Download

RRP:

$37.00
The Whalebone Theatre
The instant Sunday Times bestseller
---
---
---
A brilliant, beguiling story of inheritance, imagination, courage and loss, and of an irrepressible girl from a gloriously dysfunctional home who fights to carve out her own story.
Cristabel Seagrave has always wanted her life to be a story, but there are no girls in the books in her dusty family library. For an unwanted orphan who grows into an unmarriageable young woman, there is no place at all for her in a traditional English manor. But from the day that a whale washes up on the beach at the Chilcombe estate in Dorset, and twelve-year-old Cristabel plants her flag and claims it as her own, she is determined to do things differently.
With her step-parents blithely distracted by their endless party guests, Cristabel and her siblings, Flossie and Digby, scratch together an education from the plays they read in their freezing attic, drunken conversations eavesdropped through oak-panelled doors, and the esoteric lessons of Maudie their maid.
But as the children grow to adulthood and war approaches, jolting their lives on to very different tracks, it becomes clear that the roles they are expected to play are no longer those they want. As they find themselves drawn into the conflict, they must each find a way to write their own story...
Published:

2 June 2022

ISBN:

9780241995129

Imprint:

Penguin Audio

Format:

Audio Download

RRP:

$37.00
Praise for The Whalebone Theatre
This is a book that will be loved unreasonably and life-long

Francis Spufford, author of 'Light Perpetual'
Utterly captivating ... Written with great heart, humour and humanity, it's the kind of book you want to escape normal life to read at every available opportunity.

Elizabeth Day, author of Magpie
The Whalebone Theatre has all the makings of a classic. And Cristabel Seagrave is the most gratifying hero. The war scenes often left me breathless: they are as good as you will ever read. A wonderful debut. Actually, a tour de force'

Sarah Winman, Author of Still Life
Quinn's story passes like a fabulous pageant, richly coloured and packed with incident, taking us from the lonely and unorthodox Dorset childhood of the extraordinary Christabel to the poignant aftermath of her heroic Second World War. Quinn has a sublime touch: Cristabel and her troupe are unforgettable, as riotous in comedy as they are heart-breaking in tragedy'

Frances Liardet, author of We Must Be Brave
Magnificent. As capacious, surprising and magical as the whale that lends its bones to Cristabel's theatre: a tale of intertwined lives and braided fates as deftly managed and heartbreaking as a Dickens' novel.

Rebecca Stott, Costa-winning author of The Days of Rain
Breathes fresh, bracing air into the lungs of the multi-generational saga - and the very form of the novel itself. Few people writing today can match Quinn for the energy and precision of her prose...

Susan Elderkin, author of The Story Cure: An A-Z of Books to Keep Kids Happy, Healthy and Wise
I defy any reader not to fall in love... it transported me wholesale to another time and place and while I wandered its pages, I forgot the world for a while

Wyl Menmuir, author of Fox Fires
Utterly heart-breaking and joyous ... I just disappeared into THE WHALEBONE THEATRE and didn't want to leave

Jo Baker, author of Longbourn
So immersive and joyous and glorious. I was completely entranced

Cathy Rentzenbrink, author of Write It All Down
A novel to match the Cazalet saga ... generous, filling, deeply satisfying, funny-sad, every page crammed with life and experience. She is one of those writers who has her finger on humanity's pulse. An absolute treat of a book, to be read and reread

Sunday Times
Like Red Bull, The Whalebone Theatre gives you wings . . . [it's] a lush, roving, William Boyd-style novel. How on earth is [Quinn] this good? You know what? Who cares. Just dive in and slurp it up

The Times
Destined to become a classic . . . Elegantly written and totally immersive, Quinn's debut is a wonder

Daily Mail
Quinn creates a world so rich with observation, detail, humanity and heart that you are incapable of doing anything but drinking it in with greedy delight

YOU magazine
In classic English Country House novel style, [The Whalebone Theatre] focuses on the younger generation amidst a backdrop of scandalous adult misbehaviour. This is a chunky novel to get lost in, full of pacy plotting and luscious language

The Independent
A crumbling old country manor, three unconventional siblings and the looming threat of war makes for a classic coming-of-age tale, as imaginative Cristabel, sweet Flossie and charismatic Digby attempt to find their roles in life. Brimful of charm, and wonderfully immersive, this is a captivating read

Daily Mail
One of those big chunky stories that swallows you whole - and it's beautifully written too

The Times
[A] brilliant debut ... A truly immersive read. The plot unfolds gradually, allowing you to really connect with the characters, all of whom are very real with their fears and foibles ... Fascinating

Dorset Magazine
Written with heart and humour

Psychologies
I was swept away by this compelling, beautifully written debut and its plucky heroine

Good Housekeeping
Article
Find your perfect winter read!
Temperatures are dropping, the nights are getting darker and it's the perfect time to find a cozy spot to curl up with a good book . . .