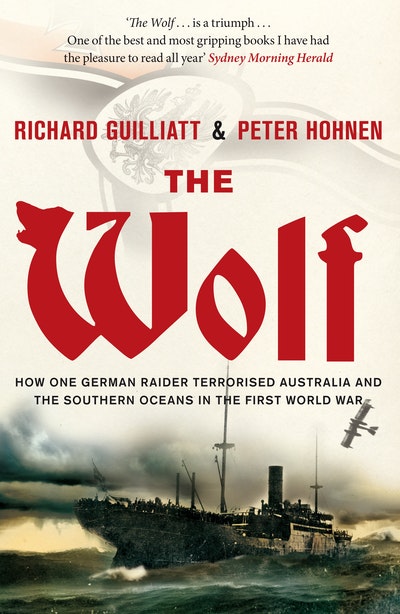 Published:

1 July 2010

ISBN:

9781741666250

Imprint:

William Heinemann Australia

Format:

Paperback

Pages:

400

RRP:

$29.99
The Wolf
---
---
---
The true story of an epic voyage of destruction in World War One. ONE OF THE MOST ACCLAIMED NAVAL HISTORY TITLES OF 2009 IS OUT NOW IN PAPERBACK.
ONE OF THE MOST ACCLAIMED NAVAL HISTORY TITLES OF 2009 IS OUT NOW IN PAPERBACK.
July 1917: the First World War is about to enter its fourth horrendous year and ships are mysteriously disappearing off Australia and New Zealand as a young Australian woman named Mary Cameron sails with her husband and daughter across the Pacific Ocean from San Francisco to Sydney. Less than a thousand miles from Sydney, a black-hulled freighter appears out of the vast blue emptiness, and Mary and her daughter rush to the deck to greet her. Suddenly, two hinged iron sections of the freighter's bulwarks drop down to reveal she is bristling with guns. She is in fact the German warship the Wolf, and the Cameron family are about to find themselves captive on one of the century's most extraordinary wartime sea voyages.
Sent by Germany on a suicide mission to the far side of the world, the Wolf was a formidable and ingenious commerce-raider. Her task was to inflict maximum destruction on Allied shipping using all the latest technology of warfare - torpedoes, mines, cannons, smokescreens, wireless receivers, even a seaplane. It was an assignment so secret that she could never pull in to port or transmit any radio signal. In one continual 64,000-mile voyage, the ship caused havoc across three oceans, launched Germany's first direct attacks on Australia and New Zealand and captured over 400 men, women and children.
Surviving on fuel and food plundered from other ships, the Wolf became a world in miniature as her 350-strong crew and their prisoners crowded together in an improbable survival story. Drawn from eyewitness accounts, declassified government files and unpublished diaries and correspondence discovered during five years of research, this is the story of the Wolf's voyage, one of the most remarkable but little-known episodes of the First World War. An extraordinary adventure story, THE WOLF is also a portrait of a world undergoing profound transformation.
Published:

1 July 2010

ISBN:

9781741666250

Imprint:

William Heinemann Australia

Format:

Paperback

Pages:

400

RRP:

$29.99
NSW Premier's Literary Awards
Shortlisted • 2009 • NSW Premier's Literary Awards (Non Fiction)
Colin Roderick Award
Shortlisted • 2010 • Colin Roderick Award