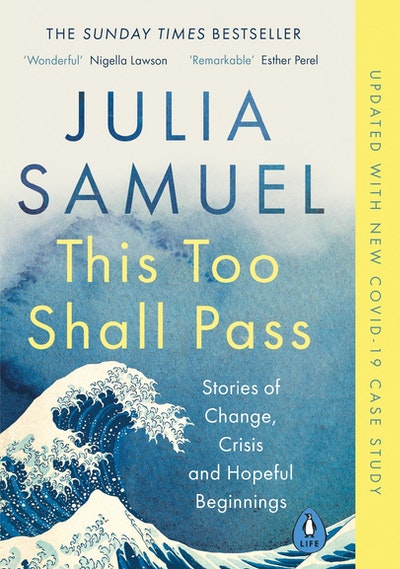 Published:

2 July 2021

ISBN:

9780241348871

Imprint:

Penguin Life

Format:

Paperback

Pages:

368

RRP:

$26.00
This Too Shall Pass
Stories of Change, Crisis and Hopeful Beginnings
---
---
---
A leading therapist shares memorable patient stories to explore the key crises in life and what we can learn from them.
In this Sunday Times bestseller, acclaimed psychotherapist Julia Samuel draws on hours of conversations with her patients to show how we can learn to adapt and even thrive as a result of our most difficult and traumatic experiences.
From a woman returning and readjusting to work after maternity leave, to a single father handling a serious medical diagnosis, this book includes 21 powerful and deeply intimate stories about everyday people, which will enable us to embrace change and improve the way we approach challenges throughout our lives.
Published:

2 July 2021

ISBN:

9780241348871

Imprint:

Penguin Life

Format:

Paperback

Pages:

368

RRP:

$26.00
Praise for This Too Shall Pass
The considerable force of this book lies in Julia's ability to listen completely. Being such an extraordinary listener she becomes an extraordinary storyteller

Christa D'Souza
The psychotherapist author of the acclaimed Grief Works returns with a bracing, brilliant exploration of how we can adapt and thrive during our most difficult times (...) Samuel dispenses much wisdom and empathy about the hard times we experience (...) to help us better navigate the changes we will all face sooner or later

The Bookseller
Little bells of clarity and understanding chime throughout this book. At once intimate and universal, this is a lifesaver. Fascinating, rigorous and beautifully written, you can hear Julia's voice on every page

Kate Reardon
I absolutely loved it. Clear, compassionate, occasionally very very funny but mostly heart wrenching

Rabbi Julia Neuberger
I loved This Too Shall Pass. So full of wisdom and light. I learnt a lot and also felt comforted and soothed. Julia really is a force for good in the world. I wish more people could experience the joy of being with her, and this book is a way that they can

Cathy Rentzenbrink, author of 'The Last Act of Love'
As you read this book, you absorb new and radical ways of thinking about yourself, family, and friends. It's compassionate and gentle yet is fiercely on the side of building sustainable and satisfying relations even when they have gone wrong. Read it.

Susie Orbach, author of 'In Therapy'
This brilliant book does what no others do - it talks about the problems of everyday life, with grown-up children, complex families, the stresses of work, in a compassionate and truly insightful way. I would challenge anyone not to recognise themselves in at least one of the beautifully detailed case studies. It is a privilege to be able to listen in to a masterful therapist at work

Rosie Boycott
Wisdom and experience alone would make This Too Shall Pass essential reading for every single person - but, in addition, the extraordinary generosity of Julia's personality shines through every word, offering profound understanding and consolation

Bel Mooney
Moving and inspiring, Julia Samuel writes with the quiet clarity that comes with true wisdom. In her observations of the heart-breaking and life-affirming events that affect the lives of ordinary people, she has the ability to find the eye of the storm and to hold her clients in stillness there as they come to terms with the chaos of change. Reading This Too Shall Pass is illuminating and comforting. We all resist change, and Julia Samuel shows us how to find the courage to weather it and sail out into the calm beyond. She is honest, open and inspiring in her comments, like the best friend we all aspire to be. A life raft of a book, hold onto it and you will stay afloat through life's inevitable mishaps

Raffaella Barker
Julia Samuel is the psychotherapist you wish you had on call and her books are the next best thing. The challenges we all face in life are unpicked, explained and made bearable in this thoughtful, illuminating book. A book for anyone experiencing the pain of change from divorce to debilitating illness. Julia Samuel's stories from the therapy room light the way for the rest of us'

Shane Watson
A profound exploration of resilience in modern life - a much-needed reminder that we yield power over our lives, even when it feels like we don't. It's one of the most valuable books I've ever read and my respect for Julia Samuel and her work is immeasurable

Adwoa Aboah, 'Gurls Talk' podcast host
A remarkable portrayal of how we need to understand ourselves to truly heal

Esther Perel, author of 'Mating in Captivity' and 'The State of Affairs'
An important book for our times. It is both wise and compassionate which will be helpful to many readers

Thomas Harding
Relevant, wise and compassionate

Annabel Rivkin, author of 'I'm Absolutely Fine! A Manual for Imperfect Women'
The case-studies here are presented so well that they often read like good fiction, but by an author who is endlessly patient with her characters ... There are all kinds of lessons to be learnt from this wise, kindly book ... Julia Samuel has a basic faith in human decency, and her optimism shines through every sentence

Kate Saunders, The Times
In this moving and insightful book, Julia Samuel explores how we can navigate, adapt and ultimately become the people we'd hope to be but also to nurture ourselves and understand what makes us us (...) this is just the book we all need when times get tough - and even when they aren't ... [A] comfort read

Stylist
A comforting and enlightening read ... If you're looking for comfort in the presence of wise and caring strangers, then this is the book for you

Metro
Cannot recommend it highly enough

Lorraine Kelly
Julia Samuel's compassionate realism shines through every word of this wise, kind volume. It is emphatically not a 'self-help' book, but a beautifully written celebration of the strength of the human spirit ... Wisdom and experience alone would make this essential reading for us all - but, in addition, the extraordinary generosity of Julia's personality shines through every word, offering profound understanding and consolation ... It feels a privilege reading this wonderful book full of insight

Bel Mooney, Daily Mail
Full of compassionate wisdom ... a rich, wise book

Christina Patterson, Sunday Times
This book is wonderful

Pippa Grange, author of 'Fear Less'
[She] is a sort of human oxytocin

The Times