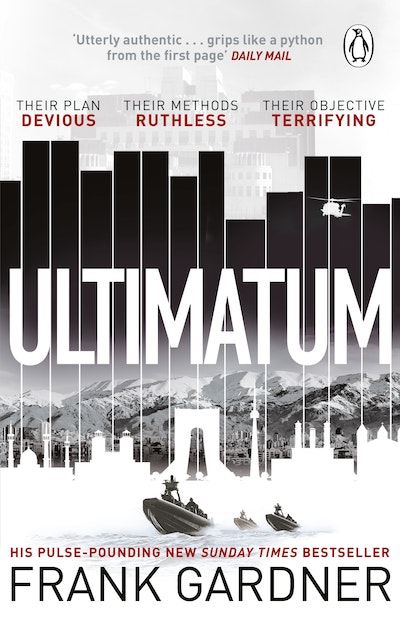 Published:

31 May 2018

ISBN:

9781473526457

Imprint:

Transworld Digital

Format:

EBook

Pages:

464
Ultimatum
The explosive thriller from the No. 1 bestseller
---
---
---
SIS officer Luke Carlton returns in the explosive, action-packed and bestselling new thriller from BBC Security Correspondent Frank Gardner, author of the No.1 bestseller Crisis.

'It grips like a python from the first page, squeezing the breath out of the reader' DAILY MAIL
'Outstanding' SUNDAY TIMES
'Breathless action' THE TIMES
Hidden from prying Western satellites, Iranian scientists are building a banned device . . .
They are acting on the orders of a renegade cell within Iran's Revolutionary Guard. They want to transform their country into a nuclear power, and so seal Iran's domination of the Middle East.
British intelligence know something is up. Someone on the inside is ready to hand over information. SIS agent Luke Carlton is there to collect, but things go bloodily wrong . . .
Licking their wounds, MI6 need access to thehardliners. When an unlikely new source emerges Luke is sent to bring them in. Going undercover into Iran is dangerous enough, but there's a killing and a kidnapping - and suddenly the British government are confronted with a shocking ultimatum.
Now on the run and off-grid, Luke must stop a cataclysmic new war in the Gulf. And the clock is ticking . . .
________
Readers love Ultimatum:
***** 'An action-packed thriller . . . very authentic'
***** 'A real page turner . . . thrilling adventure'
***** 'Gripping page turner that keeps you glued to the story'


Published:

31 May 2018

ISBN:

9781473526457

Imprint:

Transworld Digital

Format:

EBook

Pages:

464
Confirms Frank Gardner's place among the pantheon of distinguished reporters who have become excellent thriller writers, including Gerald Seymour and Frederick Forsyth . . . utterly authentic . . . it grips like a python from the first page, squeezing the breath out of the reader.

DAILY MAIL
Outstanding.

SUNDAY TIMES
Frank Gardner's second thriller is even closer than his first, Crisis, to dealing with the world's most immediate fears . . . current international events do not necessarily turn into exciting novels, but Gardner skilfully mixes knowledge garnered as the BBC's security correspondent with breathless action.

Marcel Berlins, THE TIMES
Lots of twists and turns and a surprise ending. Good stuff.

Frederick Forsyth, DAILY MAIL
Crisis, the debut two years ago by the BBC security correspondent Frank Gardner, was much admired, and the second in his Luke Carlton series is even better . . . its themes of Iranian bomb production and divisions in the country's elite have great topicality.

John Dugdale, SUNDAY TIMES 'Thriller of the Month'
A terrifying and topical novel . . . Gardner's style is addictive . . . [his] riveting plot really does illuminate both the past and today's headlines. It would be a spoiler to reveal the shocking climax, but there is a hint of more to come: roll on novel three.

Marina Vaizey, THE ARTS DESK
It's no surprise that a BBC correspondent should write knowledgeably, but this action-packed thriller has a rare authority and authenticity.

LITERARY REVIEW
Gardner . . . tells the story with a verve and expertise born of long experience of the subject . . . convincingly authentic. It is the thriller writer's trick to blur the boundary between current affairs and invention, to make the unthinkable thinkable and exciting. In this, Gardner succeeds triumphantly.

COUNTRY AND TOWN HOUSE MAGAZINE
'Confirms Frank Gardner's place among the pantheon of distinguished reporters who have become excellent thriller writers, including Gerald Seymour and Frederick Forsyth . . . utterly authentic . . . it grips like a python from the first page, squeezing the breath out of the reader.'

DAILY MAIL
A terrifying and topical novel . . . Gardner's style is addictive . . . [his] riveting plot really does illuminate both the past and today's headlines. It would be a spoiler to reveal the shocking climax, but there is a hint of more to come: roll on novel three.

Marina Vaizey, THE ARTS DESK
It's no surprise that a BBC correspondent should write knowledgeably, but this action-packed thriller has a rare authority and authenticity.

LITERARY REVIEW
Crisis, the debut two years ago by the BBC security correspondent Frank Gardner, was much admired, and the second in his Luke Carlton series is even better . . . its themes of Iranian bomb production and divisions in the country's elite have great topicality.

John Dugdale, SUNDAY TIMES 'Thriller of the Month'