Peter FitzSimons illuminates a critical figure in the Allied victory of WW1.
In April 1918, when Australian forces were called upon by General Douglas Haig to hold the French town of Villers-Bretonneux, our troops went in with the attitude that 'It's up to us'. Success would ensure the Germans would not win the war; failure was not a consideration. The vicious counterattack that followed sent the Germans recoiling, the town was saved and the war was won.
In the French region of the Somme, the heroics shown by our diggers during those days and weeks will never be forgotten. Peter FitzSimons' Victory at Villers-Bretonneux brings to life the stories of those who were on the ground. Here is a snapshot of a man central not only to this battle, but to Australian and Allied hopes of victory.
 
Harold 'Pompey' Elliott
Nicknamed after a Carlton footballer, Brigadier Harold 'Pompey' Elliott was also known as a man of volcanic temperament. Yet he was loved by his men. 'Whatever else they might say of Pompey Elliott, his care for the welfare of his men is as well-known as his temper,' writes Peter FitzSimons in Fromelles and Pozières: In the Trenches of Hell.
In 1916, under British orders, Elliott and his men of the 15th Brigade suffered crushing losses in doomed attacks at Fromelles and Pozières. But in April 1918, against an enormous and steadily advancing German force, out of desperation Elliott's men were called upon to stop the advance and save the French town of Villers-Bretonneux. Under Elliott's leadership, our troops fought valiantly to secure an unlikely victory that effectively ensured the Germans would not win the war. '[Elliott] would be proud of the success of his men at Villers-Bretonneux for the rest of his days,' writes FitzSimons in Victory at Villers-Bretonneux.
Throughout the war Elliott's unwillingness to suffer inefficiency in leadership meant he directed much displeasure at those further up the chain of command. Because of this, despite the pivotal role he played in the allied victory, it is largely felt that Elliott never received the recognition he deserved for his leadership and valour.
After the war Elliott entered Australian politics, becoming a Victorian Senator for the Nationalist Party. At his funeral in 1931, there was such an outpouring of emotion in Australia that the former Prime Minister Stanley Bruce would say, 'I have never seen a greater tribute.'
---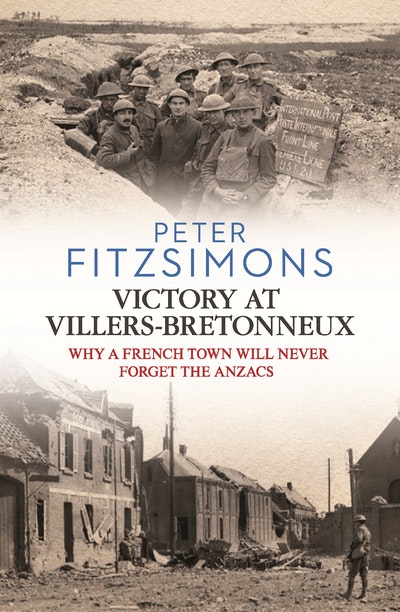 On Anzac Day 1918, when the town of Villers-Bretonneux falls to the British defenders, it is the Australians who are called on to save the day, the town, and the entire battle.
Buy now
Buy now
---