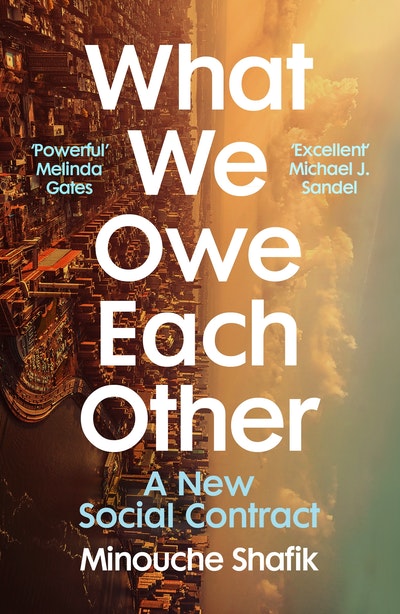 Published:

4 March 2021

ISBN:

9781473576995

Imprint:

Vintage Digital

Format:

EBook

Pages:

128
What Do We Owe Each Other?
A New Social Contract for the 21st Century
---
---
---
A transformative new way of tackling the current divisions and future challenges that societies the world over now face from the Director of the LSE
In this short, accessible book, Minouche Shafik, Director of the LSE, offers a transformative way of understanding and tackling the current divisions and future challenges that societies the world over now face.
Throughout history, humans who live together have had to answer the question, 'what do we owe each other?'
Childcare, education, nursing for the sick, support for the elderly and those who cannot provide for themselves – every one of us will need some or all of these things over the course of our lives. How we ensure their provision – 'the social contract' – is what shapes our societies and defines our politics.
In all societies, it has historically been the role of women to provide the care, and for families and communities to support those who are not working. As countries get richer, the state tends to raise more tax from citizens in exchange for providing collective support. In the UK, for example, there is the Welfare State, created by former Director of the LSE, William Beveridge. Culture, history, expectations of social mobility and fairness all play a role in determining our answers to these economic questions.
Shafik argues that our current period of political turbulence stems from outdated social contracts, which have failed to accommodate massive changes in demography, work and the expectations of women. They are also woefully ill-equipped to tackle the major challenges of the 21st century: ageing populations, the impact of technology and the climate crisis.
Gathering evidence from across the world, Shafik looks at each stage of life, from birth to old age, comparing different countries' answers to this inescapable question and presents a path toward a new and more generous social contract – between the individual and society, between men and women, between young and old, between rich and poor – fit for today's world.
Shafik shows how our values and economies are inextricable, and how each society must navigate a new social contract suited to new realities. But solutions are available – and this brilliantly lucid book makes them available to us all.
Published:

4 March 2021

ISBN:

9781473576995

Imprint:

Vintage Digital

Format:

EBook

Pages:

128