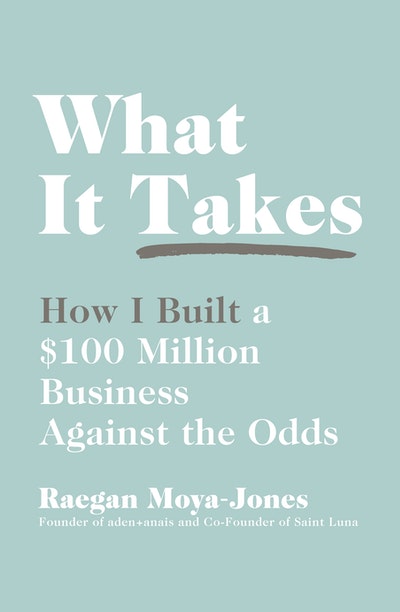 Published:

21 May 2019

ISBN:

9780241297209

Imprint:

Portfolio

Format:

Trade Paperback

Pages:

272

RRP:

$40.00
What It Takes
How I Built a $100 Million Business Against the Odds
---
---
---
The CEO of Saint Luna and founder of aden + anais reveals how she built a multimillion-dollar business by playing by her own rules and inspiring other women to do the same
When Raegan Moya-Jones was told by her overbearing male boss that she didn't have an 'entrepreneurial bone' in her whole body, she almost laughed in his face. What he didn't know was that the business she'd been secretly working on in the small hours of the night after putting her daughters to bed had just hit a revenue of $1 million.
Today, aden + anais, the swaddling blanket and baby goods company Moya-Jones founded is a global, multi-million dollar franchise bringing in revenue over $100 million. Now, Raegan's off on a new adventure, launching Saint Luna, a boutique liquor company poised to turn the stereotype of moonshine on its head.
John Burrough's quotation, 'Leap, and the net will appear' has always been Raegan's guiding principle in business. Her entrepreneurial journey - from babies to booze - will show the hopeful entrepreneur that she doesn't have to know it all, as long as she's willing to leap. If Raegan can do it, anyone can.
Published:

21 May 2019

ISBN:

9780241297209

Imprint:

Portfolio

Format:

Trade Paperback

Pages:

272

RRP:

$40.00
Take the advice of this outspoken, no-filter, hilarious entrepreneur and she will empower you to see that her secret sauce - no fear, no expectations, grit and vision - is available to all of us

Daphne Oz, Author Television Host
In What It Takes, Raegan Moya-Jones shares an inspiring story for anyone who wants to change their career, play by their own rules, and build a successful business in the process

Rebecca Minkoff, Founder & Creative Director of MM.LaFleur
Raegan Moya-Jones shows entrepreneur hopefuls that it's okay not to know it all - as long as you're willing to do whatever it takes to make your dream a reality

Whitney Port, Television personality, fashion designer and author
From the Kitchen Table to global stage... Add a little determination, sass, Aussie grit, self-belief and a sense of humour and dreams come true. Congratulations on achieving enormous success, giving back, sharing the journey and inspiring others to do the same .... And most importantly enjoying the ride

Deborra-lee Furness, Actress & Founder Hopeland
Raegan Moya-Jones is a force to be reckoned with. Funny, creative, and full of gumption, What It Takes gives you the tools you need to create your own success story

Tiffani Thiessen, Actress
Raegan Moya-Jones is the definition of a "Girlboss". I am so inspired by her story

Amanda Saiontz Gluck, Lifestyle Blogger FashionableHostess.com
Raegan Moya-Jones is an outspoken, no-filter, hilarious entrepreneur who will empower you to finally make that leap you've wanted to in your life

Beverly Turner, Television and Radio Presenter
Moya-Jones will inspire you to greatness with a kick in the ass, laugh out loud saga of overcoming adversity, and instilling in you a renewed belief in yourself that only someone with her energy and vision is capable of. Pour a glass of wine, read this book, and go out and conquer the world

Geralyn Breig, Anytown, Founder & CEO
Forget what you think you know about women in business. Raegan is here to surprise and inspire you to write your own rules to achieve your career dreams. She is a remarkable woman with a remarkable story everyone can learn from

Rosie Pope, Founder & Creative Director
Moya-Jones is a force to be reckoned with. Funny, creative, and full of courage and charming sass. What It Takes will give you the tools you need to create your own success story

Sarah Kauss, S'well, Founder & CEO