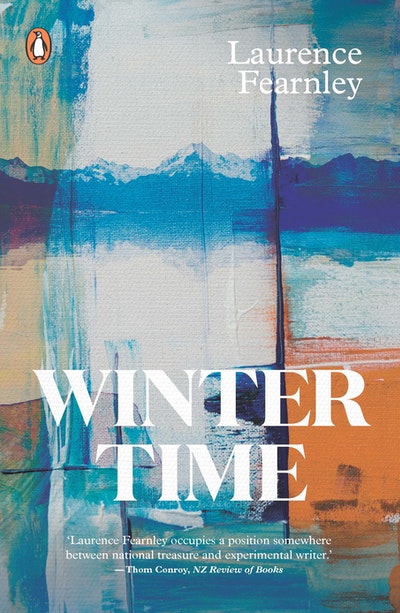 Published:

31 May 2022

ISBN:

9780143778578

Imprint:

Penguin eBooks

Format:

EBook

Pages:

304
Winter Time
---
---
---
Set in the Mackenzie Basin, this vivid novel is about familial love, friendship and how our lives touch, connect and impact upon one another.
'The SUV advanced, without slowing as it passed; the driver probably didn't even register him. Roland watched until it reached the canal crossing, where the curve of the hill and the trees swallowed it up. And then he was alone with his frosted breathing, the mist, another breath, a sob.'
Having returned to the Mackenzie Country to deal with the unexpected death of his brother, Roland has more than enough on his plate. He could do without the demands of a cantankerous neighbour, the complaints of his partner back in Australia and discovering that someone is impersonating him online, stirring up the locals against him.
Even the weather is hostile, rendering roads unpassable and his old home an icebox, the fire offering little comfort. And yet, when cycling on the empty roads, cocooned in a snow-muffled landscape, he finds he can confront what he actually feels.
A vivid novel about familial love, friendship and how our lives touch, connect and impact upon one another.

Published:

31 May 2022

ISBN:

9780143778578

Imprint:

Penguin eBooks

Format:

EBook

Pages:

304
Why do so many South Island writers evoke place so vividly? Maybe it's the iron winters. Or the high, blue-and-gold summers. Or the contrast between the two. . . . They stand insistently in the quiet, accomplished fiction of Laurence Fearnley as well. Winter Time, her new novel – her 11th, I think, so let's pause for some appropriate applause – is immediate with the "frosted breath...mist," black lakes and white peaks of the Mackenzie Country. . . . Roland is a pretty daring creation. He's loyal, persistent, perceptive but largely ineffectual. He sees a lot, achieves only a little. His vulnerability and intermittent fragility are an intriguing inversion of the trad protagonist and Fearnley uses this adroitly in an increasingly nuanced, nervy plot. . . . As always, Fearnley's prose is precise, spare, springy with cadences of colloquial Kiwispeak, yet resonant with imagery. She's a quiet writer, never showy, building her moods and participants unobtrusively, steadily. There's even the odd and engaging bit of pawky comedy; enjoy the leaking wheat bag. A novel of side roads, both topographical and emotional. Thoughtful motifs of belonging or failing to belong – to places and/or people. Respectful and crafted. All as I'd expect from Laurence Fearnley.

David Hill, Kete Books
Laurence Fearnley has an acute eye for capturing the natural and human worlds, and Winter Time, her latest novel, is no exception. . . . Winter Time – it's the second in a planned series of books loosely based on the five senses, this one involving touch, so various levels of irony are involved – explores those threads that bind us to others, and what happens when those threads unravel. Fearnley's keen observations of human frailty, coupled with her evocative natural descriptions, the harsh elements proving a character in their own right, add layers of poignancy to this tenderly harrowing tale. And yet despite Roland's deep grief, the vindictive social media storm and the savage neighbour with her ancient grudge and greasy mugs, the author's prose and storytelling skills endow this tale with more than a kernel of hope.

Elisabeth Easther, NZ Listener
Article
Winter Time book club notes
Laurence Fearnley shares notes and discussion questions on her new book Winter Time in this book club guide.
Article
Find your perfect winter read!
Temperatures are dropping, the nights are getting darker and it's the perfect time to find a cozy spot to curl up with a good book . . .