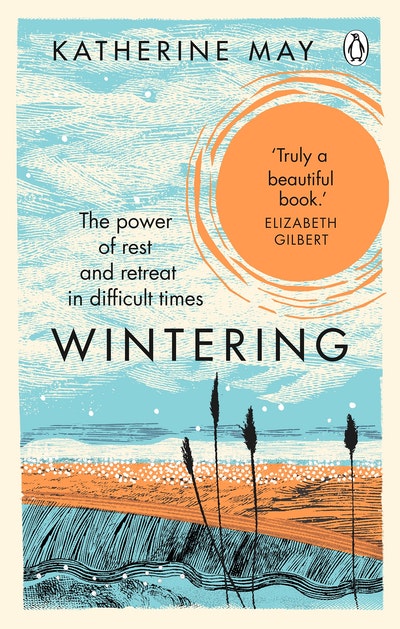 Published:

19 January 2021

ISBN:

9781846045998

Imprint:

Rider

Format:

Paperback

Pages:

288

RRP:

$26.00
Wintering
The power of rest and retreat in difficult times
---
---
---
An intimate, revelatory book exploring the ways we can care for and repair ourselves in the difficult times of life.
THE NEW YORK TIMES BESTSELLER
'A beautiful, gentle exploration of the dark season of life and the light of spring that eventually follows' Raynor Winn, bestselling author of The Salt Path
'A peaceful rebuff to life in fast-forward' Guardian
Wintering is a poignant and comforting meditation on the fallow periods of life, times when we must retreat to care for and repair ourselves. Katherine May thoughtfully shows us how to come through these times with the wisdom of knowing that, like the seasons, our winters and summers are the ebb and flow of life.
'Every bit as beautiful and healing as the season itself' Elizabeth Gilbert
'Absolutely beautiful' Cheryl Strayed, author of Wild
Published:

19 January 2021

ISBN:

9781846045998

Imprint:

Rider

Format:

Paperback

Pages:

288

RRP:

$26.00
Katherine May thoughtfully examines the emotional, spiritual, and geographical reality of the cold times, the dark days, and those periods of our lives when things are neither soft nor easy. In so doing, she offers a great and humane service to her readers: she shows us that wintering cannot be avoided, but need not be feared.

Elizabeth Gilbert
Wise, radical and comforting. It's a refreshing, original way of looking at winter, both the season and the winterings that happen in all of our lives. A thought-provoking joy to read.

Lucy Jones, author of Losing Eden
Wintering is a gently unfolding delight: a memoir to savour and inspire, and a warm, witty meditation on the darkest seasons of our lives. I loved it.

Leah Hazard, author of Hard Pushed
An empowering and touching read that will inspire a survivalist spirit on even the darkest days of winter.

Town and Country Magazine
Katherine May brings a poet's eye and unexpected comedy to this enthralling celebration of our fallow season ... this beautiful book is a reading cure.

Observer
We all experience periods of 'wintering' in our lives and this book shows us how to embrace the uncertainty that can come with it. A beautiful book that can be enjoyed in both winter and summer

Lara Maiklem, author of Mudlarking
An elegant investigation into the consolations of nature and how it can be wonderfully restorative even on the bleakest of days

Sunday Express
[A] sympathetic memoir ... May recounts how she attempted to embrace rather than resist the gloom and chill of winter ... she radiates sincerity and quiet self-knowledge

TLS
A beautiful, gentle exploration of the dark season of life and the light of spring that eventually follows

Raynor Winn, bestselling author of The Salt Path
Wintering is the book equivalent of a perfectly timed hug you didn't know you needed, a warm blanket on a cold day ... it's exactly what the world needs right now

Nora McInerny, host of Terrible, Thanks for Asking
In this elegant memoir Katherine May finds beauty and transformation in a difficult period of her life ... an evocative ode to retreat that will appeal to fans of Deborah Levy's The Cost of Living

Publishers Weekly
A beautifully written mix of memoir and philosophy ... May offers much needed solace and comfort and a reminder that seasons eventually turn

Booklist
May writes beautifully... A contemplative, hopeful, consoling book

NPR
Absolutely beautiful

Cheryl Strayed, author of Wild
One of those books that will stick with me ... perfect for the season

Angela Barnes
Enthralling ... [May] has a gift for unleashing unexpected comedy ... There is so much to treasure here ... Her sensual connoisseurship a joy

Guardian
An intimate meditation on solitude and transformation ... A serene evocation of a dark season

Kirkus
Honest and deeply sympathetic ... proves that there is grace in letting go, stepping back and giving yourself time to repair in the dark ... May is a clear-eyed observer and her language is steady, honest and accurate-capturing the sense, the beauty and the latent power of our resting landscapes

Wall Street Journal
A splendid and soul-salving read

Maria Popova
A book for the soul

Caitlin Moran
Wise, radical and comforting. It's a refreshing, original way of looking at winter, both the season and the winterings that happen in all of our lives. A thought-provoking joy to read.

Lucy Jones, author of Losing Eden