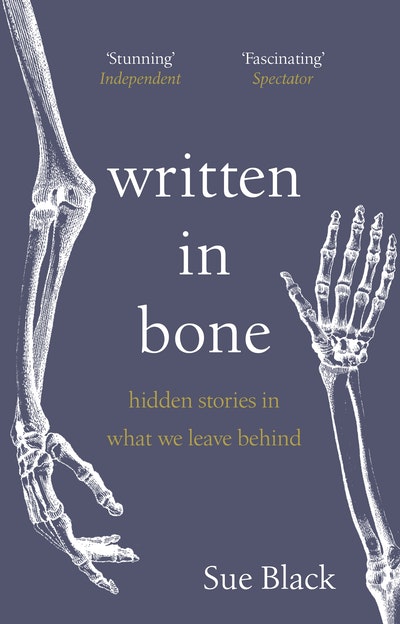 Published:

3 September 2020

ISBN:

9781473573444

Imprint:

Transworld Digital

Format:

EBook

Pages:

368
Written In Bone
hidden stories in what we leave behind
---
---
---
From the author of the critically acclaimed, Sunday Times bestseller, All That Remains, an exploration - from skull to feet - of the secrets hidden in our bones.
________________
Our bones are the silent witnesses to the lives we have lived. Our stories are marbled into their marrow.
The world-renowned forensic anthropologist Dame Sue searches for and analyses the hard evidence of that life, evidence that can be detected within what still remains of the body, whether whole or in fragments.
Drawing upon her years of research and wealth of professional stories, Dame Sue takes us on a voyage of revelation. From the skull down to the skeleton's feet, via the teeth, spine, chest, pectoral girdle, arms, hands, pelvis and legs, she is able to delicately reverse engineer the circumstances that caused them to be that way.
The scars of our life are written in our bones, waiting patiently for the forensic anthropologist to come along to make sense of the evidence and the extraordinary stories that emerge. Some may be told easily, others hold their secrets tight and need scientific cajoling to be released. Sue Black's Written in Bone is one of the world's foremost forensic experts unravelling with intimate sensitivity and compassion the inside story of what our bones tell about us.
Published:

3 September 2020

ISBN:

9781473573444

Imprint:

Transworld Digital

Format:

EBook

Pages:

368